News > Spokane
Students move in at Gonzaga
Fri., Aug. 24, 2007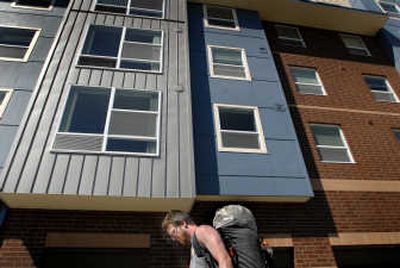 Shay Logan was unloading his backpack in his new Gonzaga University dorm on Thursday: climbing ropes, camp stove, outdoor gear.
He was coming off a summer of mountain climbing and into the new Kennedy Apartments. The apartments make the average dorm look awfully austere, with their spacious floor plans, Mission-style furniture, double bathrooms and full kitchen.
"I spent the last month living in my tent, so this is going to be fantastic," said Logan, a senior from Plains, Mont., majoring in math and philosophy.
GU students have been trickling back to campus this week, with the bulk of students expected to arrive today. Around the region, colleges have begun welcoming students back, with the first classes in the area under way at Washington State University and the University of Idaho.
Gonzaga's classes begin Tuesday. North Idaho College opens its academic year Monday, with Whitworth University, the Community Colleges of Spokane and Eastern Washington University starting in September.
It's expected to be an expansion year at Gonzaga, both in terms of enrollment and construction. The freshman class will be the largest ever, the first of a five-year surge of 40 to 60 students a year, said spokesman Dale Goodwin.
"This will be our first class of over 1,000 students," he said.
The expansion is part of an effort to capitalize on the current boom in college-age students – the result of the "echo boom" of baby boomers' children, increased immigration and other factors. Some expect that boom to fade or level off in the coming years.
Though enrollment figures aren't official until the 10th day of classes, WSU is also seeing an increase in its freshman class – perhaps a record.
Goodwin said the increased enrollment will allow GU to raise more money for faculty and programs, along with paying for fundraising staff to work an upcoming capital campaign for the university's endowment. The endowment is currently at about $130 million, he said, and GU officials want to boost that to pay for a larger share of university operations, particularly as an alternative to relying more heavily on tuition.
The $10 million Kennedy Apartments became a high-profile building for GU in March 2006, when an arsonist torched the building as it was nearing completion. The crime remains unsolved.
The fire set the opening back a year to this fall. By next week, 220 students are expected to be living in the five-story building, which includes a first-floor café, parking garage and other amenities. GU has begun work on the second phase of the apartment project next door, which will house 195 students starting next fall, Goodwin said.
The school has other expansion plans. It has purchased the Fuller paint company building and expects to have a new classroom and office building at the site by next year. And a renovation of the entrance to the administration building is also coming up, Goodwin said.
For Logan, the idea of growth at Gonzaga is fine – "as long as they keep adding professors," he said. "Because that's a big advantage at this school – the small class sizes."
Logan was moving into his dorm a little earlier than most students on Thursday, because he had an orientation session for ROTC coming up. Other early arrivals hauled their boxes out of cars and into elevators, while maintenance crews mowed the lawns and resident advisors prepared welcome signs.
Meanwhile, Logan was enjoying the first moments in his new apartment and identifying amenities.
"I've got a perfect view of Taco Time," he said.
Local journalism is essential.
Give directly to The Spokesman-Review's Northwest Passages community forums series -- which helps to offset the costs of several reporter and editor positions at the newspaper -- by using the easy options below. Gifts processed in this system are not tax deductible, but are predominately used to help meet the local financial requirements needed to receive national matching-grant funds.
Subscribe now to get breaking news alerts in your email inbox
Get breaking news delivered to your inbox as it happens.
---