Sports
Baseball notebook: Tigers, Rogers agree on contract extension
Sat., Dec. 1, 2007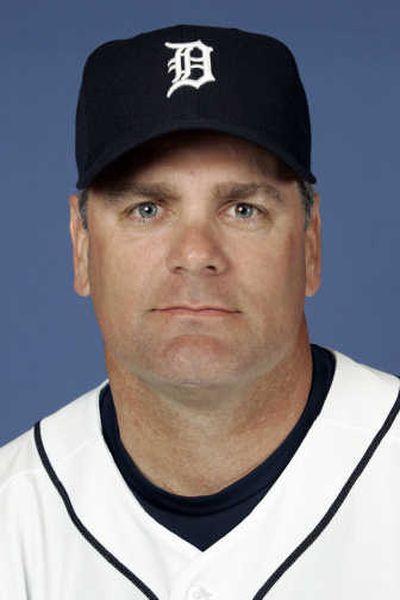 Kenny Rogers knew all along where he wanted to be.
The 43-year-old left-hander ended his free agency Friday when he agreed to a $8 million, one-year deal that will keep him with the Detroit Tigers for a third season.
"There was really never any other choice but Detroit," said Rogers, who represented himself in contract negotiations. "The possibilities of playing somewhere else didn't appeal to me at all."
Rogers' deal includes performance bonuses.
Detroit also agreed to a one-year contract with right-hander Francisco Cruceta and designated outfielder Timo Perez and first baseman Chris Shelton for assignment.
Rogers was 3-4 with a 4.43 ERA in an injury-shortened 2007 season for the Tigers after helping them reach the 2006 World Series.
Marlins shop Cabrera
The Florida Marlins are taking bids for All-Star slugger Miguel Cabrera, who has become too expensive for their modest budget. With up to five teams in the market for the third baseman, the Marlins figure to come away from any trade with a handsome package of players.
Still only 24, Cabrera is already a four-time All-Star.
Mets trade Milledge
After holding onto outfield prospect Lastings Milledge through years of trade speculation, the New York Mets finally dealt him to the Washington Nationals for catcher Brian Schneider and outfielder Ryan Church.
"I thought we needed to change it up a little," New York general manager Omar Minaya said. "Names like Schneider and Church are not known names, but they give us balance."
Rays sign Percival
Tampa Bay signed reliever Troy Percival to a two-year contract, addressing a pressing need to improve one of the worst bullpens in the major leagues.
The 38-year-old right-hander, who came out of retirement to go 3-0 with a 1.80 ERA in 34 appearances for St. Louis in 2007, will make $8 million during the next two seasons.
Eckstein may be out
Free-agent infielder Cesar Izturis agreed to a $2.85 million, one-year contract with the Cardinals, a sign St. Louis has decided to abandon trying to re-sign shortstop David Eckstein.
The Cardinals have to decide by today whether to offer arbitration to Eckstein, who has filed for free agency.
The two sides were not close in negotiations and general manager John Mozeliak, who said the Cardinals "probably" would cut ties with Eckstein, wanted to make sure a replacement was in place.
Indian reliever still critical
Cleveland Indians reliever Juan Lara showed some improvement but remained in critical condition nearly a week after his car crash in Santo Domingo, Dominican Republic.
Local journalism is essential.
Give directly to The Spokesman-Review's Northwest Passages community forums series -- which helps to offset the costs of several reporter and editor positions at the newspaper -- by using the easy options below. Gifts processed in this system are not tax deductible, but are predominately used to help meet the local financial requirements needed to receive national matching-grant funds.
Subscribe to the sports newsletter
Get the day's top sports headlines and breaking news delivered to your inbox by subscribing here.
---