News > Business
Success in the bag
Tue., Dec. 11, 2007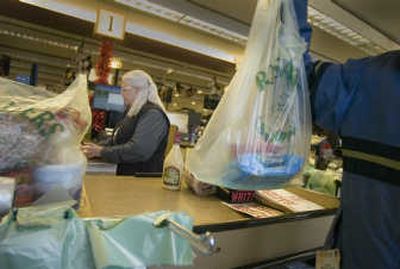 The longstanding contest between paper and plastic bags in the checkout line has a new twist for customers at Rosauers Supermarkets outlets. This fall, the Spokane-based chain switched to Eco Hippo sacks, a brand its maker boasts never needs double-bagging and can carry more than 26 pounds of food without breaking.
While the translucent, green totes resemble typical disposable, high-density polyethylene bags, they feature a patented, reinforced bottom and are made with post-industrial recycled resin, according to manufacturer Crown Poly Inc., of Los Angeles. That means a reusable bag that advocates say is more eco-friendly than standard sacks, which often are recyclable but frequently end up in landfills.
"It's a green-friendly bag, and it's a nice strong bag, and that's usually what the consumer is worried about," said Mike Shirts, Rosauers' vice president of operations.
San Francisco recently became the first major U.S. city to forbid use of nonbiodegradable plastic bags by large supermarkets and drug stores.
Using the sacks at Rosauers stores, which used about 12 million plastic bags last year, costs a little more. But a reduction in bag usage should make up the difference, Shirts said.
"It's unbelievable how strong it is," he said. "Now there's really no reason to double-bag."
Crown Poly boasts the bag can reduce usage by more than 25 percent annually.
Yoke's Foods Inc. took a different route, converting its 12 stores nearly three years ago to biodegradable polyethylene bags, said senior vice president Denny York.
Yoke's bags use an additive that developer EPI Environmental Technologies Inc., of Vancouver, B.C., claims makes them break down into harmless components if accidentally discarded outdoors.
"They say they start that biodegradable process within two to four months, and it can take up to two to four years just depending on the environment," York said.
Only about 7.8 percent of the 4.6 million tons of plastic sacks, bags and wraps in the municipal waste stream last year were recycled, compared to about 25 percent of paper bags, according to the federal Environmental Protection Agency.
Plastic bags, however, have become the dominant variety since being introduced decades ago. Ninety percent of grocery bags are plastic, according to the Progressive Bag Alliance, a group of plastic bag manufacturers.
About 100 billion bags are sold annually around the world, according to the alliance.
Rosauers used the competing "rhino" bag as an interim solution, but it wasn't as strong as Eco Hippos, Shirts said.
Huckleberry's Natural Market, a Rosauers-owned store, still offers traditional bags, but the company is considering alternatives, Shirts said.
Rosauers, a wholly owned subsidiary of Spokane-headquartered URM Stores Inc., owns 22 stores in four states, including several Super 1 Foods.
Some environmentalists pitch reusable cloth sacks, such as those Rosauers and Yoke's sell for about $1, as the ideal shopping-bag alternative. Yoke's once discontinued them, but now it has "a heck of a time" keeping them in stock, York said.
"Now that everybody's going green, we put them back in, and we just can't order enough of them," York said. "They are just an incredible selling item."
Albertsons is pushing customers toward cloth bags, said spokeswoman Stephanie Martin. The company also sometimes purchases benches made from recycled bags for new stores, she said.
Crown Poly makes Eco Hippo sacks through an internal recycling program, reusing scraps of its other bag lines, said spokeswoman Elizabeth Wang. The resin for those bags comes from natural gas, she said.
It launched the patented Hippo Sak late last year, and Eco Hippo bags are used by markets in Seattle, Oregon and California, according to the company.
Many plastic bags, including Eco Hippos, are recyclable, denoted by a triangular symbol with a number in the center printed on bags. In Washington, Fred Meyer, Safeway, Wal-Mart, Albertsons and Yoke's are among chains offering drop-off locations, according to www.plasticbagrecycling.org and York.
Local journalism is essential.
Give directly to The Spokesman-Review's Northwest Passages community forums series -- which helps to offset the costs of several reporter and editor positions at the newspaper -- by using the easy options below. Gifts processed in this system are not tax deductible, but are predominately used to help meet the local financial requirements needed to receive national matching-grant funds.
Subscribe to the Coronavirus newsletter
Get the day's latest Coronavirus news delivered to your inbox by subscribing to our newsletter.
---
Subscribe and log in to the Spokesman-Review to read and comment on this story