News > Nation/World
Bush sees no recession coming
Fri., Dec. 21, 2007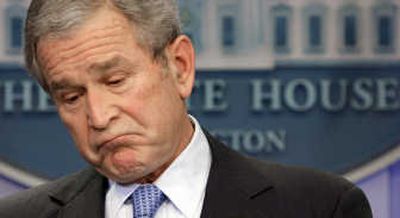 WASHINGTON – The White House is betting that the steps it has taken to address the housing and financial crises will be enough to avert a recession without resorting to a major tax cut or new spending as urged by leading economists in both parties, senior administration officials said.
In a news conference Thursday, President Bush said he is considering various measures to stimulate the economy but made clear his belief that it is not time to pull the trigger.
"My view of the economy is that the fundamentals are strong, that we've had strong growth for a reason: that we're competitive, we got flexible workplace, that we kept taxes low, exports are up," Bush said.
Bush's comments reflect a consensus among his advisers that it is still possible to avoid a recession and that their efforts should focus on executing the programs they have already announced for containing problems in the mortgage markets – such as the plan to freeze interest rates on certain subprime mortgages or an initiative to pay for mortgage counselors who would advise people at risk of losing their homes.
The White House is more sanguine than several of the nation's most prominent economists, who have been urging the federal government in recent days to adopt a much more vigorous fiscal policy to head off the possibility of a damaging long-term recession.
Martin Feldstein, a Harvard economist who was an adviser to President Ronald Reagan, has said he thinks there is a 50 percent chance of a recession next year and that Congress should pass a tax cut that would depend on how much the economy slows. Lawrence Summers, who was Treasury secretary in the Clinton administration, called this week for a temporary tax cut, longer-lasting unemployment insurance benefits and additional money for food stamps. Former Federal Reserve cChairman Alan Greenspan has said he thinks the considerable risk of a recession warrants making emergency aid available to homeowners at risk.
But in an interview this week, Bush's outgoing economic policy adviser Allan Hubbard said the White House does not see the need for such measures at the moment. "We just don't see any reason why the economy won't continue to expand," he said.
Senior administration officials acknowledged that they are beginning to explore elements of a stimulus package, possibly to be unveiled close to next month's State of the Union address, but they declined to offer details. What the president ultimately decides to do will depend heavily on new economic indicators over the next month, according to aides, who said they hope those indicators will clarify how serious the storm clouds are for the economy.
Independent economists say the modest proposals floated by the administration are unlikely to make much of a difference in whether the country will experience a recession next year. A recession is a significant decline in economic activity that lasts more than a few months, affecting incomes, employment and other benchmarks.
"What's coming out of Washington is not really large enough to have a macro impact," said Brian Bethune, a U.S. economist at consulting firm Global Insight. "They're kind of dancing around the edges of this thing."
Local journalism is essential.
Give directly to The Spokesman-Review's Northwest Passages community forums series -- which helps to offset the costs of several reporter and editor positions at the newspaper -- by using the easy options below. Gifts processed in this system are not tax deductible, but are predominately used to help meet the local financial requirements needed to receive national matching-grant funds.
Subscribe now to get breaking news alerts in your email inbox
Get breaking news delivered to your inbox as it happens.
---