News > Spokane
CO a stealthy killer
Fri., Dec. 21, 2007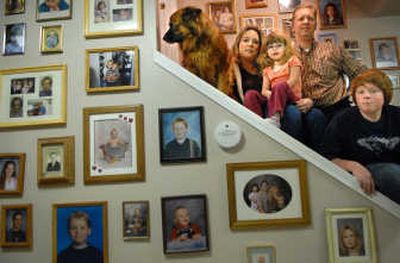 A sudden spike in carbon monoxide poisonings in Spokane is fueling renewed warnings about the dangers of propane heaters and other devices that produce the deadly gas.
At least 20 people have been examined or treated for accidental carbon monoxide poisoning at Deaconess Medical Center since Thanksgiving, doctors say. Last year, a record 30 people were treated at the hospital's Comprehensive Wound Healing Center between October and February.
"Last year was the worst ever," said Dr. Greg Jones, center director. "And those are just the ones we saw. There are an awful lot that go unrecognized."
Tricia Ross was among those who required emergency treatment last year. The 34-year-old Mead woman, her fiancé and two children suffered headaches, dizziness and violent nausea for days in January after a faulty furnace filled their home with the difficult-to-detect gas.
"It was so bad, but our house is four levels," said Ross, who runs a wholesale florist business. "That's the only reason we were so sick and not just killed. The fireman said if my son had slept downstairs in his room, he'd absolutely be dead."
This year, six people were treated in early December in the hyperbaric chamber that helps flush oxygen-blocking carbon monoxide molecules from the blood, said Dr. Molly Gilbert, of Deaconess. Two men were examined after they were overcome while working on diesel trucks in a garage heated by an oil-fired furnace.
Those cases came just weeks after three young children in Grant County died from carbon monoxide poisoning caused by a gas generator used to power an electric heater inside their home.
"It's an epidemic," said Jones.
Spokane's carbon monoxide spike is particularly worrisome because it's occurring during normal winter weather, not in the wake of power outages caused by severe storms like those that rattled Seattle last year or the Midwest this month.
Across the nation, more than 15,000 people each year are treated for unintentional carbon monoxide poisoning in the nation's hospital emergency rooms and more than 500 die, according to a 2005 study by the federal Centers for Disease Control and Prevention.
In Washington, 29 people were hospitalized after accidental carbon monoxide exposure in 2006 and 25 people died, according to records from the state Department of Health. That included two people who died in Spokane, according to medical examiner records. In 2005, 17 people were hospitalized and 11 died statewide, records showed.
The problem typically arises during outages, when people seek alternate methods of heat and power, or during very cold weather, when people try to keep working in unheated environments.
"The disaster of choice is propane-fired heaters," Jones said.
Other dangerous devices, however, include kerosene lamps, barbecue grills, gas generators and gas-fired tools such as pressure washers and concrete saws used in enclosed places. Faulty gas or oil heaters also are a risk.
Exposure to carbon monoxide can cause unconsciousness – even death – in a short time. Young men working in a Spokane warehouse where propane heaters were used to dry concrete were overcome in 30 to 40 minutes, Jones said.
Carbon monoxide is a stealthy killer because it's invisible, odorless, tasteless and difficult to detect without special equipment.
"It's kind of the perfect poison," Jones said.
The gas blocks oxygen from getting into the blood, he said, because carbon monoxide molecules bind more quickly than oxygen to red blood cells. "That's how it smothers you," Jones said.
Particularly affected are organs that need constant oxygen: the heart and brain.
Ross and her family recovered with no evident lasting effects, but she said she still worries about her children, Austin, 12, and Bailee, 4.
"How do you know?" she said. "My son slept downstairs for four days before we found out. I'll always worry about that."
At least a dozen states have passed laws requiring carbon monoxide monitoring in homes or businesses, as have several cities and counties nationwide. Washington and Idaho are not among them.
Ross would like to see the $35 detection devices required; she believes no home should be without one.
"We have them all over the house now," she said. "There's all this talk about smoke detectors, but you can smell smoke, you can see fire. You know what I mean? I think everybody for Christmas should get one as a gift."
Local journalism is essential.
Give directly to The Spokesman-Review's Northwest Passages community forums series -- which helps to offset the costs of several reporter and editor positions at the newspaper -- by using the easy options below. Gifts processed in this system are not tax deductible, but are predominately used to help meet the local financial requirements needed to receive national matching-grant funds.
Subscribe to the Coronavirus newsletter
Get the day's latest Coronavirus news delivered to your inbox by subscribing to our newsletter.
---
Subscribe and log in to the Spokesman-Review to read and comment on this story