News > Features
Visual Arts: Broeckel captures the scenery
Thu., Feb. 1, 2007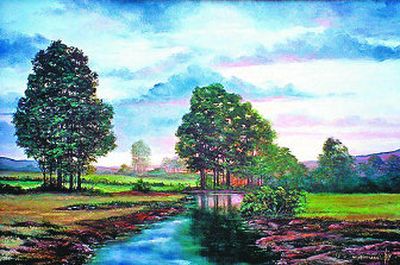 Oil painter Vicki Broeckel is center stage in the "Meet the Artist" series today at 7 p.m. at the Whitman County Library in Colfax.
Broeckel, born and raised on a farm near Dusty, Wash., still lives on her family's century-old homestead.
"The region's ever-changing palette of seasons, light and weather provides ample inspiration for her paintings," says Ann Marra of the Colfax Arts Council in an e-mail.
She says they "invite the viewer to appreciate and experience the scenic beauty of the Palouse Country."
A mostly self-taught artist, Broeckel has exhibited her work at numerous venues including the Western Art Show, Northwest Museum of Arts and Culture, Spokane Allied Arts, Galleria De Felice and the Northwest Fine Arts Expositions.
Marra calls the library's series "an opportunity to join artists in a casual atmosphere to see and discuss their work."
Tonight's event is free and open to the public at the library, 102 S. Main St. in Colfax. For more information call (509) 397-4366.
Ake Lianga at WSU
An exhibit of "Identity Paintings" by Ake Lianga goes up Monday in Gallery II in the Fine Arts Center on Washington State University's Pullman campus.
Lianga, born on Guadalcanal in the Solomon Islands, lives in British Columbia. He draws inspiration from his ancestors and culture for his contemporary designs.
An opening reception is Monday from 5 to 7 p.m. An exhibition walk-through is Tuesday at 4:30 p.m.
View the work through Feb. 23 in the free gallery, weekdays from 8 a.m. to noon and 1 to 5 p.m. For more information call (509) 335-8686 or go to www.finearts.wsu.edu/galleries/.
Jundt collection at SFCC
"Selected Works from the Private Collection of the Jundt Art Museum" opens Wednesday in the Spokane Falls Community College Gallery of Art.
Included in the show are limited-edition prints by Kiki Smith, Graciela Sacco, Mary Farrell, Robert Motherwell, Kazuhisa Honda, Robert Kipniss, Jiri Anderle, Gabor Peterdi, Troy Kinney, Mauricio Lasansky, Brunovsky Albin, Juri Balcar, James G. Todd Jr., Linda Beaumont, Michael Ehle, Joellyn Rock, Carl Smool, Keith Achepohl, Akio Takamori, John Paul Jones, James T. Bailey, Paul Landacre and Art Hansen.
Next Thursday, Scott Patnode, director and curator of the Jundt, will present a one-hour slide lecture beginning at 11:30 a.m. in the Student Union Building, lounge A/B. A reception follows in the gallery in Building 6 on the SFCC campus, 3410 W. Fort George Wright Drive.
The show is up through March 9, and can be viewed Monday through Friday from 8 a.m. to 4 p.m. and Saturday from 11 a.m. to 2 p.m.
'ArtReach'
Spokane Art School is working with the Martin Luther King Jr. Family Center and Gonzaga University in a special "ArtReach" project.
ArtReach is an artist-in-residence program of the art school which is funded through individual school districts and community centers.
This winter, artist Jeff Gibson-Smith has been working with children at the King center, from kindergarten through sixth grade, to create Dr. Seuss-inspired artwork for the Gonzaga theater department's production of "Seussical the Musical."
The children's artwork is on display in the lobby of GU's Russell Theater through Feb. 11.
Northwest Artists
During February, the Northwest Artists cooperative gallery in Coeur d'Alene is featuring the decorative steel works of Amy Hanson and photography of Alison Meyer.
"In Alison's beautiful collages she explores the abstract and more spiritual side of her photography," says gallery representative Toni Spencer in an e-mail.
Also in the gallery, 217 Sherman Ave., are the fine arts and crafts of more than 30 artists.
For information call (208) 667-1464 or go online to www.nwartists.net.
Local journalism is essential.
Give directly to The Spokesman-Review's Northwest Passages community forums series -- which helps to offset the costs of several reporter and editor positions at the newspaper -- by using the easy options below. Gifts processed in this system are not tax deductible, but are predominately used to help meet the local financial requirements needed to receive national matching-grant funds.
Subscribe now to get breaking news alerts in your email inbox
Get breaking news delivered to your inbox as it happens.
---