Sports
Hargrove resigns
Mon., July 2, 2007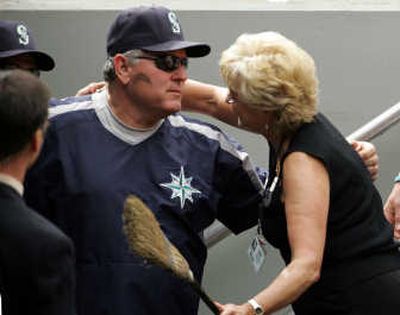 SEATTLE – Jose Guillen had tears in his eyes, Raul Ibanez said the whole team was in shock and Ichiro Suzuki had no idea why his manager quit.
Mike Hargrove stunned his Seattle Mariners on Sunday, resigning just hours before they rallied past the Toronto Blue Jays 2-1 in his finale to extend their winning streak to eight games.
"Definitely a weird day. Strange. Sad," Ibanez said. "I've never been through something like that."
Guillen hit a tying homer in the eighth inning and a game-ending single off third baseman Troy Glaus' glove in the ninth for the Mariners, who got another strong outing from a rejuvenated Jeff Weaver.
But afterward, the Mariners were still coming to grips with Hargrove's departure. He became the first major league manager since at least 1900 to depart while on a winning streak of more than seven games, according to the Elias Sports Bureau.
"I really love him," Guillen said.
The manager of baseball's hottest team quit in the middle of its best streak in four years, immediately after Seattle completed its first home sweep of Toronto since 1979.
Weaver allowed only Frank Thomas' 501st career home run and six other hits in eight innings, his latest leap away from an 0-6 start.
"I won the first game I managed in and the last one," a red-eyed Hargrove said. "Pretty good bookends."
Hargrove abruptly resigned two hours before the first pitch. By the end of the day, the Mariners (45-33) were 12 games over .500 for the first time since the end of 2003.
That was their last winning season – and their last one without Hargrove, who said he was leaving the game he's played, coached or managed since 1972 because he no longer is able to match the commitment he has been asking of players for the last 15 1/2 seasons as a major league manager.
"It's a shock, a surprise to everybody," Toronto manager John Gibbons said. "Grover is one of the class acts in baseball, one of the good guys. … It's sad."
When it ended, Hargrove gave his wife of 37 years, Sharon, his usual subtle signal, pumping his right arm toward the stands for the last time to celebrate his 1,188th and apparently final managerial win. Each of the Mariners then hugged Hargrove in front of their dugout before the 57-year-old tipped his cap to the cheering fans.
The M's thought Hargrove was gathering them Sunday morning in the clubhouse to announce that Ichiro Suzuki and J.J. Putz were All-Stars. Instead he said he was giving his job to John McLaren, his bench coach, beginning with today's game at Kansas City.
"It was just a shock to every person in the room," Putz said. "I think he realized that everyone didn't want him to leave."
Local journalism is essential.
Give directly to The Spokesman-Review's Northwest Passages community forums series -- which helps to offset the costs of several reporter and editor positions at the newspaper -- by using the easy options below. Gifts processed in this system are not tax deductible, but are predominately used to help meet the local financial requirements needed to receive national matching-grant funds.
Subscribe to the sports newsletter
Get the day's top sports headlines and breaking news delivered to your inbox by subscribing here.
---