Sports
Kerr victorious at U.S. Open
Mon., July 2, 2007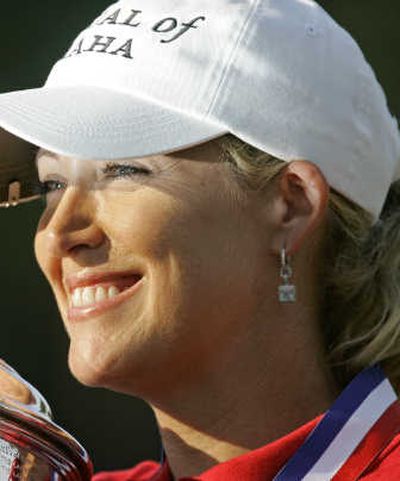 No one can ignore Cristie Kerr now, not with her name on the biggest trophy in women's golf.
Left out of most conversations about top young American players, the 29-year-old Kerr won the U.S. Women's Open on Sunday in Southern Pines, N.C., by making only two bogeys over her final 45 holes, and forcing Lorena Ochoa into another series of major mistakes.
In a riveting duel along the back nine of Pine Needles, Kerr broke a tie with an 18-foot birdie putt on the 14th and made the No. 1 player in the world come get her. Ochoa didn't come close, losing hope with another pulled tee shot that cost her a bogey.
Kerr's final stroke of a 23-hole Sunday was a tap-in for par that gave her a 70.
Stoic with every step down the fairway, she finally buckled when it was over. Kerr dropped to her knees and broke out in tears, then turned and tossed her golf ball to the gallery around the 18th green.
"Today was my day," Kerr said. "That birdie at 14 was unbelievable. To hold it together … it's a dream come true."
Kerr finished at 5-under 279 and earned $560,000 for her 10th career victory, this one by far the biggest. It ended an 0-for-41 record in the majors dating to her debut in the Women's Open as a 17-year-old in 1995.
Ochoa will have to wait until the Women's British Open at St. Andrews for her next shot at winning a major, which is quickly turning into a bigger burden than she imagined. She closed with a 71 and tied for second with 18-year-old Angela Park, who shot 70.
"I don't need to be frustrated," Ochoa said. "We still have one more major, and I'm going to try to get that one."
Morgan Pressel, who also played in the final group and was two shots behind with five holes remaining, stumbled badly at the end to close with a 77 and tie for 10th.
Storm delays forced 63 players to return at dawn Sunday to complete the third round, and Kerr promptly made bogey. She didn't make many more mistakes after that, and her only other bogey on a steamy, sunny day in the sand hills came from a bunker on the eighth hole of the final round that dropped her into a tie with Ochoa.
PGA
Brian Bateman, who entered 204th on the money list, birdied the final hole to break a four-way tie and win the Buick Open in Grand Blanc, Mich., by one stroke.
"I didn't really have any expectations," he said.
He closed with a 3 under to finish 15-under 273, the highest winning score at Warwick Hills since 1997, to claim his first victory on the PGA Tour.
Jason Gore (67), Justin Leonard (67) and Woody Austin (69) finished tied for second. Jim Furyk (70) and Scott Verplank (71) were in a group of five that were two shots behind Bateman.
The 34-year-old from Monroe, La., earned an $882,000 check – surpassing his total earnings in all but one of his previous five years on the PGA Tour.
Champions Tour
Lonnie Nielsen, who didn't win in five years on the PGA Tour and made 91 starts on the Champions Tour without winning, shot a 2-under 69 for a two-stroke victory over Loren Roberts in the Commerce Bank Championship in East Meadow, N.Y.
Nielsen, who turned 54 on Friday, won 32 titles on smaller tours, including the New York State Open in 1985 and 1989. He entered the final round at the 7,021-yard Red Course at Eisenhower Park with a three-stroke lead and was never threatened.
European Tour
England's Graeme Storm won his first European Tour title, capturing the French Open in Versailles, France, with a one-stroke victory over Denmark's Soren Hansen.
Storm closed with a 5-under-par 66 and finished with a total of 7-under 277. He started the day in eighth place.
Simon Kahn, Colin Montgomerie, Thomas Bjorn and Damien McGrane were two strokes back at 279.
Local journalism is essential.
Give directly to The Spokesman-Review's Northwest Passages community forums series -- which helps to offset the costs of several reporter and editor positions at the newspaper -- by using the easy options below. Gifts processed in this system are not tax deductible, but are predominately used to help meet the local financial requirements needed to receive national matching-grant funds.
Subscribe to the sports newsletter
Get the day's top sports headlines and breaking news delivered to your inbox by subscribing here.
---