News > Features
Be handy, but be safe
Tue., July 3, 2007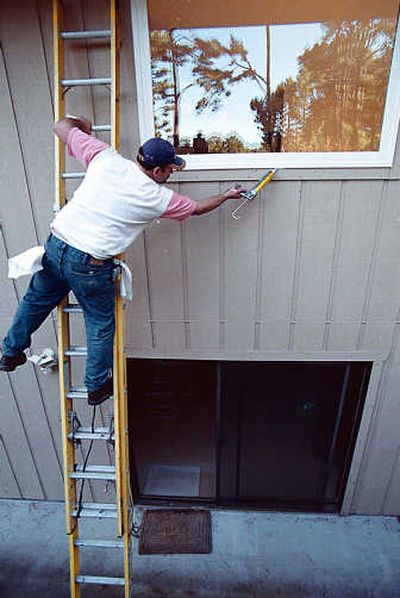 1. Wear protective eyewear and gear.
The first step in any home improvement project is to deck yourself out in proper safety gear, beginning with eyewear, said Tom Kraeutler, co-host of "Money Pit," a syndicated radio show in New York.
Designs have become hipper as more women take up home-repair work, he said. "Safety glasses have come a long way from the big old plastic ones we used to wear in biology class."
Nails can glance or pop out when least expected, especially while hammering cross-grain wood, said JoAnne Liebeler, co-author of "Do It Herself: Everything You Need to Know to Fix, Maintain, and Improve Your Home," in Minneapolis.
Wearing safety glasses for any kind of saw work or hammering is essential, she said. "It seems like overkill, but it isn't."
It's also important to wear work gloves, knee pads and back braces for heavy work, Liebeler said.
Dr. Russell Roundy, an emergency-room physician at Sacred Heart Medical Center in Spokane, urges people to wear gloves when working in the garden.
"We see folks get skin infections from thorn injuries," Roundy says.
Make sure clothes fit well to avoid problems around power tools, and keep earplugs stocked to protect hearing in the event of prolonged noise.
For projects that involve sanding or generating airborne contaminants, keep a dust mask or the appropriate respirator on hand, depending on the toxin, Kraeutler said.
2.Keep the work site organized to prevent tripping and falls.
Falls are some of the most common, and often the most serious, injuries that Roundy sees in the emergency room.
"I fell out of an apple tree one time and broke some ribs," Roundy says. "It can happen to anybody."
When on the roof or in a tree, use harnesses and be sure to tie the ends of safety straps to something secure. A chair isn't going to cut it; Roundy has seen the side effects of that decision. He has also treated people who tied their harness to a car's bumper, only to have another person hop in the car and drive away.
"Make sure you've got all the keys to the car," he says. "That is a bad day for both of the people."
"Look before you walk," says Jack Trebe, a Spokane contractor who runs Jack-of-all-Trades. "Make sure your hoses are laid out right, your ladders are set right."
Work sites tend to be chaotic enough without adding negligent messiness to the list of potential injury-makers, Kraeutler said.
Stack lumber and other materials on the ground rather than in a corner or against a wall, he said. "Stop to clean up so you're not working in an unsafe, slippery environment."
Invest in cordless power tools whenever possible to reduce the risk of tripping, Liebeler said.
3. Ask for training on tools when you rent or buy them.
With the ability to rent tools such as floor sanders, tile cutters and jack hammers for short-term use, it's critical to ask for training before heading out on your own.
"Know what to do in an emergency," Kraeutler said. "The less experience you have, the higher the risk is you're going to get hurt."
And don't remove any protective safety devices that come with the tools, Roundy says.
4. Make sure ladders are anchored securely and replace any that appear damaged.
There were 198,000 ladder injuries that resulted in emergency room visits last year, according to the Consumer Product Safety Commission.
"Anytime you use a ladder, triple-check that it is firmly footed," Liebeler said.
Old-fashioned wooden ladders eventually weather and may need to be replaced with a newer-generation aluminum or fiberglass one.
"You can pick up a good eight-foot ladder for 60 bucks," Liebeler said. "It's just a stronger material and better construction. If you've got one of the old crusty ones and it's a little rickety and raggedy, get rid of it."
5. Equip nail guns with sequential-trip triggers.
No longer the exclusive domain of professionals, nail guns have become more available on the general market in the last 15 years. Consumer nail-gun injuries treated in U.S. emergency departments have ballooned since 1991, according to researchers at Duke University Medical Center and the National Institute for Occupational Safety and Health.
The number of amateur carpenters treated each year for nail-gun injuries in ERs more than tripled between 1991 and 2005, increasing to about 14,800 per year. But the number of injuries suffered by professionals has remained constant at about 18,000, said Hester Lipscomb, author of the report and an associate professor of occupational and environmental medicine at Duke in Durham, N.C. Most of the injured were treated for puncture wounds and released.
The tool's trigger mechanism makes a big difference, Lipscomb said. Replacing the more common contact-trip trigger, which shoots at any time, with the sequential-trip trigger makes it harder to get hurt.
"The person using it has to essentially decide where they want to put the nail, put the nose piece there and then pull the trigger," she said, noting that consumers need to ask for the right kind of trigger or a conversion kit if they have the riskier type. "You really want this design that has the safer trigger mechanism that prevents an unintentional firing."
6. Keep combustible, solvent-soaked rags away from heat sources.
Consumers often clean tools and paint brushes with rags doused with solvents such as turpentine, Liebeler said. But tossing the soiled rags in an empty jar or in a utility room can be a fire hazard.
"The best thing to do is to hang them outside on a clothesline and then wash them in a separate load," she said. "Don't store any of those fumed products near a furnace, heater or water heater. A lot of people tend to store junk in the utility room, but it's not a good idea even if it's capped and sealed."
7. Quit before you're exhausted.
The point of fatigue is when even the most experienced do-it-yourselfers are exposed to a high risk of injury, Liebeler and Kraeutler agreed.
Says Tullis, from Holy Family:
"Just go slow. Don't be in a rush. And plan ahead and be careful. If you're not sure how to do it, you probably should ask for help."
Local journalism is essential.
Give directly to The Spokesman-Review's Northwest Passages community forums series -- which helps to offset the costs of several reporter and editor positions at the newspaper -- by using the easy options below. Gifts processed in this system are not tax deductible, but are predominately used to help meet the local financial requirements needed to receive national matching-grant funds.
Subscribe now to get breaking news alerts in your email inbox
Get breaking news delivered to your inbox as it happens.
---