News > Home
Bob Adolfson came back
Tue., July 3, 2007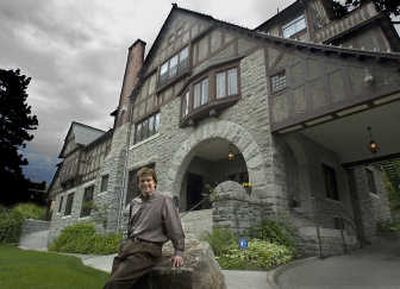 Good timing brought Bob Adolfson home to Spokane.
Three years ago, the Spokane native and his family came over from Seattle to run Bloomsday. Perusing a community newspaper, he came across an article about historical sites that discussed the Glover Mansion's future. At the time, Adolfson faced a career crossroads – his employer wanted him to move to the East Coast, he wanted to stay in the Northwest.
He called the mansion's owners, toured the building the next day with his wife and children, and decided to buy the place. He took ownership Sept. 1, 2004.
"It was an amazing coincidence," Adolfson says of the serendipity of finding a new place to do for himself what he had been doing for someone else – event planning and catering.
For more than two years, he commuted, spending three to four days a week in Spokane and the balance in Seattle. But as the mansion's business grew, he found his stays stretching to five, six, even seven days.
"I was spending more and more time here. It was an expensive proposition, maintaining two households," Adolfson says, adding that he stayed connected to his family with "lots of phone calls, more than daily."
Still, he felt like he was always leaving something undone – work here, family there. He credits his wife, Kim, with helping him stay focused. "She bought into the whole program and made sure everything was cool in Seattle."
But the commute began to wear on him. With their daughter finishing high school and their son just starting, the Adolfsons decided now was the time to move everyone to Spokane.
Kim Adolfson, a grade-school teacher, and their two children – Megan, 18, and Kyle, 15 – moved here last week. "It will be great," he says about having his family back together.
Kim says she's excited to be living with her husband full-time for the first time in nearly three years.
"I hope he's ready," she says laughing. "I hope I'm ready.
"This time, I'll be messing with his schedule."
Why did you leave Spokane?
Growing up in the Shadle area in the '50s and '60s, Adolfson wanted to travel. At 19, he moved to Seattle with a friend but returned a few years later.
After flirting with other locales, he took a job as a general manager for a sports and entertainment company. He and his family lived in Baltimore, Phoenix and Portland, Ore., before returning to Seattle nine years ago. He traveled constantly, coordinating corporate catering in arenas and stadiums in 23 cities across the country.
"I did tons of travel," he says, adding that he's ready to do less frequent flying.
Why come back?
Adolfson says the lure of being closer to his parents, two sisters and brother helped sweeten the Glover Mansion deal. He also loves Spokane's recreational opportunities, adding that he and his wife like to hike.
"It's the ease of getting into the country," he says. "From where we lived in (Seattle), it would take us at least 45 minutes. Here, we drop off the South Hill, head out west, and in 10 minutes you're there.
"Seattle's a great city, but it's really difficult to find space."
What's the biggest change you've seen in the community?
"There's a tremendous energy around downtown," Adolfson says. "It's fantastic to see downtown come back."
He says his parents, who have lived in the same North Side house for 38 years, complain about the traffic. "It doesn't seem that bad to me."
Settling back in
When Adolfson bought the Glover Mansion, there was one event on the books. This year, the mansion will host more than 200. He expects that to grow to 250 by 2008.
Adolfson says he loves coordinating an event, seeing a customer's dream wedding or anniversary become a reality. "There's a beginning, a middle and an end, like a performance," he says. "That's the really fun aspect of the job."
Kim Adolfson says she's taking a year off before looking for work. She looks forward to learning more about the community and helping her son settle into high school at Gonzaga Prep. "I like Spokane," says Kim, a Seattle native. "I've always liked Spokane."
Adolfson says he finds it easy to make new friends here. His rental home is a 1923 Craftsman with a big front porch. "It's like Mayberry up there," he says of the Cannon Hill neighborhood. "Everybody waves."
Local journalism is essential.
Give directly to The Spokesman-Review's Northwest Passages community forums series -- which helps to offset the costs of several reporter and editor positions at the newspaper -- by using the easy options below. Gifts processed in this system are not tax deductible, but are predominately used to help meet the local financial requirements needed to receive national matching-grant funds.
Subscribe to the Coronavirus newsletter
Get the day's latest Coronavirus news delivered to your inbox by subscribing to our newsletter.
---
Subscribe and log in to the Spokesman-Review to read and comment on this story