News > Nation/World
Rain, flooding kill at least 94
Mon., July 9, 2007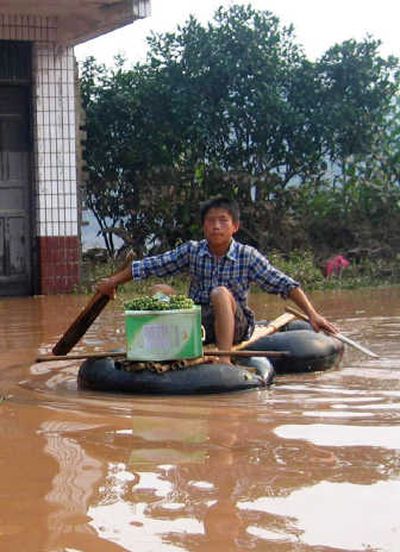 Floods and landslides unleashed by heavy rains have killed at least 94 people and left 25 others missing in parts of southern and eastern China, state media reported Sunday.
Xinhua News Agency said about 500,000 people had been evacuated in Jiangsu, Anhui, Henan, Hubei, Sichuan and Shaanxi provinces and the city of Chongqing.
It said more than 49,000 houses had been destroyed and another 240,000 damaged as a result of torrential rains in Sichuan and Shaanxi, the worst-hit provinces, over the past week.
Direct economic losses could surpass $500 million, Xinhua said.
At the same time, droughts in the north of the country have left at least 7.4 million people short of drinking water, Xinhua said.
JERUSALEM
Israel to release 250 Palestinians
The Israeli Cabinet on Sunday approved the release of 250 Palestinian prisoners in what Prime Minister Ehud Olmert said was a move to strengthen Palestinian President Mahmoud Abbas in the aftermath of Hamas' takeover of the Gaza Strip.
But the step was likely to be awkward for Abbas domestically because the prisoners to be freed are solely from his Fatah movement, exposing him to criticism that he is only looking after the interests of his own faction.
Olmert first announced the planned prisoner release last month at a summit meeting in Egypt with Abbas, Egyptian President Hosni Mubarak and King Abdullah II of Jordan.
Last week Israel transferred more than $100 million to a new government recently appointed by Abbas, in another gesture of support. The money, collected at ports and border crossings by Israel on behalf of the Palestinian Authority, was withheld after Hamas swept to power in parliamentary elections last year.
TEHRAN, Iran
Fuel smugglers collide, killing 13
Four fuel-smuggling trucks crashed into one another and caught fire in southeastern Iran, killing 13 people, state television reported Sunday.
The four trucks were traveling with their headlights off to avoid detection, the report said. They were carrying a total of 17 people and thousands of liters of fuel.
The trucks crashed near the Pakistan border, about 932 miles southeast of Tehran, the report said.
Fuel smuggling from Iran to neighboring countries is common because the country has one of the lowest fuel prices in the region, 38 cents per gallon.
Local journalism is essential.
Give directly to The Spokesman-Review's Northwest Passages community forums series -- which helps to offset the costs of several reporter and editor positions at the newspaper -- by using the easy options below. Gifts processed in this system are not tax deductible, but are predominately used to help meet the local financial requirements needed to receive national matching-grant funds.
Subscribe now to get breaking news alerts in your email inbox
Get breaking news delivered to your inbox as it happens.
---