News > Features
Sometimes, less is indeed Moore
Mon., July 9, 2007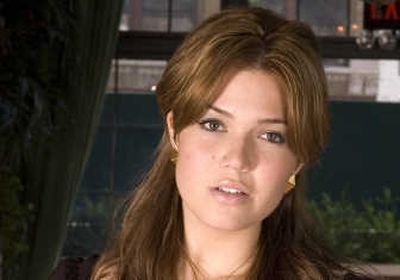 SANTA MONICA, Calif. – Mandy Moore arrives with little fanfare at the trendy Shutters on the Beach Hotel to talk about her new movie, "License to Wed."
The fresh-faced, 23-year-old actress/singer is dressed in a multicolored sundress. Her raw sienna-colored hair hangs free.
Just one door down, another young actress/singer makes a different appearance at the equally trendy Casa Del Mar Hotel.
A convoy of cars, security guards and some very aggressive paparazzi herald the arrival of Britney Spears. An altercation leads to one member of the Casa Del Mar security staff being on the receiving end of a punch.
The word from the hotel staff is that Spears just wanted to use the pool.
Both make headlines, for different reasons. Spears gets attention for her stormy lifestyle; Moore gets noticed for her acting and singing.
Others who hit the showbiz scene at the same time as Moore, such as Lindsay Lohan, are watching their careers be picked apart because of their well-publicized social lives.
Moore says it really hasn't been that hard to take the path she has followed.
"It is a testament to my family, the way I was raised," the Nashua, N.H., native says. "Not, like, to pat myself on the back, but I feel like innately it is just who I am. I don't really subscribe to the crazy party lifestyle. It is just not who I am.
"I am a little boring and lazy. I take my job seriously. But at the end of the day, I just want to go home and lead a quiet, simple life."
Another way Moore keeps a lower profile than some of her peers is that she knows when to talk and when to shut up.
"License to Wed" looks at what a loving couple will go through to be together. As for her own feelings about love and marriage, Moore flashes a coy smile and offers only: "I believe in the institution of marriage. But, I am 23. It is not something that is on the forefront of my mind right now."
Moore is humble when she talks about her success in films such as "American Dreamz" and "Saved!" or in the music world.
She admits that at times the workload feels overwhelming. She handles it by prioritizing. And because her astrological sign is Aries, she can be a little controlling.
She likes acting and singing equally. "License to Wed" opened only days after the release of her new album, "Wild Hope." She wrote most of the songs while filming the movie.
"I feel like they are such different creative entities," Moore says. "Being on stage, getting to perform in front of an audience, that connection with an audience is very, very different from film. I feel lucky and fulfilled differently by both."
By the time Moore finishes the chat about the movie, the fracas at the hotel next door has subsided. Spears is off somewhere being chased by paparazzi with security people keeping between her and the media mob.
Moore has done a day of interviews for her new movie with no fuss or security clashes. There are no paparazzi in sight.
The birthday bunch
Actor Brian Dennehy is 69. Actor Richard Roundtree ("Shaft") is 65. Actor Chris Cooper is 56. Musician John Tesh is 55. Actor Jimmy Smits is 52. Actor Tom Hanks is 51. Actress Kelly McGillis is 50. Singer Courtney Love is 43. Actor Fred Savage is 31.
Local journalism is essential.
Give directly to The Spokesman-Review's Northwest Passages community forums series -- which helps to offset the costs of several reporter and editor positions at the newspaper -- by using the easy options below. Gifts processed in this system are not tax deductible, but are predominately used to help meet the local financial requirements needed to receive national matching-grant funds.
Subscribe now to get breaking news alerts in your email inbox
Get breaking news delivered to your inbox as it happens.
---