Sports
Mariners close in on Ichiro
Wed., July 11, 2007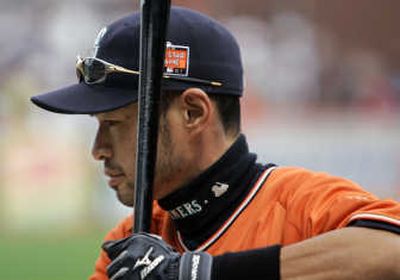 SAN FRANCISCO – Former Seattle pitcher Gil Meche tried Monday to envision the Mariners without Ichiro. He couldn't.
"He's the guy in Seattle," said Meche, who signed with Kansas City last winter. "With their ownership being from Japan, I can't imagine him leaving."
Meche's instincts were dead-on: Ichiro's not going anywhere. The Mariners are on the verge of signing the superstar center fielder from Japan to a five-year contract extension that reportedly will approach, or perhaps even exceed, $100 million.
The contract, which would lock up Ichiro through 2012, is not yet signed but is said to be imminent, with sources indicating the sides have reached an agreement in principle on the guidelines of the deal.
A Mariners spokesman declined comment Tuesday.
The deal could be announced either Thursday or Friday.
Ichiro, approached by reporters in the American League clubhouse before the All-Star Game, fended off questions about an impending deal.
He said, "I haven't signed any contract," but never denied he would do so soon.
"As I said (Monday), I'm going to sign a contract sometime and play somewhere in the world," the 33-year-old said. "This is the All-Stars right now… . I don't understand why the answers to these questions need to be given now."
Asked if it was important to keep his contract details private for the time being, Ichiro replied, "It's important, but at the same time, in this business, there are things you can't say or are allowed to say. At the same time, I don't want to lie, either."
The timing of the prospective new deal – less than two weeks after Mike Hargrove's resignation as manager on July 1 – is sure to fuel more speculation Ichiro somehow had a hand in his departure.
Yet there are strong indications talks between the Mariners and Ichiro's agent, Tony Attanasio, have been going on for several weeks and that an agreement was close even before Hargrove left.
Hargrove adamantly denied that Ichiro had any factor in his resignation.
"It had absolutely nothing to do with me and Ichiro," he said. "I'll tell you what: If it came down to that, they would have had to fire me. If it came down to me or Ichiro, I would have said, 'OK, fire me.' I wouldn't have resigned."
Hargrove reiterated the reasons he gave at his news conference were accurate.
"I was not forced out," he said. "It was not 'Ichiro or me.' Not once was that talked about. I can't make people believe. They're going to believe what they want. If it comes down to an implied conspiracy or the truth, you know which way people are going to go."
Hargrove said retaining Ichiro will be "a tremendous thing for the Mariners and their fans. He's a very good complement to a very good team. I'm extremely happy for Ichiro and the Mariners."
Local journalism is essential.
Give directly to The Spokesman-Review's Northwest Passages community forums series -- which helps to offset the costs of several reporter and editor positions at the newspaper -- by using the easy options below. Gifts processed in this system are not tax deductible, but are predominately used to help meet the local financial requirements needed to receive national matching-grant funds.
Subscribe to the sports newsletter
Get the day's top sports headlines and breaking news delivered to your inbox by subscribing here.
---