News > Spokane
Teacher takes expertise on Ecuador to airwaves
Fri., July 13, 2007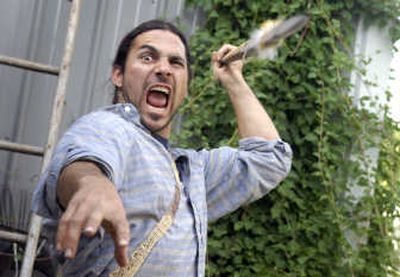 When the British company that films "Man vs. Wild" called Ferris High School teacher Hazen Audel, he thought he'd finally been discovered. "I was hoping they'd called because I really want to be the host of a nature show," Audel said.
But that's not quite what the producers, Diverse Bristol, had in mind for Audel, a science and art teacher. Instead, they wanted his expertise about Ecuador for an episode of the Discovery Channel survival show.
The 32-year-old Spokane native has been drawn to the rain forest since he was young. Finding that his biology major at Eastern Washington University got in the way of what he wanted to learn, he switched to an independent study program, sold his possessions and bought a ticket to South America. There, he spent four months studying plants and animals in Ecuador.
He returned to the United States and got his biology degree, continued his education in ethnobotany and tropical ecology at the University of Hawaii at Manoa and completed a master's degree in teaching from Whitworth College.
In the summers, however, he'd go back to Ecuador to operate a tourism business called Emerald Forest Guiding Expeditions.
In recent years, he also co-founded a nonprofit organization called The Native Ways Association that provides classes and cultural expeditions, and The Wild Classroom, another nonprofit that produces educational videos.
That's when he's not busy producing public art. Among other projects, Audel created the bench in front of the Davenport Hotel entrance on Post Street; the marquees, entrance and revolving sign at the Montvale Hotel; and the interior metal sculptures, bar and doorways at the Steelhead Bar & Grill.
"Man vs. Wild" stars Bear Grylls, formerly of a British special forces unit, who parachutes into the wilderness and uses his survival instincts and techniques to make it safely back to civilization.
But even an adventurous and skilled television host needs a little guidance before being dropped in the middle of nowhere with little more than the clothes on his back.
Greg Weiss, who co-founded Native Ways with Audel, received a call from producers looking for someone familiar with Ecuador to serve as the survival expert and biology consultant for the episode filmed there.
Weiss suggested his longtime friend because of Audel's extensive scientific and cultural knowledge of the region.
"Hazen gets way into the nature of the area," Weiss said.
After initial contact with Audel, it was clear to producers that he was the best person for the role of survival expert.
"Hazen is an all-round fascinating person – with an interesting family background, dramatic looks and in-depth knowledge of the environment," Duncan Gaudin, the first assistant director on the Ecuador shoot, said in an e-mail. "His love of nature meant that he was happy to immerse himself in the environment, which he was passionate about."
Says Audel of the South American nation, "From the minute I got to Ecuador, I realized that was the place I was meant to be."
Over the years of returning nearly every summer to guide people into remote areas of the jungle, he learned to speak Spanish and Quichua, the indigenous language of the largest group of South American Indians. He also became familiar with rain forest flora and fauna.
Despite not being offered his own show, Audel gladly accepted the opportunity to work on the episode. He was paid for his work but won't say how much.
It took three and a half weeks in Ecuador to prepare for and film the show. Audel also went to Ecuador two months prior to gather background for producers so they could develop a script.
"So many of the things I told them gave the episode the feel of what it was," Audel said of that work. "They knew what was going to look good, so they refined it. But it was good to see your own creativity being incorporated into the show."
Audel would talk to producers about indigenous practices, like using a bow and arrow to kill a particular fish, and would make all the props for the next shoot, sometimes while everyone else was eating dinner.
Not everything on the show is authentic, however.
Producers insisted on having piranhas and electric eels in the Rio Napo for Grylls to face, even though they're not native to the part of the river where filming took place.
"I had to contact my friends that live four days way downriver in a motorized canoe to go catch piranhas and electric eels for the shoot," Audel said. "It became really involved. It was an adventure on its own."
While demonstrating for the film crew how Grylls could show the fish's teeth on camera, the piranha bit the end of Audel's thumb. Audel said it became a joke among the producers that their expert got his thumb bitten off.
After filming the eels and piranhas, which were kept in a designated area, the crew ate them to avoid releasing them into the river where they didn't belong.
"It's definitely Hollywood," Audel said of the program.
It has to be, though.
"You can't just have one guy with a camera shooting, because it would just bore people to death," he said.
Although the show is supposed to teach people how to survive, Audel said he considers it to be more of a high-adventure travel show.
"The reality of survival is to stay put, keep yourself warm and hopefully someone will come to get you," Audel said. Although he notes that everything done on the show is real, Grylls "doesn't have to jump off a 40-foot cliff into piranha-infested waters for survival."
Ideally, Audel said, he'd like to host a show that's more educational and interactive with plants and wildlife. He'd call it something like "Man with Wild."
Local journalism is essential.
Give directly to The Spokesman-Review's Northwest Passages community forums series -- which helps to offset the costs of several reporter and editor positions at the newspaper -- by using the easy options below. Gifts processed in this system are not tax deductible, but are predominately used to help meet the local financial requirements needed to receive national matching-grant funds.
Subscribe now to get breaking news alerts in your email inbox
Get breaking news delivered to your inbox as it happens.
---