Sports
Cubs trade for Kendall
Tue., July 17, 2007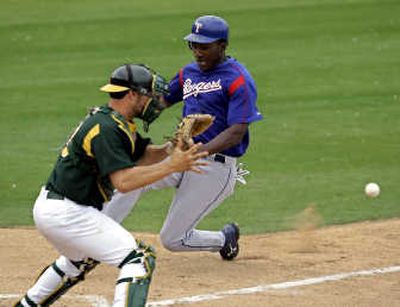 The Chicago Cubs acquired veteran catcher Jason Kendall on Monday in a trade with the Oakland Athletics for catcher Rob Bowen and minor league pitcher Jerry Blevins.
Kendall, a .298 career hitter in 12 major league seasons with Pittsburgh and Oakland, was batting only .226 for the A's this season with two homers and 22 RBIs. He was a three-time All-Star with the Pirates.
The 33-year-old Kendall has been praised for his durability despite his inconsistencies on offense. He has caught at least 143 games in each of the past seven seasons and 150 or more in four of those years.
Giambi wants to play
Fresh off his talk with baseball's steroids investigator, New York Yankees slugger Jason Giambi is focusing on playing again this season.
Giambi has been sidelined since May 30 after tearing tissue in his left foot. The former A.L. MVP didn't rule out returning in a few weeks and spoke with Roger Clemens and teammates during the Yankees' series at Tampa Bay over the weekend.
"I came in and saw the guys," Giambi said. "They were like 'Hurry up and get back. We need you.' "
Clearing the bases
Manager Eric Wedge received a three-year contract extension from the Cleveland Indians, an early reward for having his ballclub near the top in the A.L. Central. … Red Sox righty Curt Schilling threw 31 pitches in a two-inning simulated game and pronounced himself ready to take the next step in his rehabilitation from shoulder tendinitis. … The Florida Marlins suspended left-hander Scott Olsen for two games without pay because of insubordination and conduct detrimental to the team, manager Fredi Gonzalez said. … The Milwaukee Brewers placed pitcher Ben Sheets on the 15-day disabled list with a sprained finger on his pitching hand. … Houston Astros reliever Chad Qualls lost his appeal of a three-game suspension and $3,000 fine for throwing a baseball into the stands.
Local journalism is essential.
Give directly to The Spokesman-Review's Northwest Passages community forums series -- which helps to offset the costs of several reporter and editor positions at the newspaper -- by using the easy options below. Gifts processed in this system are not tax deductible, but are predominately used to help meet the local financial requirements needed to receive national matching-grant funds.
Subscribe to the sports newsletter
Get the day's top sports headlines and breaking news delivered to your inbox by subscribing here.
---