News > Home
Scott and Susan Miller
Tue., July 17, 2007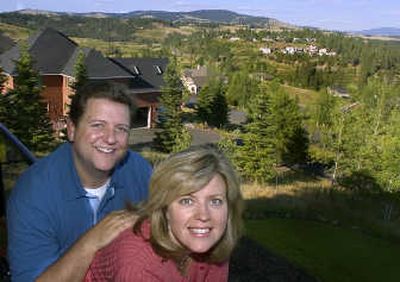 A chance to advance her career brought Susan Miller to Spokane, but the region's weather and countryside sweetened the job.
"It's just such a beautiful place," says Susan, the director of sales and marketing for Belo Corp., which owns KREM-2 and KSKN-22. "It's just wonderful."
Susan and her husband, Scott, moved here last year from Houston. While they still adore their hometown, they are thrilled to live in a place where they can play golf past 10 a.m. on a summer day.
"Living in Houston is like living in a sauna. There's 80 percent humidity," Scott says. "And the air up here is so clear and dry."
"It's hard to do outdoor things in the middle of the day in Houston," Susan says. "It's just too hot."
Why Spokane?
After nearly 20 years with Belo, Susan reached a point in her career when she "needed to move to move up," she says. She interviewed for a job in Spokane and got it.
Susan moved here in April of last year, living in an apartment until Scott joined her in November. The experience has been a "great adventure," she says.
"It's the right time to be in Spokane," she says. "The market is growing. It's good from an advertising perspective."
Scott, who works for an oil exploration and technology firm, travels along the West Coast and up to Alaska overseeing operations.
"It doesn't make much difference where I live," he says, adding that the trip to Anchorage takes about three hours from Spokane versus the nine from Houston. "It's a much easier flight."
When he's not traveling, he works from home.
"My office is my house," he says. "It's torture to sit out on my deck and look out at the mountains."
Real Estate
"We wanted to find something really different, something that embraced what Spokane is all about," Scott says. "There's really no such thing as a view in Houston."
They found a house southwest of Spokane within walking distance of Hangman Valley Golf Course. Their hillside home is visited by deer, moose and coyote.
"We have a view of rolling hills and mountains in the distance," he says. "It's just awe-inspiring."
And while they lived physically closer to Susan's job in Houston, the Spokane commute is shorter because there's less traffic. "It's a lovely 14 minutes," Susan says.
Settling in
Like Houston, Spokane is a welcoming place, Scott says. Shortly after moving into their home, their deaf and partly blind dog, Patty, wandered away on a foggy winter day.
"There were neighbors out looking for her," Scott says. "What a great place."
Two days later, someone found Patty and called the Millers. "She was a little bit beat up, a little bit skinny, but she was OK," he says.
They've made friends through church and Susan's work. And, Scott says, he's always making friends on the golf course. "People are naturally friendly here," he says.
What do they miss about Houston?
"My parents," Susan says. "Friends and family."
They've had lots of visitors, Scott says.
"We're trying to figure out a way to get them to come up here."
Local journalism is essential.
Give directly to The Spokesman-Review's Northwest Passages community forums series -- which helps to offset the costs of several reporter and editor positions at the newspaper -- by using the easy options below. Gifts processed in this system are not tax deductible, but are predominately used to help meet the local financial requirements needed to receive national matching-grant funds.
Subscribe now to get breaking news alerts in your email inbox
Get breaking news delivered to your inbox as it happens.
---