News > Business
Concrete results
Wed., July 18, 2007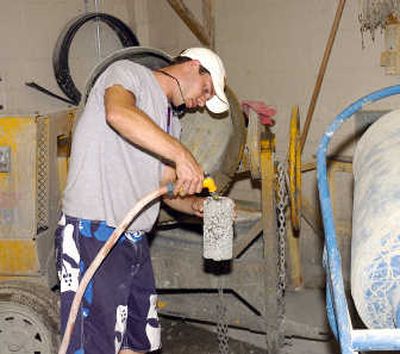 MURFREESBORO, Tenn. — Carl Turnbow Jr. started college as a computer science major, before switching to something more solid.
Like hundreds of other students at Middle Tennessee State University, Turnbow is now studying for a bachelor's degree in concrete management. The industry-funded program has become the fastest-growing major on campus.
"They teach you everything you need to know. It's the best major on campus," said Turnbow, whose class schedule includes literature, psychology, U.S. history and Fundamentals of Concrete.
Middle Tennessee, located about 30 miles southeast of Nashville, started the first-ever concrete industry management major in 1996 with only two students. Now there are more than 360 students enrolled in this program designed to train the future concrete industry managers and executives, and the idea is spreading to other American universities.
The National Science Foundation in 2004 gave Middle Tennessee a $600,000 grant to expand the program to other universities. Similar programs have sprung up at California State-Chico, Arizona State and the New Jersey Institute of Technology.
The reasons are obvious: Concrete majors have ranked among the Middle Tennessee's top three highest-paid graduates every year since the program's inception, the university says. Every graduate gets a job, and they earn about $42,000 per year on average.
"They help you market yourself; they help you get jobs," Turnbow said.
The idea came from the concrete industry itself, which was worried about the lack of concrete course work in college civil engineering programs. The Concrete Industry Management National Steering Committee gave $50,000 to start the program at Middle Tennessee.
"The concrete industry was really concerned about its long-term future because it hadn't been a really profitable industry," said Eugene Martineau, founder and former CEO of U.S. Concrete Inc. and chair of the committee. "It was highly fragmented, had a lot of small producers and no real vision other than trying to beat each other up and make a quick buck."
The concrete industry saw the current generation of managers was getting older, but there was no cooperative program to train new executives for what has become a quickly growing market.
American concrete production nearly doubled from 1990 to 2006, when the industry cranked out 243 million cubic tons of what has become the world's most popular building material.
Add that to a foreign building boom, led by China, and it was obvious the industry needed to attract talented young managers.
Industry leaders chose Middle Tennessee because of its affordable location and the lack of a strong, competing engineering program.
Ward R. Malisch, senior managing director for the American Concrete Institute, said the MTSU program is a ready-mixed hybrid of business courses and concrete engineering.
"A pharmaceutical sales rep would want to get a knowledge of business and pharmaceuticals. Here you would have to know something about the concrete and something about the business," said Malisch, who helped write the first books for the program.
Most of the Concrete Industry Management program's graduates start out working in sales and marketing, with operations and management coming in second, said Heather J. Brown, chair of the program. Students who have more technical skills often choose quality control.
The concrete industry now gives the university at least $150,000 annually, about five times the school's contribution. Concrete companies — ranging from small, local operations to national corporations — recruit students twice a week and supply guest lecturers.
"It's so priceless to have a student in front of a CEO and have them shaking their hand and learning how to dress and look them in the eye," Brown said. "Their professional experience is just as important as their academic."
Concrete students this month are testing new concrete made with trash. They've built an award-winning parking lot from pervious concrete, which prevents puddles from forming and allows water to seep through the lot and into the ground, all while filtering out oil.
The program requires students to finish a 400-hour internship before graduating. These summer jobs are mostly spent on construction sites pouring concrete and help the students gain respect in the industry.
"You've got to be willing to go in and get your hands dirty, get your feet wet and start from the bottom," she said. "This is still a good-old-boy industry, and it's important to relate to that. These are 23-year-old kids coming out to run a plant with 50-year-old drivers underneath them."
Walter Boles, chair of MTSU's Engineering Technology and Industrial Studies Department, said the success of the program suggests standard academic degrees haven't evolved with the times.
"Maybe this is an indication that industries that are large enough may be able to have their degrees pretty well-catered to what their needs are," he said. "But to do that, they'll have to put up the money because universities won't stray away from traditional programs."
Local journalism is essential.
Give directly to The Spokesman-Review's Northwest Passages community forums series -- which helps to offset the costs of several reporter and editor positions at the newspaper -- by using the easy options below. Gifts processed in this system are not tax deductible, but are predominately used to help meet the local financial requirements needed to receive national matching-grant funds.
Subscribe now to get breaking news alerts in your email inbox
Get breaking news delivered to your inbox as it happens.
---