News > Nation/World
Japan closes nuclear plant
Wed., July 18, 2007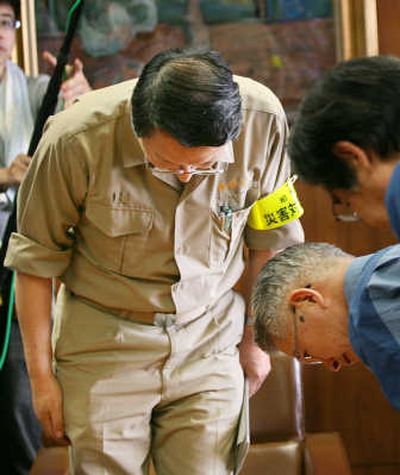 KASHIWAZAKI, Japan – A top power company official defended safety standards at an earthquake-damaged nuclear plant today, even as the company said a radioactive leak was bigger than first reported and the mayor ordered the plant shut down until its safety could be confirmed.
Plant operator Tokyo Electric Power Co. announced that a leak of radioactive water into the Sea of Japan was actually 50 percent bigger than initially announced Monday night. But the levels were still well below danger levels, it said.
"We made a mistake in calculating the amount that leaked into the ocean. We apologize and make correction," the statement said. Spokesman Jun Oshima said the amount was still "one-billionth of Japan's legal limit."
Hiroshi Aida, mayor of Kashiwazaki, a city near the epicenter that is home to the plant and 93,500 people, ordered operations at the plant halted today for "safety reasons."
"I am worried," he said. "It would be difficult to restart operations at this time. … The safety of the plant must be assured before it is reopened."
The International Atomic Energy Agency, meanwhile, pressed Japan to undertake a transparent and thorough investigation of the incidents to see if there are lessons that can be applied to nuclear plants elsewhere in the world.
Adding to the urgency was new data from aftershocks of Monday's deadly 6.8-magnitude quake suggesting a fault line may run underneath the mammoth power plant.
Kashiwazaki-Kariwa is the world's largest nuclear plant in power output capacity. Signs of problems after Monday's quake came first not from the officials, but in a plume of smoke that rose up when the quake triggered a small fire at an electrical transformer.
It was announced 12 hours later that the quake also caused a leak of about 315 gallons of water containing radioactive material. Officials said the water leak was well within safety standards. The water was flushed into the sea.
Later Tuesday, it said 50 cases of "malfunctioning and trouble" had been found. Four of the plant's seven reactors were running at the time of the quake, and they were all shut down automatically by a safety mechanism.
Tsunehisa Katsumata, president of plant operator Tokyo Electric Power Co., toured the site this morning, declaring it "a mess" and apologizing for "all the worry and trouble we have caused."
"It is hard to make everything go perfectly," he said. "We will conduct an investigation from the ground up. But I think fundamentally we have confirmed that our safety measures worked."
Speaking in Malaysia, IAEA chief Mohamed ElBaradei said a thorough review was key and offered to have his Vienna-based agency pull together global experts.
"It doesn't mean that the reactor structure or system has been damaged," ElBaradei said. "I would hope and I trust that Japan would be fully transparent in its investigation of that accident. The agency would be ready to join Japan through an international team in reviewing that accident and drawing the necessary lessons."
Meanwhile, TEPCO spokesman Hiroshi Itagaki said information accumulated by studying aftershocks shows that a fault line stretches under the ocean near the coast, which is not far away from the plant. He declined to say how close to the plant the fault might come, but the company is planning to study the issue.
Local journalism is essential.
Give directly to The Spokesman-Review's Northwest Passages community forums series -- which helps to offset the costs of several reporter and editor positions at the newspaper -- by using the easy options below. Gifts processed in this system are not tax deductible, but are predominately used to help meet the local financial requirements needed to receive national matching-grant funds.
Subscribe now to get breaking news alerts in your email inbox
Get breaking news delivered to your inbox as it happens.
---