Sports
Riverhawk ace
Wed., July 18, 2007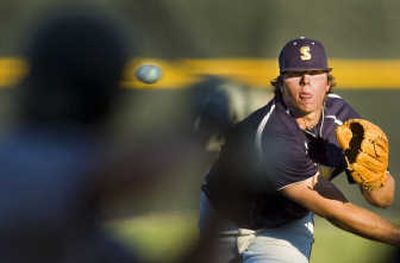 Physically, A.J. Proszek is something of a cross between The Big Unit and The Rocket. Proszek is four inches shorter than the lanky 6-foot-10-inch Randy Johnson, but he also has a good 20 pounds on the stocky 235-pound Roger Clemens.
At 6-feet-6-inches and 255 pounds, the Spokane RiverHawks' ace starter can be a formidable figure when he stands on the mound and glares down at batters from under the brim of the baseball hat pulled low over his brow.
"I call him The Big Ox," RiverHawks coach Barry Matthews said. "He's just brute strength. You get him into the weight room and he's just an animal. You just walk by and you can sense how powerful he is."
But power is nothing without a certain amount of finesse. Proszek's 90 mph fastball is all the more lethal because he's already learned to control the pitch and to make the most of his brute force.
"A.J. will throw 85 percent fastballs and get guys out because he can put it wherever he wants," said Matthews, who has also coached Proszek at the Community College of Spokane for the last two years.
Proszek played both football and baseball all through his junior year at Jenkins High School in Chewelah before dropping football to focus his energies solely on baseball during his senior year.
"I knew baseball was the sport that would take me places so I put most of my effort in baseball," said Proszek, a former tight end, "I like everything about the sport. Especially being in control of the game.
"I guess it's kinda like being the quarterback in football: when I'm on the mound and I have the ball in my hand, everything's on me."
Proszek went to CCS on a scholarship out of high school and by his sophomore year, he'd become one of the team's premier pitchers.
In his last three starts for CCS, Proszek lost a no-hitter 1-0, threw a one-hitter, 1-0 and won his final game 2-1.
His stellar performance for CCS attracted interest from Gonzaga, and the Bulldogs offered him a spot on their roster for next year.
Meanwhile, Proszek has found success with the RiverHawks.
Proszek is 2-0 with a 2.36 earned run average in five starts for the RiverHawks this summer. He leads the team with 24 strikeouts, and was recently named to the West Coast Collegiate Baseball League's All-Star team along with RiverHawks infielder Bryan Horst.
"It's an honor, and yes it's a great achievement for us," Proszek said. "And at the same time, it's great for everyone else too because they get a little break in between games."
Proszek is quickly gaining a reputation around the league as a strikeout machine.
"A.J. commands the inner half and the outer half of the zone with his fastball, throws a breaking ball and a change up for strikes, changes speeds well and just attacks the zone," Matthews said. "He gives up a lot of hits but at the same time he gets a lot of guys out because he's very efficient with his pitches. And his velocity is starting to jump too."
With control, speed, a variety of weapons in his arsenal and of course the 'Wow Factor' inspired by his daunting physical stature, The Big Ox has the makings of another Big Unit.
"The size does help," Proszek grins. "It gets me higher off the mound and makes me seem just a little more intimidating."
Local journalism is essential.
Give directly to The Spokesman-Review's Northwest Passages community forums series -- which helps to offset the costs of several reporter and editor positions at the newspaper -- by using the easy options below. Gifts processed in this system are not tax deductible, but are predominately used to help meet the local financial requirements needed to receive national matching-grant funds.
Subscribe to the sports newsletter
Get the day's top sports headlines and breaking news delivered to your inbox by subscribing here.
---