Sports
Halladay keeps Mariners bats silent
Mon., July 23, 2007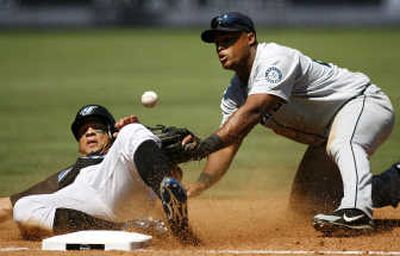 TORONTO – When Felix Hernandez lost his cool, the Toronto Blue Jays took advantage. Roy Halladay never gave the Seattle Mariners a chance to recover.
Halladay threw a three-hit shutout, Troy Glaus hit a three-run homer and the Blue Jays beat the Mariners 8-0 on Sunday.
Halladay (11-4) walked one and struck out three to win for the first time in three starts. It was his ninth career shutout and his first since May 29, 2005 against Minnesota.
"A lot of things went my way," Halladay said. "For the most part I was getting the ball where I wanted to and when I didn't, it seemed to go right at guys. It's nice to have that combination."
Aaron Hill and Gregg Zaun added solo blasts for Toronto.
It was the second straight shutout for the Blue Jays. On Saturday night, Josh Towers and three relievers held the Mariners to three singles.
"We ran into a couple of buzzsaws," Seattle manager John McLaren said.
The Mariners had been shut out just three times before the last two games. They haven't scored in their last 22 innings.
Hernandez (6-6) allowed two hits through the first four innings but came unglued in the fifth after a defensive miscue and a close call by home plate umpire Chad Fairchild.
After Zaun drew a leadoff walk, Royce Clayton bunted back to the mound. Second baseman Jose Lopez failed to cover first base, leaving a frustrated Hernandez holding the ball.
"That hurt us," McLaren said.
Reed Johnson advanced the runners with a sacrifice and Lyle Overbay was intentionally walked to bring up Alex Rios. With the count 1-2, Fairchild ruled a Hernandez fastball just missed the outside corner.
"I was angry but you can't do that," said Hernandez, who walked off the mound and looked around the infield with a pained expression on his face after Fairchild's call. "You can't lose your focus. You have to stay in the game."
Catcher Kenji Johjima came to the mound to try and calm Hernandez down.
"We understand how he feels but to show an attitude like that isn't going to do anything for us," Johjima said through a translator.
The visit didn't help, as Rios laced the next pitch through the left side for a two-run single, breaking a scoreless tie and bringing McLaren out of the dugout for a lively argument with Fairchild. McLaren, who took over as manager on July 2 following Mike Hargrove's resignation, was ejected for the first time.
"We thought it was a strike, he said it was a ball," McLaren said. "Of course, it was the biggest play of the game. I wasn't pleased about it and I told him I wasn't pleased about it."
Glaus added to Seattle's woes by drilling Hernandez's next pitch over the left field wall for a three-run homer.
"I was trying to throw a slider to the outside corner and it hung," Hernandez said.
Zaun led off the sixth with a home run to right off Hernandez, who allowed six runs and seven hits over six innings. He walked four – one intentional – and struck out seven.
"We really got a sense that Hernandez was starting to get frustrated and some pitches started coming up in the zone," Zaun said. "Those are the times you have to take advantage, when you have the other team's ace out there and he's lost his composure for whatever reason and you're smelling a big inning."
McLaren spoke to Hernandez after the game about keeping his emotions in check.
"It's something he has to learn with experience that when you don't get a pitch, you've got to focus on the next moment, the next pitch," McLaren said. "You can't get out of your game."
McLaren said he quietly urged Hernandez to follow the example of Venezuelan countrymen Freddy Garcia and Carlos Zambrano and use his emotions as a positive, not a distraction.
"I don't think screaming is the answer," McLaren said. "It's just something he's got to get. The sooner he gets it, the better he's going to be and the better we'll be."
Toronto added two more in the eighth off reliever Ryan Rowland-Smith. Hill homered to left and Overbay hit a sacrifice fly.
Notes
Seattle's Ichiro Suzuki finished 0 for 4 and is hitless in his past eight at-bats. … Mariners third baseman Adrian Beltre batted in the cleanup spot for the first time this season and went 1 for 3 with a double. … The Mariners are 5-5 since the All-Star break.
Local journalism is essential.
Give directly to The Spokesman-Review's Northwest Passages community forums series -- which helps to offset the costs of several reporter and editor positions at the newspaper -- by using the easy options below. Gifts processed in this system are not tax deductible, but are predominately used to help meet the local financial requirements needed to receive national matching-grant funds.
Subscribe to the sports newsletter
Get the day's top sports headlines and breaking news delivered to your inbox by subscribing here.
---