News > Business
'Bank with a heart' thrives
Tue., June 12, 2007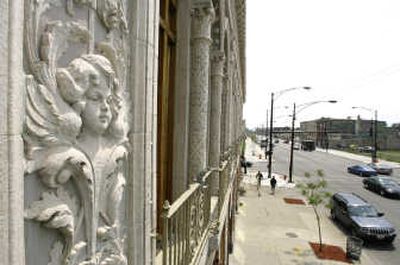 CHICAGO – Opening a bank aimed at improving the quality of life in poor urban areas was supposed to be a grand notion doomed for failure.
The demise of ShoreBank, which promotes projects as varied as redevelopment, minority businesses and environmentally responsible lending, was so predictable that a university professor came running to document its beginnings for a case study on business failure.
"Well, think about it," says Mary Houghton, one of four co-founders of ShoreBank Corp. and currently its president. "Two black guys, a white Polish guy and a white female going into a black neighborhood to buy a failing bank. I mean, we heard stories about it."
Thirty-four years later, the stories are about its trailblazing success.
ShoreBank is flourishing with a global reputation far out of proportion to its comparatively modest $2.1 billion in assets. The nation's first community development and environmental bank has branched out from its Chicago roots to Cleveland, Detroit, the Pacific Northwest and abroad, where its consulting arm Shorebank International Ltd. provides loans to budding entrepreneurs and mortgages to homeowners in Africa, Asia and East Europe.
Despite its altruistic slogan – "Let's change the world" – this is no charity organization. The Chicago-based banking company reported net income of $5.3 million last year even after tending to its varied missions.
But its biggest impact has been in what it calls community-minded investing, not profitability.
"They're a bank with a heart," said Andres Schcolnik. He should know. The Chicago architect and developer saved the landmark Grand Ballroom from the wrecking ball thanks to a ShoreBank loan. Its subsequent rehabilitation into a rare architectural jewel on the hardscrabble South Side makes it a showpiece for the bank's work.
Once frequented by such stars as Cab Calloway, Dizzy Gillespie, Count Basie and The Temptations, the 84-year-old building was a shambles when Schcolnik acquired it four years ago and began a $3 million renovation. Today it boasts a fully restored orchestra shell and 60-foot wooden bar, chandeliers from the Lyric Opera and a cherry wood floor fit for a Chicago mayor to dance on.
ShoreBank was founded on the '60s-era idealism of Ron Grzywinski, Houghton, Milton Davis and James Fletcher (the latter two now deceased), who together ran one of the nation's first minority small business loan programs. Intent on finding ways to reverse the decline of inner-city Chicago neighborhoods, they zeroed in on redlining – banks' then-routine denial of credit and services to customers in poorer areas.
The four young bankers raised $800,000 in capital and obtained a $2.4 million loan to buy the failing South Shore National Bank in 1973, using it as a model for their then-novel idea that private bank capital could be used to achieve social purposes.
Aided by several dozen institutional backers and the popularity of its "development deposits," in which small consumers assist community development by setting up checking or savings accounts or buying certificates of deposit, ShoreBank gradually began to make an impact.
While acknowledging mixed results in its financial backing of minority-owned businesses, its impact on helping to rehabilitate impoverished neighborhoods on the city's South and West sides is unquestioned. It has financed the rehabilitation and purchase of about 50,000 rental housing units by helping small developers, about half of them black, who promise to fix up abandoned or run-down properties.
ShoreBank expanded its focus to the environment in the mid-'90s, starting ShoreBank Pacific to lend to projects and companies that are environmentally responsible, a mission it has since expanded from Washington and Oregon to the Midwest.
Through its far-flung business, it can even claim a supporting role in the work honored by last year's Nobel Peace Prize. Grzywinski and Houghton, on 18 trips to Bangladesh over 10 years, advised winner Muhammad Yunus on how to start and manage his Grameen Bank for the poor specializing in very small loans called microcredits.
As to having gotten this far, both surviving co-founders say they always felt they had no choice but to succeed in order to show that there was merit to the idea of using a bank to do things like fight poverty and racism.
"It was ourselves and our careers and our reputations and some money that we had invested," Grzywinski said of bucking the odds. "But it was also that if we ever failed … everybody without looking at the details would say, 'Well, this goes to show – we told you it wouldn't work.' "
Local journalism is essential.
Give directly to The Spokesman-Review's Northwest Passages community forums series -- which helps to offset the costs of several reporter and editor positions at the newspaper -- by using the easy options below. Gifts processed in this system are not tax deductible, but are predominately used to help meet the local financial requirements needed to receive national matching-grant funds.
Subscribe now to get breaking news alerts in your email inbox
Get breaking news delivered to your inbox as it happens.
---