News > Nation/World
Weaver backs fugitives, recalls Ruby Ridge
Tue., June 19, 2007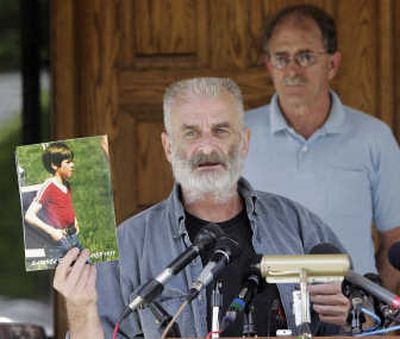 PLAINFIELD, N.H. – Randy Weaver, the symbol of everything the government hopes to avoid with convicted tax evaders Ed and Elaine Brown, offered advice to the fugitives and warnings to federal agents at the Browns' fortified home Monday afternoon.
Weaver's wife and son and a deputy U.S. marshal were killed during the infamous Ruby Ridge shootout with federal agents in North Idaho in 1992. He visited the Browns' hilltop home Monday to raise the specter of the botched federal raid and lend his name to the tax evaders' cause.
"We said, 'This is it, we're not going to take it any more.' … This is serious stuff. Bring it on," Weaver said during a news conference on the Browns' front porch. "I ain't afraid of dying no more. I'm curious about the afterlife. And I'm an atheist."
During the sometimes hostile news conference that had Weaver and Ed Brown shouting insults at reporters, the speakers and their supporters repeated their claims that income taxes are voluntary, and any tax on labor amounts to slavery.
"The bottom line is: Show us the law, we will pay what you ask," Ed Brown said. "They can't do it, folks."
The Browns' home, which he calls a castle, has 8-inch concrete walls, a turret that offers a 360-degree view of the property and a driveway that is sometimes barricaded with SUVs. The 110-acre compound is self-sufficient and is capable of running entirely through solar, wind and geothermal energies.
Weaver said he would help the Browns fight "only in self-defense."
"I've been shot in the back, and that's no fun," said Weaver, who brought pictures of his slain family to the podium.
Officials cut power last week in an effort to ratchet up pressure on the couple convicted of conspiring to avoid federal income taxes by hiding $1.9 million of income between 1996 and 2003.
The Browns said they hadn't noticed.
Ed Brown has threatened "guerrilla warfare" and retaliation against those who played a role in his conviction. He has said he is resigned to becoming a martyr for what prosecutors called novel interpretations of tax law during his trial, which he skipped.
The Browns' claim that the federal income tax is not legitimate has drawn support from so-called patriot and militia groups. Supporters from as far away as Texas also have brought weapons and supplies. One has posted photographs on the Internet of himself posing with automatic rifles.
The Browns were joined Monday by several of their supporters, waving "Don't Tread on Me" flags and "Don't Murder the Browns for Money" signs.
Local journalism is essential.
Give directly to The Spokesman-Review's Northwest Passages community forums series -- which helps to offset the costs of several reporter and editor positions at the newspaper -- by using the easy options below. Gifts processed in this system are not tax deductible, but are predominately used to help meet the local financial requirements needed to receive national matching-grant funds.
Subscribe now to get breaking news alerts in your email inbox
Get breaking news delivered to your inbox as it happens.
---