News > Spokane
Apple puts spotlight on child welfare
Sat., June 23, 2007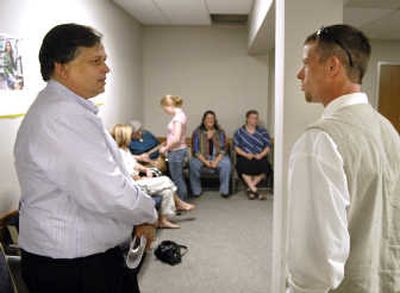 Amid the blue herringbone chairs in the waiting room of the county's juvenile court, it's not uncommon to hear scathing critiques of the Washington's child welfare system from disgruntled parents and their families.
But this week, the criticism came from an unusual quarter: Spokane City Councilman Bob Apple.
The outspoken, 51-year-old councilman waded waist-deep into a child welfare case involving a former employee and campaign volunteer, Daniel Morgan, 29.
Throughout several days of hearings, Apple could be heard variously accusing a state social worker of submitting false court documents, stating that an assistant attorney general should be jailed, and repeatedly accusing Child Protective Services of kidnapping a 2-year-old boy.
"It's a sham," Apple fumed in the waiting room, surrounded by the Morgans and their relatives. "If this is how the court system operates, then it's broken."
A spokeswoman for CPS called Apple's comments "absolutely ridiculous."
"None of these decisions are made in isolation," spokeswoman Kathy Spears said. "There are checks and balances in this system. When we go to court, we have to make the case that a child we are removing is at risk of imminent harm."
Four years ago, Washington legislators opened the doors to the hearings where the fate of hundreds of allegedly abused or neglected Spokane County children are decided. The vast majority of the cases – on any given day, about 10,000 children are in Washington's foster care – pass unnoticed.
But the presence of Apple, an outspoken and blunt councilman, shined a light on the Morgans' two-month legal battle – and into the little-understood machinations of the child-welfare system.
At the center of the dispute are three boys and the familiar tale of a family torn apart by divorce and competing allegations of child abuse and neglect.
The Morgans, who own a car-detailing business, allege that an overzealous CPS social worker relied heavily on the reports of Robin's ex-husband, Derrick Allen. The 33-year-old is involved in a custody dispute with Robin, with whom he had two older sons.
"We would submit that this is really nothing more than a custody battle," said attorney Connie Powell, who defended Daniel Morgan against an allegation that he threw his 8-year-old stepson to the ground and kicked the boy in the buttocks.
Late Thursday night, a court commissioner sided with Morgan and his wife, and ordered the state to return their 2-year-old son, who was taken by police April 18.
Social worker Sheila Thorne, a 13-year veteran of the agency, declined to comment.
"The department has made more than a reasonable effort to prevent the removal of (the boy) from the family's home," said Kim McClain with the state attorney general's office, which represents CPS in child-welfare cases.
McClain said the two older boys in the home reported that Daniel Morgan had physically abused them. She described the family as "chaotic."
In April, three days after he made the report to police and social workers, Allen obtained a temporary change of custody to care for his and Robin Morgan's two biological children. Allen could not be located for comment.
"Unfortunately, in this field, when the custody of children is involved, everyone involved is willing to lie," said Dave Wood, a lobbyist for Washington Families United, a nonprofit group seeking reforms to the child-welfare system. "You don't know what the truth is. Something has to change."
The Morgans maintained the boy suffered injuries to his knee and head during accidents with a toy car and a bike, respectively. According to testimony, the boy told Allen that Daniel Morgan had caused the injuries.
The Morgans said Allen has used the referrals "as payback" and to gain custody of the two children he had with Robin Morgan.
"The injuries have nothing to do with Mr. Morgan," Apple said. "I've known these kids for 15 years. I know Daniel would never beat his kids."
Since 2002, the state agency has received a "number of referrals related to parental neglect of the children and alleged physical abuse of the children by Mr. Morgan," according to the court documents. A state spokeswoman said she could not disclose how many of the complaints were made by Allen.
A state ombudsman who reviewed the case recommended that the children be removed from the home, according to court records. The agency said the parents have refused to engage in services, including anger management.
"We make a decision to take a case to court, and the court has an opportunity to review the evidence," said Spears, the CPS spokeswoman. "I think that is the strength of the child-welfare system: to have different parts looking at what we are doing so that no one agency is making decisions on their own."
On Friday, Robin Morgan said she had been unable to work for the past two months. Family members helped out at the couple's car-detailing business.
"I have been running back and forth between attorneys and visitations," she said. "I just hope that everybody can see that CPS is good, but there are not good CPS workers out there. I'm really happy that my son is home."
For his part, Apple maintained his support wasn't motivated by friendship alone.
"I will do it for any citizen who contacts me," he said.
Staff writer Benjamin Shors can be reached at (509) 459-5484, or by e-mail at benjamins@spokesman.com.
Local journalism is essential.
Give directly to The Spokesman-Review's Northwest Passages community forums series -- which helps to offset the costs of several reporter and editor positions at the newspaper -- by using the easy options below. Gifts processed in this system are not tax deductible, but are predominately used to help meet the local financial requirements needed to receive national matching-grant funds.
Subscribe now to get breaking news alerts in your email inbox
Get breaking news delivered to your inbox as it happens.
---