News > Home
The Sklut family
Tue., June 26, 2007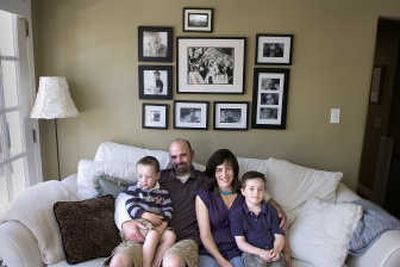 The birth of a second child prompted Amy and John Sklut to re-evaluate their lives.
The couple's life in Marin County, Calif., seemed too disjointed. John worked long hours as a juvenile public defender. Amy stayed home with their kids. Running errands, going to work, and visiting friends and family meant long commutes in heavy traffic.
"We had this family now," Amy says. "Our life there was very spread out. We were going to have to be gone a lot in order to stay there."
"We wanted a better place to raise our kids," John says.
So the couple started researching places on the Internet. They looked at Portland. They seriously considered Fort Collins, Colo. And they kept going back to Spokane. List after list – good schools, clean water, high-quality health care – gave the city high marks, they say.
"We read a lot about the quality of life here," John says. "It was manageable, open and offered easy access to lots of outdoor activities.
"It also reduced the financial pressure of living. We can just have a bigger life here."
Why Spokane?
Amy and John visited Spokane over Memorial Day weekend in 2005. They stayed at The Hotel Lusso and walked all over downtown, "just like we lived here," Amy says.
During a dinner at Nikos, the Skluts chatted with the couple at the table next to them. "They couldn't stop talking about what a great place it was to raise children," Amy says.
She adds that college students working downtown for the summer echoed those comments. Most students want to get as far away from their hometowns as possible, she says. "They wanted to come back and raise their families here."
The couple left Spokane with a great feeling. And a lovely string of coincidences helped make their decision easier, Amy says.
"I prayed really hard about this," she says. "I told God, 'I do not need subtlety here.' "
After an informational interview, John was offered a job at the Center for Justice. The couple learned from a friend of a friend about a house available in a South Hill neighborhood they heard had a great elementary school. And their eldest son could get the last spot in a good preschool.
The Skluts moved to Spokane in September 2005.
Settling in
Amy says having small children – Declan is 5, Jack is 3 – makes it easy to make friends. She joined a MOPS group. She socializes with the moms at Declan's preschool.
"Spokane is a personal town," Amy says. "There's a sense of security, of people paying attention to how we're doing."
They're elated to be living in a city that "appears to be on the cusp of change," John says. "It is changing, progressing, growing.
"It's exciting to be a part of that."
What do you miss?
Amy and the children flew home in May to visit her parents in San Diego. And while it was lovely to be back in her hometown, she says she realized her move to Spokane gave her the best of two worlds.
"I get to visit (San Diego) in the way I love it, without having to try and find parking," she says.
And when the plane touched down at "that awesome Spokane airport," she says, Amy said something that surprised her: "I said to the kids, 'We're home.' "
Real estate
The Skluts bought that house in the Hutton neighborhood they'd heard about from a friend. It's a two-story home built in 1941.
"It has French doors and this tiny little balcony," Amy says. "It looks like a home in New Orleans. I love that it has character."
Local journalism is essential.
Give directly to The Spokesman-Review's Northwest Passages community forums series -- which helps to offset the costs of several reporter and editor positions at the newspaper -- by using the easy options below. Gifts processed in this system are not tax deductible, but are predominately used to help meet the local financial requirements needed to receive national matching-grant funds.
Subscribe now to get breaking news alerts in your email inbox
Get breaking news delivered to your inbox as it happens.
---