News > Features
A colorful future
Sat., March 24, 2007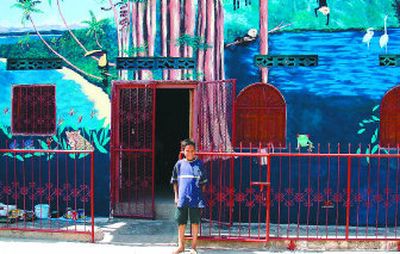 In the beautiful, historic city of Granada, Nicaragua, tourists can be seen rocking lazily on the verandas of brightly-painted colonial buildings that line its main square.
Just a short walk away, in the poorer neighborhoods of the city, one finds thousands of children, many with little hope, walking barefoot beside grey concrete and stucco buildings.
One colorful oasis in this drab setting is a vibrant mural painted in August 2006 by Spokane artist Katherine Staib Derrick.
"It happened all by chance," recalls Derrick.
Last summer, while living in Costa Rica and volunteering as an art teacher, Derrick made a side trip to Granada.
"During a stroll through downtown I spotted this terrible-looking mangy dog that was just a wreck," she says. "I asked around for an animal clinic and found my way to a woman named Donna Tabor."
It seems Tabor, a former longtime Pittsburgh television producer, had served in the Peace Corps in Nicaragua in the mid-'90s and became impassioned with working with disadvantaged youth.
After her two-year service with Peace Corps ended, she stayed on as a volunteer with Building New Hope, a tiny Pittsburgh-based nonprofit that supports grassroots development projects in El Salvador and Nicaragua.
Among their projects are alternative schools and literacy programs for underserved and at-risk youth, a community lending library, an animal care clinic and job training.
Another major project is the support of an organic coffee cooperative in northern Nicaragua. The group purchases and sells the coop's organic coffee in the United States.
Because Building New Hope pays the farmers above fair trade prices, the cooperative has upgraded its school system, purchased newer farm equipment and replaced worn out coffee plants in order to maintain high quality shade grown, organic beans.
"I was so impressed with this small organization and the work it was doing," says Derrick.
"When you see firsthand the enormous need, it hurts you," she says. "Then when you see people jumping in and doing something, you want to help too."
After learning Derrick was an artist, Tabor asked her if she would consider painting a mural on a small two-story school.
"I came up with some sketches Donna liked," remembers Derrick, "and decided to stay a few extra days to paint the mural."
In just the few months since the mural was completed, writes Tabor in an e-mail, it "seems to have brought a sense of pride to a poor barrio where color is lacking. It has become a bit of a landmark, people give directions by the mural."
On Sunday, Derrick is heading back to Nicaragua to paint at least three new large-scale murals, teach art to young children and coordinate non-Spanish speaking volunteers.
She plans to be in Granada for almost two months.
One of her projects will be an inside mural at Cafe Chavalos, a job-training program for boys and young men, many of whom originally lived on the streets.
In exchange for a promise to attend school, the trainees are given cooking lessons by a professional chef, as well as training in customer service and managerial skills.
"If funding allows," says Tabor, "we would love to have Katie continue to work with murals on all of our projects in the barrios, which are so lacking of visual beauty and color."
Local journalism is essential.
Give directly to The Spokesman-Review's Northwest Passages community forums series -- which helps to offset the costs of several reporter and editor positions at the newspaper -- by using the easy options below. Gifts processed in this system are not tax deductible, but are predominately used to help meet the local financial requirements needed to receive national matching-grant funds.
Subscribe now to get breaking news alerts in your email inbox
Get breaking news delivered to your inbox as it happens.
---