News > Features
Guanghui offers fresh prints
Thu., March 29, 2007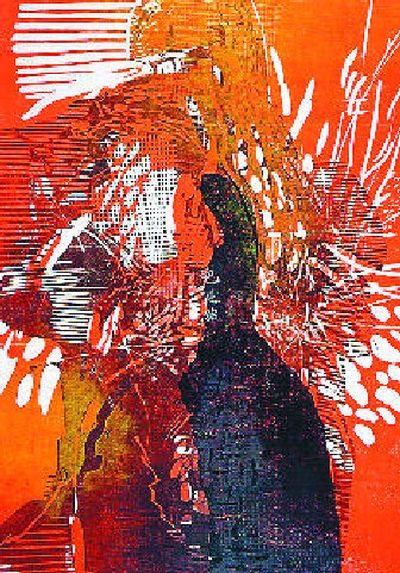 Chinese artist Zhang Guanghui is due in Spokane today, direct from his exhibition in Hong Kong.
The contemporary printmaker and painter from Wuhan, in central China, is Gonzaga University's 2007 Kreielsheimer Visiting Artist.
This is actually Guanghui's second trip to the Inland Northwest. In 2004, he was in Spokane for one day with two other Chinese printmakers as part of an artist exchange organized by Art Partners International out of Seattle.
The small delegation toured the Jundt Museum print collection and stopped by the print studio of Gonzaga art professor Mary Farrell.
It was during that brief visit that Guanghui, who does not speak English, and Farrell, who speaks no Chinese, started developing an interest in each other's work.
"We connected immediately through our art," says Farrell. "I am very intrigued with his work and really interested in intercultural exchanges among artists."
Guanghui heads the printmaking program at the Hubei Institute of Fine Arts in Wuhan. Farrell will visit Wuhan in December 2008.
He is known for using the ancient art of the woodblock printing to explore contemporary "social changes as China and the West react to the issues brought about by globalization," according to a Gonzaga news release.
"Stylistically what I respond to and consider exquisitely interesting is his layering of information," says Farrell.
"His use of color is really beautiful and subtle," she says. "The way the images flicker, break up and come back together through the layering of the information is absolutely gorgeous."
During Guanghui's weeklong stay in Spokane, he will conduct a three-day workshop with Gonzaga art students.
"I hope that students get a unique insight into how he develops his images through his process," Farrell says, "and that they have an awakening to a different culture experience."
A series of Guanghui's woodcut prints will be on exhibit from Monday through April 6 in the Kreielsheimer Gallery on the main level of the Art Department's Jundt Building, 202 E. Cataldo Ave.
Meet Guanghui at a public reception and lecture next Thursday from 7 to 9 p.m. in the Kreielsheimer Gallery and Jundt Auditorium.
Guanghui will talk about the relationship between his work and the art of the Chu culture of southern China. Both the reception and lecture are free.
After his week at Gonzaga, Guanghui will be off to Seattle. On April 14 he will take part in a panel discussion, "Art in Context," with Farrell and Joe Feddersen of Olympia at the University of Washington Art Department.
Grant's 'Spring Show'
The William Grant Gallery in north Spokane is opening its 2007 season with a "Spring Show" featuring 11 Inland Northwest artists.
Showing for the first time at the gallery are watercolorist Gay Witherspoon and pressed flower artist Judy Meddaugh.
Other artists include painters Carol Schmauder, watercolors; Debbie Hughbanks, acrylics and pastels; and Thelma Giampietri, pastels.
Sandra Hiller is showing leather art; Amy Wharft, pottery; Ned Fox, photography; Janna Juday, jewelry; Jan Juday, silk; and Marti Bennett, enamel on glass.
The gallery is adding a twist to the opening reception on Saturday between noon and 4 p.m.
"We have invited the Spokane Humane Society to set up at our store so they can adopt out both cats and dogs," says owner Charlie Hinton.
Artists and the gallery will donate 10 percent of all artwork sales that day to the Humane Society. Visitors are also encouraged to donate pet food.
The artwork will be up through June at the gallery, 820 W. Francis Ave. Regular hours are Monday through Friday from 9 a.m. to 6 p.m. and Saturday from 10 a.m. to 4 p.m.
Call the gallery with questions at (509) 484-3535.
Whitworth's junior show
"NOX," an exhibition of works by Whitworth College junior art students, opens Tuesday in the Koehler Gallery.
" 'NOX' is an eclectic mixture of works that students created in the wee and dark hours of the night," says painting and drawing student Amy Newton in a news release.
The show includes paintings, prints, sculpture, graphic design and mixed media.
In addition to Newton, exhibiting Whitworth students are Megan M. Baker, Maddison Colvin, Heather DeCamp, Betty Gardner, Toni Hagelin, Kara Hyatt, Kaitlin Trott and Thayer Wild.
"The clunking and clanking of the art building settling in the night are the sounds the 'NOX' artists have become familiar with during their time at Whitworth," says graphic design student DeCamp. "Without these sounds, the inspiration for true art wouldn't come."
An opening reception is Tuesday from 5 to 7 p.m. in the Fine Arts Building. The free show runs Tuesday through April 20.
Gallery hours are Monday to Friday from 10 a.m. to 6 p.m. and Saturday from 10 a.m. to 2 p.m. For more information call (509) 777-3258.
'Works From the Heart'
The 22nd annual "Works From the Heart" contemporary art auction is set for April 14 at the Northwest Museum of Arts and Culture.
Scores of Northwest artists are participating in the fundraiser by donating more than 100 objects, including ceramics, photography, paintings, prints, jewelry, sculpture and glass.
The auction is preceded by an exhibition of all the artwork, which is under way in the museum's Davenport Gallery.
Meet the artists during a public reception on April 6 from 5 to 8 p.m. Admission is free.
Tickets to the auction and dinner on April 14 are $60 ($10 tax-deductible) for museum members and $75 ($25 of which is tax-deductible) for nonmembers. All proceeds benefit the museum's operating and art acquisition fund.
Call (509) 456-3931 for information and reservations. The museum is in the Browne's Addition neighborhood at 2316 W. First Ave.
WSU BFA shows
Washington State University's senior Bachelor of Fine Arts solo exhibits are under way in the Fine Arts Building on the Pullman campus.
Kicking off the series are Nick Inman in Gallery II and Chelsea Capperauld in Gallery III. They are having a joint closing reception on Saturday from 7 to 10 p.m. There will be live blues music.
From Sunday through April 7, Matt Green's work will be in Gallery II, with Alex Gibson and Jared Guay in Gallery III.
Other shows scheduled in Gallery III include:
"April 8 to 14 – John Mason and Joann Varnell.
"April 15 to 21 – Jennifer Gosciewski and Michelle White.
"April 22 to 28 – Matt Boland and Shelly Stewart.
"April 29 to May 5 – Meghan Rasmussen and Amanda Lyon.
Local journalism is essential.
Give directly to The Spokesman-Review's Northwest Passages community forums series -- which helps to offset the costs of several reporter and editor positions at the newspaper -- by using the easy options below. Gifts processed in this system are not tax deductible, but are predominately used to help meet the local financial requirements needed to receive national matching-grant funds.
Subscribe to the Coronavirus newsletter
Get the day's latest Coronavirus news delivered to your inbox by subscribing to our newsletter.
---