News > Features
'Musical 2' cast committed
Fri., May 4, 2007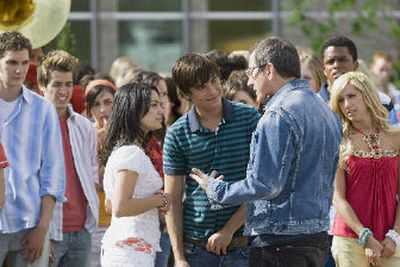 ST. GEORGE, Utah – It's the start of summer, and Sharpay Evans is lounging poolside at the resort her family owns, looking forward to forgetting about that whole mess with Troy and Gabriella winning the lead roles in the high-school musical.
Hold it right there. … Troy and his basketball teammates are approaching the pool. The look of disbelief and disgust on Sharpay's face says it all – take after take.
In reality it's not the summer. It's actually a hot April day here in the southwestern corner of Utah, and Ashley Tisdale, who plays Sharpay, and her co-stars from the megahit Disney TV movie "High School Musical" are gathered for the final weeks of filming for the movie's sequel (scheduled to air Aug. 17 on the Disney Channel).
"It's been so much fun. The team is back and more dedicated to making a great picture than ever," says director and choreographer Kenny Ortega.
After the enormous success of the first movie, the lead cast members scattered for the myriad opportunities that followed.
Zac Efron, who plays dreamy Troy Bolton, leaped to a feature film; he'll appear alongside John Travolta in "Hairspray" later this year. Both Tisdale and Corbin Bleu, who plays Troy's best friend, Chad, recorded their own albums.
But, Ortega says, there was no question about the commitment to reunite for the second film. The entire cast and crew, he said, feels they owe it to the movie's fans to make a great sequel.
"People may have told them, 'You could move on to something bigger and better.' But what's bigger and better?" he says.
It's hard to get much bigger than "High School Musical."
Since it premiered on the Disney Channel in January 2006, more than 100 million people – mostly teens and preteens and attached parents – have watched basketball player Troy Bolton and shy, studious Gabriella Montez (played by Vanessa Anne Hudgens) turn their high school upside down by stepping out of their comfort zones and trying out for the school musical.
When they win the top roles, school-production mainstays Sharpay and Ryan (Lucas Grabeel) are forced into understudy status. Suddenly, everyone is dreaming outside their own cliques.
The movie's soundtrack was the top-selling album of last year, with more than 3.7 million copies sold. On the video side, more than 7.5 million copies of the DVD were bought, according to Disney.
There was more. The "High School Musical" concert tour, featuring nearly all the movie's principal cast, has been a top-grossing concert for months. There also was a very successful "High School Musical: The Ice Tour," and dozens of schools have performed a version of the movie as their own student production.
"The expectations (for the sequel) are enormous," says co-producer Don Schain. "I think it's fair to say everyone is feeling additional pressure because of those things."
But the atmosphere on set is far from a pressure cooker, despite the summerlike temperatures that can hit this part of the state in spring.
Most of the cast and crew are staying in rental houses at the pueblo-style Entrada Country Club, where they've been filming since March, and there's a definite summer-camp vibe in the air.
What was it about the original movie – also filmed in Utah – that struck such a shockingly huge chord with young viewers? The music? The youthful cast of mostly Disney Channel veterans?
"I think they really identify with the kids, with these characters and the kids that are playing these characters," Ortega says.
Actor Bleu agrees. He says fans have come up to him to tell him how much the movie means to them.
"I definitely think they're going to follow us into this one," he says
And more than likely into a third film, which will be a feature for release in theaters, says producer Bill Borden.
"Originally we pitched three movies: the first one, school's out for summer, and the final year with prom and graduation," Borden says.
In "High School Musical 2," Sharpay and her cloyingly jaunty brother, Ryan, have retreated for the summer to their family's resort. They soon find out that their fellow East High Wildcats are all around, having gotten summer jobs as caddies, lifeguards and such.
Everyone's thoughts turn, naturally, to the resort's annual end-of-season talent show. Sharpay has her sights set on Troy in this next version and enlists her brother, Ryan, to help her drive a wedge between Troy and Gabriella.
"Does he sell out and go for Sharpay's world? Or does he decide to be true to himself?" Borden teases.
Either way, the kids will be buzzing.
Local journalism is essential.
Give directly to The Spokesman-Review's Northwest Passages community forums series -- which helps to offset the costs of several reporter and editor positions at the newspaper -- by using the easy options below. Gifts processed in this system are not tax deductible, but are predominately used to help meet the local financial requirements needed to receive national matching-grant funds.
Subscribe to the Coronavirus newsletter
Get the day's latest Coronavirus news delivered to your inbox by subscribing to our newsletter.
---
Subscribe and log in to the Spokesman-Review to read and comment on this story