News > Nation/World
Mobsters and mothers know value of family
Sun., May 13, 2007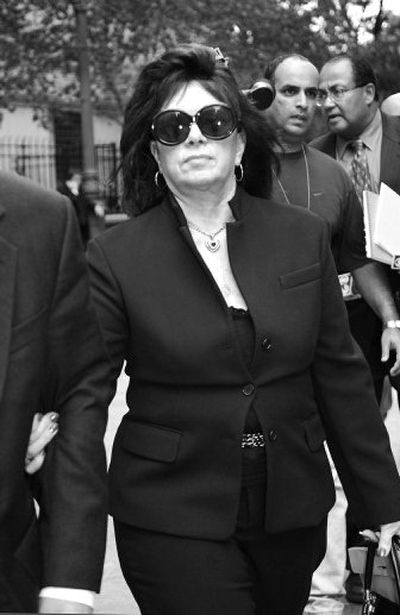 NEW YORK – Each and every Mother's Day until he landed behind bars, mobster Jimmy "The Gent" Burke performed a sacrosanct ritual.
Burke, the mastermind behind the $5.8 million Lufthansa heist immortalized in "Goodfellas," dropped a few C-notes on dozens of red roses from a Rockaway Boulevard florist. He then toured the homes of his jailed Luchese crime family pals, providing their mothers with a bouquet and a kiss.
He never missed a year, or a mother.
Burke's gesture was no surprise to his fellow hoodlums: Mother's Day was the most important Sunday on the organized crime calendar, when homicide took a holiday and racketeering gave way to reminiscing – often over a plate of Mom's pasta and gravy.
"These guys, they do have a love for their mothers," said Joe Pistone, the FBI undercover agent who spent six Mother's Days inside the Bonanno family as jewel thief Donnie Brasco. "They thought nothing of killing. But the respect for their mothers? It was amazing."
So amazing, Pistone recalled, that Bonanno member Benjamin "Lefty Guns" Ruggiero once told him that the Mafia – like a suburban Jersey mall shuttered by blue laws – closed for business when Mother's Day arrived each May.
No vendettas or broken bones. Just gift baskets and boxes of candy.
"Absolutely," said mob informant Henry Hill, who described his old friend Burke's annual rite. "It's Mother's Day, you know?"
The bond between gangsters and their mothers is more sacred than the oath of omerta and more complex than anything imagined by Oedipus. Pistone watched stone murderers suddenly grow misty when discussing their mothers – or her meals.
"They're not embarrassed to say how much they love their mother," said Pistone, author of the new mob memoir "Unfinished Business." "I can remember guys talking about cooking: 'My mom made the best braciole.' Or 'my mother taught me how to make this sauce.' "
For many, it was a case of mismatched emotions: warm, maternal love and cold, homicidal rage. Genovese family boss Vincent "The Chin" Gigante shared a Greenwich Village apartment with his 90-something mother, Yolanda, even as he ruthlessly directed the nation's most powerful organized crime operation during the 1980s and '90s.
But gangland mother-son ties transcend more than just geography and generations; they cross ethnic lines, too.
Abe Reles, a Jewish hit man of the '30s, was known to contemporaries as "Kid Twist" for his preferred method of execution – he would wrap his thick fingers around a victim's neck for one final snap.
Despite 42 arrests (and 11 admitted murders), the Kid remained his mother's loving son. And he showed up at her apartment each Friday night for a traditional Sabbath meal of gefilte fish, chicken soup and boiled chicken.
One Friday, Reles showed up with a guest. The three shared a meal before the Kid's mother left for a movie. By the time the film was finished, her son – assisted by a mob associate – had bludgeoned and strangled their guest before disposing of the body.
Mrs. Reles returned to share a cup of tea and a piece of honey cake with her boy, according to Robert A. Rockaway's mob tome "But He Was Good To His Mother" – a history of loving Jewish sons turned heartless killers.
Those mobbed-up kids often had their affection reciprocated from mothers blinded by love to mounting evidence of their offspring's larcenous lifestyles.
Philadelphia gangster Angelo "Buddha" Lutz was arrested in 2001 on racketeering charges – and released on $150,000 bail when his mother put up her house as collateral. (She was later free to visit him in prison, where he was sentenced to serve nine years.)
Mob matriarch Victoria Gotti went even further for her son, John A. "Junior" Gotti, offering her $715,000 home up for his bail. When Junior went on trial three times in the last two years for racketeering, Victoria appeared in court each time – even as defense lawyers admitted that he once headed the Gambino crime family.
"If you're the president or a gangster, that has nothing to do with a mother's love," said Pistone. "I think that's one of the main reasons for their bond."
Local journalism is essential.
Give directly to The Spokesman-Review's Northwest Passages community forums series -- which helps to offset the costs of several reporter and editor positions at the newspaper -- by using the easy options below. Gifts processed in this system are not tax deductible, but are predominately used to help meet the local financial requirements needed to receive national matching-grant funds.
Subscribe to the Coronavirus newsletter
Get the day's latest Coronavirus news delivered to your inbox by subscribing to our newsletter.
---