News > Business
Building in savings
Sun., May 27, 2007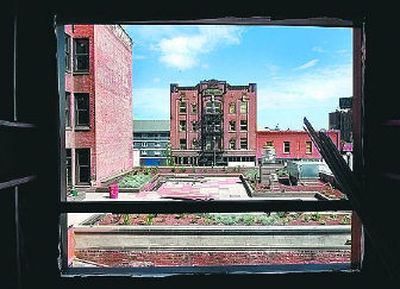 Massive plastic tanks in the basement of the renovated Saranac Hotel in Spokane capture groundwater and rainwater to irrigate plants and flush toilets.
At outdoor equipment retailer Mountain Gear's remodeled building in Spokane Valley, skylights and custom fluorescent lights reduce energy use. Although government mandates have increased green construction for public buildings, use of sustainable technology for commercial projects in Spokane has lagged, especially compared to larger cities such as Seattle and Portland. Installing energy- and water-saving equipment may require larger upfront costs and specialized know-how, which can be a turnoff to people overseeing for-profit projects.
"It's one thing when the state mandates it, and it's quite another for somebody to do it with their own money," said Randy Vanhoff, an architect behind the Saranac remodel.
With increasing energy costs and amplified public debate about global climate change, however, green building might be starting to come into its own. Sustainable projects like the Saranac and Mountain Gear are on the cusp of what some green builders see as an increasing trend toward using technology and practices that are friendly to the environment, workers and a business' balance sheet.
"I think we're really beginning to reach the tipping point as far as an interest in green building," said Allison Gray, a sustainable building specialist for the state Department of Ecology.
"You have to talk the bottom line … for the private sector to get involved with it; that's a main area that we have to prove — that it doesn't cost that much."
The people behind both buildings expect national certification of their sustainable practices, making them among Eastern Washington's first private structures to achieve that distinction."If you're building or remodeling, you don't have to get certified, but thinking about these things when you build your building will have … a positive return on investment in a reasonable amount of time," said Paul Fish, president of Mountain Gear.
What's green?
While "green" has become a buzzword for a variety of equipment and techniques, sustainable construction involves an all-encompassing approach to reducing a building's use of natural resources and its negative effects on the environment, including people.
"Sustainability goes really much beyond saving trees," said Tom Angell, an architect and president of the local chapter of the NorthWest EcoBuilding Guild. Commercial green construction is in its "toddler stage" in Spokane, he said.
Green techniques range from using recycled cotton insulation to positioning a building to capture warmth from sunlight.
"A lot of this stuff we call green building is just common sense," said Dave Sanders, owner's representative for the Saranac project.
"What people are realizing is, those up-front costs, they are coming down, but when you start looking at the long-term costs, the energy savings, the durability, the increase in productivity," the benefits outweigh the costs, Angell said.
A 2003 study of green buildings in California found that many green projects cost about 2 percent more upfront. But it concluded that the money is paid back in utility bill savings and productivity improvements over the life of the building, resulting in financial benefits 10 times larger than the added costs.
In 2005, Washington began mandating most new state buildings to meet requirements set by the non-profit U.S. Green Building Council, or other sustainability standards.
The council's standards, called Leadership in Energy and Environmental Design (LEED), are based on a system of points awarded for aspects of design and construction. The total number of points awarded determines a project's ranking, from "Certified" to "Platinum."
There were at least 16 LEED projects in Eastern Washington and North Idaho as of March. But none in the Spokane area have been certified, said Jake Deering, a mechanical engineer and co-chairman of the Inland Branch of the Cascadia Region Green Building Council. Those projects include more than 1.1 million square feet of space.
The renovated Lincoln Heights Elementary School in Spokane, which reopened last August, received a state grant through the council and contains green elements, such as wainscoting made from recycled wheat board and waterless urinals.
Spokane's expanded Convention Center also includes sustainable features, such as an efficient ventilation system and outdoor plants that are drought-resistant. The improvements cost about $200,000, but utility usage has decreased in the remodeled portion of the center, and usage in the new part is meeting expectations, said Johnna Boxley, the general manager.
No area buildings have achieved official LEED certification, but both the school and the Convention Center are expected to receive a Silver ranking, Deering said.
"It's just really exploded," Angell said.
Saranac Hotel
Owned by former public defender Jim Sheehan, the historic Saranac Hotel is undergoing a $4 million facelift designed to make it a model of sustainable construction.
Project leaders are shooting for Platinum LEED certification, which would place the 100-year-old Saranac, located at 25 W. Main Ave., among an elite group of structures, including the Banner Bank Building in Boise.
Green improvements may reduce the building's energy consumption by about 80 percent, and some will pay for themselves in six to eight years, said Sanders, who has experience as a construction contractor.
Most of the change will stem from $186,000 wells and a geothermal heat pump, Sanders said. The pump sucks warm water from the earth in the winter to heat the building and returns warm water in the summer, cooling it down. The structure also may soon sport the state's largest private solar-energy system, said Bruce Gage, co-owner of Spokane-based green building store Eco Depot, which is supplying the array.
The solar array will be rated at nearly 27 kilowatts, meaning it will produce that amount of electricity multiplied by the number of hours exposed to the sun. It should generate about 14 percent of the building's power needs, Sanders said. Solar arrays cost about $10 a watt, Gage said.
Eco Depot's clientele is still mostly residential, but commercial customers have increased mainly because of a federal tax credit that reimburses corporations for 30 percent of the cost of solar technology, Gage said.
Power is just one resource green technology at the Saranac will conserve.
Four 2,000-gallon tanks in the basement collect some of the roughly 2,500 gallons of groundwater that once flowed through the basement in open troughs and into the sewers. The water will be used to flush toilets, helping reduce water usage by 81 percent.
"To me, that maybe more clearly illustrates sustainable concepts then maybe anything else in the building," said Vanhoff, a LEED-accredited architect for Spokane firm Zeck Butler Architects PS. "It's using what you're given on the site, essentially something that's free, and turning it around and using it to your advantage."
Two more tanks store rainwater from the four-story building's roof, and that liquid is pumped back up to water plants — a potential 70 percent water savings.
The Saranac received an expedited permit from the Department of Ecology to use groundwater — typically a lengthy approval process — that required a change in the interpretation of state law, said Gray of the Department of Ecology. The project qualified to tap an aquifer because it returns the water to the ground and benefits the environment. The Coeur d'Alene School District uses a similar geothermal system, Sanders added.
Because the groundwater is consistently chilly, it is also used to cool refrigerators at a restaurant on the building's lower level.Other green building components include sustainable lumber — wood harvested at the rate it replenishes — purchased from Potlatch Crop., sheetrock made from recycled components, recycled-metal siding and paint that doesn't emit harmful gases.
LEED standards encourage reusing building materials, Sanders said, and workers recycled wood, plaster, sheetrock and other material torn out of the site. The efforts diverted more than 90 percent of deconstruction waste from the landfill, he said.
Formerly low-income, single-occupancy housing, the building sat empty for several years and had become unlivable, Sanders said. With more than 42,000 square feet in leasable space, the Saranac is expected to open in July. It is already booked with future tenants, including a community TV station, art gallery and "arthouse" movie theater.
Mountain Gear
While non-profit money financed the Saranac renovation, Fish intends to show that private business can economically go green.
Mountain Gear is nearly done remodeling its 160,000 square-foot office and warehouse building, located at 6021 E. Mansfield Ave., and it uses about half the space. Using LEED aligned with company values, which include sustainable growth, Fish said.
Fish estimates he spent about 10 percent to 15 percent more to comply with LEED standards, and the remodel cost less than $15 per square foot.
"I don't think it costs that much more to build a LEED-certified (building)," he said, adding that most of the costs resulted from delays because "nobody in this area could give us quick answers about what to do.
He expects Silver or Gold LEED certification, and the project may end up just a few points shy of Platinum.
"Nobody thinks of them as affordable, and "There haven't been a whole lot of businesses that have done LEED projects east of the Cascades," Fish said.
Fish cut the building's energy costs by about 40 percent, removing or replacing existing lights and adding roughly 45 small skylights, he said. The lights are controlled by motion sensors, and some dim to compensate for fluctuating amounts of daylight. Like at the Saranac, the company will capture rainwater for use on outdoor plants.
Mountain Gear also is working with Liberty Lake-based ISR Inc., which makes SprayCool electronics cooling systems, to install a water-cooled computer server rack. Fish wants to use heat captured by the SprayCool system to help heat the warehouse, which contains extra insulation to keep its temperature stable.
The rack may qualify for an Avista rebate of as much as $3,600, or $100 per server — likely the first business to receive that credit.
Avista also offers a cash incentive of $1.25 per square foot for certain LEED-certified buildings that use the utility's services.
The Mountain Gear building features square carpet tiles made from recycled material, and the company reused steel from an old crane to make the infrastructure of a loading bay roof.
Although Fish said he could have employed Seattle designers and builders, staying local is part of sustainability.
"They might just ask the next owner they work with the question," he said. "So that was a big part of working with them was to educate other businesses."
Building green also affects workers, some of whom played ping pong in the lobby last week under a large skylight added during remodeling.
"It's a better place to work," Fish said. "There's daylight, some daylight in every cubicle. The building is easy to take care of. They recognize that we really are living up to our word."
Although it's important now for people to shoot for LEED standards, the highest level should be awarded for "net-zero" buildings, Fish said. "I'm kind of pushing for LEED to get significantly harder," Fish said. "The highest should be something that has no negative impact."
Fish recommends green building for all businesses, and he hopes the building will be more inviting to potential tenants because their costs will be lower.
"It's the smart thing to do," he said.
Planting green seeds
While building industry unfamiliarity with green construction hindered both projects, the local knowledge base is expanding. As of March, there were 75 LEED-accredited designers and engineers in Spokane and Spokane Valley.
The EcoBuilding Guild and the Inland Branch of Cascadia both offer monthly meetings for interested professionals. Community Colleges of Spokane last year began offering a nine-month course on sustainable building for engineers, architects and government officials.
And more private, sustainable projects are planned. A roughly 29,000-square-foot addition to Gonzaga University's Herak Engineering Building will include high-efficiency boilers, a special ventilation system with carbon dioxide monitors and water-saving bathroom fixtures. With construction costs to-date of about $5.3 million, the project is expected to be completed by February.
Avista is offering about $62,000 in incentives, and added sustainability costs should be less than 1 percent of construction costs, according to Deering, an engineer for the addition.
Plans by California-based BlueRay Technologies Inc., for a potential Blu-ray disc manufacturing plant in downtown Spokane, call for using heat from basement machinery to warm the structure.
The Department of Ecology will eventually offer green building charrettes — intense pre-building planning sessions that include designers, engineers and building users — for at-cost prices for people interested in green building projects, Gray said.
Local Cascadia chapter representatives expected to meet with city planners last week to discuss Spokane adopting LEED building incentives that would encourage commercial construction to go sustainable, Deering said.
"The interest is definitely spreading," Deering said.
Staff writer Parker Howell may be reached at (509) 459-5491 or by e-mail at parkerh@spokesman.com.
Local journalism is essential.
Give directly to The Spokesman-Review's Northwest Passages community forums series -- which helps to offset the costs of several reporter and editor positions at the newspaper -- by using the easy options below. Gifts processed in this system are not tax deductible, but are predominately used to help meet the local financial requirements needed to receive national matching-grant funds.
Subscribe now to get breaking news alerts in your email inbox
Get breaking news delivered to your inbox as it happens.
---