News > Spokane
Lifestyle-saving surgery
Sun., Nov. 25, 2007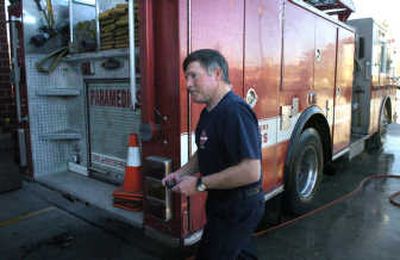 A gimpy hip just wouldn't do for John Gilbert, a 55-year-old Spokane firefighter whose life depends on his ability to be mobile.
"I'm the one who's sent down the hole or off the edge," said Gilbert, a member of Fire Station 4's technical rescue team. "I wanted to feel confident I can do my job."
And more steroid shots weren't the solution for Casey Bartholomew, a 54-year-old nurse from Coeur d'Alene who wasn't about to give up riding her quarter horse, Diamond.
"I wanted an active lifestyle," Bartholomew said. "I didn't want to be an old lady."
Until recently, Gilbert and Bartholomew might have been advised to put up with pain as long as possible or, if it got too bad, join the estimated 300,000 people in the United States who undergo hip replacement surgery each year.
Instead, the Inland Northwest residents, like growing numbers nationwide, opted for a controversial alternative aimed at keeping younger hip disease sufferers active as long as possible.
Hip resurfacing, an old procedure that's new again, has gained favor among Internet-savvy boomers looking for a way to relieve symptoms now, but still preserve the chance for total hip implants.
In hip replacement surgery, a doctor saws off the top of the thigh bone and drives a device-topped spike deep into the bone shaft. A ball rotates within a cup implanted in the hip socket.
In hip resurfacing, the doctor shaves the knob atop the thigh bone and covers it with a metal cap, which is anchored with cement and a far smaller spike drilled into the bone. A cup implanted in the hip socket cradles the capped bone.
"It's like capping a tooth, that's a good analogy," said Dr. David Scott, one of several regional orthopedic surgeons who offer the procedure. Scott has completed 25 hip resurfacing surgeries since 2006, including Gilbert's and Bartholomew's, and serves as a consultant who trains other doctors nationwide.
"The less destruction of bone we do up front, the more we have to work with down the road," Scott explained. "You haven't burned any bridges by being able to conserve that bone."
Hip resurfacing evolved from procedures introduced in the 1940s and '50s and was widely popular in several countries, including the United States, in the '70s. But those implants were made of thin polyethylene that wore out quickly, resulting in loosened joints, bone fractures and other failures that caused doctors to abandon the surgery.
Metal-on-metal devices were developed in the late 1980s, fueling interest that led to the new boom.
Saving more bone and serving younger patients – typically those younger than 60 – are the chief arguments in favor of the hip resurfacing, proponents say.
Critics, however, contend the surgery is more difficult than traditional hip replacement, with a steeper learning curve for doctors, greater chance of failure, and unanswered questions about the durability of the operation and the impact of metal debris from the cobalt chrome components.
"I just don't think the sophistication is there," said Dr. Marc Rosen, an orthopedic surgeon in Phoenix who took the intensive training required to perform hip resurfacing.
Rosen considers the surgery more risky than hip replacements, especially in the hands of surgeons who do few procedures. After 30 years in the operating room, he's decided not to perform the surgery.
"It's the learning curve," he said. "People come to me for the sure thing."
Rosen also worries about patients attracted to the procedure because they think it's less invasive than hip replacement. In fact, the operation requires a larger incision and more disturbance of soft tissue. "You have to take a lot more meat apart to do it," Rosen explains.
But for Gilbert and Bartholomew, the risks of the surgery were worth the potential outcome.
They each found Scott by surfing the Web, actively searching for alternatives to hip replacement.
Gilbert, a hunter, hiker and cyclist who suffered from osteoarthritis, first read about the surgery in a bicycling magazine profile of Floyd Landis. The disgraced Tour de France champion had the operation in September 2006.
"He's back to racing, even on the European circuit," Gilbert said admiringly.
Gilbert had no dreams of professional cycling, but he was determined to continue his active lifestyle despite pain that made most movements agonizing.
"It was difficult to walk and to crawl and to kneel down," Gilbert said, adding later: "I had to do something. Either lead a sedentary life with a new career or do something."
On Feb. 28, he opted for surgery.
That was the same dilemma that faced Bartholomew, who is on her feet for hours at a time in the critical care unit at Kootenai Medical Center. The pain in her right hip grew progressively worse, even with steroid shots directly into the joint.
"It was excruciating every time I got on my horse," she recalled.
Bartholomew had her surgery on June 6, 2006, exactly a month after the federal Food and Drug Administration approved the first hip resurfacing device in the U.S.
About 80,000 people worldwide have been fitted with the Birmingham Hip Replacement System in the past decade, said Victor Rocha, spokesman for Smith & Nephew, the company that makes the device. He wouldn't release national figures for patients, sales or the number of doctors signed up for required training, saying the information was proprietary.
In July, the FDA approved the Cormet Hip Resurfacing System distributed by Stryker Corp., of Michigan. Another device manufactured by Wright Medical Group, of Virginia, is awaiting FDA approval.
The device makers hope for a piece of the burgeoning hip replacement market. By 2030, the numbers of hip replacements in the U.S. are expected to double, said Rosen, a representative of the American Academic of Orthopaedic Surgeons.
About 10 percent to 15 percent of hip replacement patients might be candidates for resurfacing, doctors estimate. Patient selection is crucial in authorizing surgery, said Dr. Alan Danielson, of Spokane, who has performed two dozen procedures.
"It's not something I do a lot," said Danielson, who performs 150 to 250 hip replacements a year. "The general indication is someone at a young age, leading an active lifestyle."
In fact, the list of people who shouldn't have the surgery is far more extensive, noted Scott. People with bone disease, those who are severely overweight or who have immune system problems, those with sensitivity to metal and women of childbearing age may be poor candidates, the FDA indicated.
"We don't think it's for everyone," Scott said.
That's a view echoed by insurance companies, which are gradually beginning to cover the $30,000 procedures. Group Health pays for outside doctors to perform surgery now, as long as patients are younger than 55 and it's deemed medically necessary. In 2008, Group Health doctors will start performing the surgery themselves, a spokeswoman said.
Premera covers the procedure, too, but only in people younger than 65 with medical need and only when a doctor uses an FDA-approved device, a spokesman said.
For good candidates, however, hip resurfacing may be a boon, said Dr. Jason Weisstein, an assistant professor at the University of Washington's Department of Orthopaedics and Sports Medicine.
"For a subset of the population, it's going to be a wonderful option," said Weisstein, who has been trained to implant both FDA-approved devices.
Even in a limited population, hip resurfacing procedures could be a lucrative market as the baby boom population tries to fend off the ailments of aging. Competition for the market is so fierce that four device-makers were disciplined by federal officials in September, agreeing to pay nearly $311 million to settle criminal and civil allegations that they paid kickbacks to surgeons to use their products.
As part of the agreement, Zimmer Inc.; Biomet Inc.; DePuy, a division of Johnson & Johnson; and Smith & Nephew Inc. entered deferred prosecution agreements in which they avoided criminal prosecution in exchange for industry reforms and disclosure.
Stryker Corp. cooperated with prosecutors and avoided fines, although the company is subject to the same reform and disclosure agreements.
Documents posted by the companies revealed that several Spokane doctors received compensation. Scott received between $75,001 and $100,000 from Smith & Nephew and between $50,000 and $75,000 from Stryker, for whom he serves as a consultant. He said the payments from both companies were compensation for design and training services, unlike fees paid to some doctors who earned millions for little or no work.
"It was compensation for good, honest, hard work and time away from my practice," said Scott. "No one's ever paid me to use a prosthesis."
Dr. Timothy P. Lovell, of Spokane, also received between $50,000 and $75,000 from Stryker and between $25,000 and $50,000 from DePuy, the documents showed. The Western Institute for Biomedical Research in Spokane received between $25,001 and $50,000 from Smith & Nephew.
For Gilbert and Bartholomew, compensation was less important than having access to the procedure they claim improved their lives. Gilbert returned last week from leading a three-week hunting trip in Virginia. Several weeks ago, he completed a 17-mile trail hike that bordered on a run.
"Dr. Scott's not keen on any kind of running," Gilbert said.
Bartholomew looks forward each Wednesday to riding Diamond with no pain in her right hip.
"My only complaint now is the hip that hasn't been fixed," she said. "I'm considering having the left one done."
Local journalism is essential.
Give directly to The Spokesman-Review's Northwest Passages community forums series -- which helps to offset the costs of several reporter and editor positions at the newspaper -- by using the easy options below. Gifts processed in this system are not tax deductible, but are predominately used to help meet the local financial requirements needed to receive national matching-grant funds.
Subscribe to the Coronavirus newsletter
Get the day's latest Coronavirus news delivered to your inbox by subscribing to our newsletter.
---