News > Nation/World
Children's cold drugs removed
Fri., Oct. 12, 2007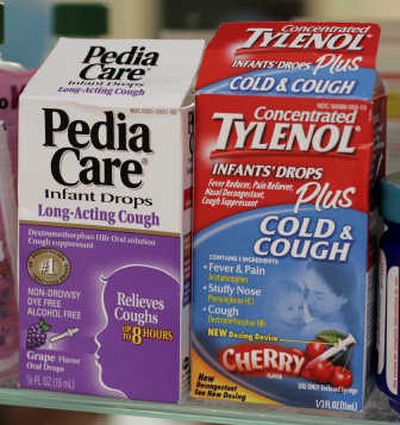 PHILADELPHIA – A group of drug makers Thursday voluntarily removed 14 cough and cold medicines for infants and toddlers from the market amid growing evidence that the popular drugs are ineffective and sometimes dangerous.
The recall, which covers only over-the-counter medicines for children younger than 2, means these drugs will no longer be sold to that age group. The affected drugs include the infant versions of such popular brands as Pediacare, Dimetapp and Tylenol.
Several experts said Thursday the companies' actions are laudable but don't go far enough.
Common cough and cold medicines also fail to work in children younger than 6, said Joshua Sharfstein, Baltimore's public health commissioner.
"Today's announcement is a step in the right direction," said Sharfstein, who's pushing the government to restrict the drugs. "More needs to happen. The regulations need to be solidified by the Food and Drug Administration."
The recall comes a week before the FDA is scheduled to hold an advisory committee meeting to evaluate the safety and effectiveness of cough and cold medicines for children under 6.
Young children average 6 to 10 colds a year, studies show. And sales of cold remedies to children amounted to $311 million in the last year, excluding Wal-Mart, according to Nielsen Co. That was about 8 percent of the entire over-the-counter cough and cold market.
The 14 infant cold remedies voluntarily withdrawn Thursday were made by Wyeth, McNeil Consumer Healthcare, Novartis AG and Vetco Inc., a unit of Prestige Brands Holdings Inc.
For more than a decade, public health experts and pediatricians have been pushing to limit over-the-counter cold medicines to very young children, because studies show the drugs have little effect, and can, in rare cases, lead to rapid heartbeats, difficulty breathing and even death.
Many cold products were allowed to be sold over-the-counter in the 1970s and have not been closely studied in children, said Daniel Frattarelli, a Michigan pediatrician, who investigated the issue for the American Academy of Pediatrics.
He said doses for children's cold medicines were drawn from adult data and have been found in recent years to be incorrect.
"The evidence is very clear that these products don't work in young children," Frattarelli continued.
The American Academy of Pediatrics warned parents about the cold drugs' lack of effectiveness and possible risks in 1997. In 2006, the American College of Chest Physicians said cough medicines should not be used in children under 14.
Sharfstein became interested in these drugs after the Baltimore medical examiner found that four children there had died over the past six years at least in part from an overdose of cold medicines.
Sharfstein convened a meeting of pediatric leaders in Baltimore, and in October 2006, they released a statement advising parents not to use these drugs in children under 6.
In March, the group filed a petition with the FDA, documenting that 123 young children had died from decongestants and antihistamines from 1969 to 2006, according to the FDA's own reporting system.
Local journalism is essential.
Give directly to The Spokesman-Review's Northwest Passages community forums series -- which helps to offset the costs of several reporter and editor positions at the newspaper -- by using the easy options below. Gifts processed in this system are not tax deductible, but are predominately used to help meet the local financial requirements needed to receive national matching-grant funds.
Subscribe now to get breaking news alerts in your email inbox
Get breaking news delivered to your inbox as it happens.
---