News > Spokane
Met's Turner gets 2 years
Sat., Oct. 13, 2007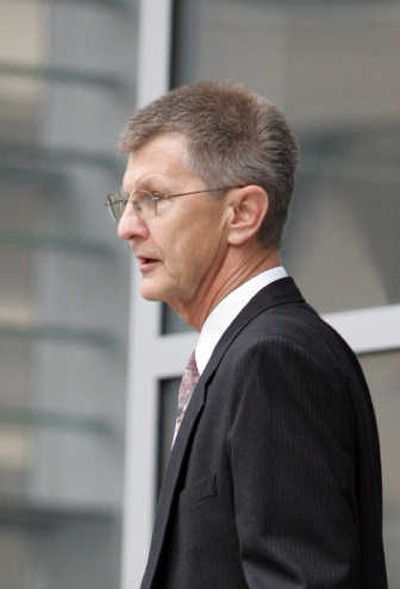 SEATTLE – A federal judge sentenced former Metropolitan Mortgage & Securities Co. executive Thomas Turner to prison for two years, saying that Turner shouldn't be held solely accountable for the Spokane company's collapse.
"I feel blame cannot be limited to Mr. Turner," U.S. District Judge John Coughenour said during the sentencing hearing. "But on the other hand, he's the only one before me today."
After five years of investigation by the U.S. Securities and Exchange Commission, Turner's conviction has been the only criminal action in Eastern Washington's largest financial failure, which stripped more than 10,000 investors of about $460 million.
Once a $2.1 billion conglomerate that loaned money to risky real estate ventures, purchased receivables such as winning lottery prizes, and bought seller-financed mortgages, Metropolitan's shifting business model finally sank.
Both Metropolitan and sister company Summit Securities Inc. were owned and tightly controlled by C. Paul Sandifur Jr., with Turner, a 19-year veteran of the firm, serving as his No. 2 executive and president of Summit.
Sandifur has not been indicted, and the judge's two-year sentence for Turner – a rebuff of the 8- to 10-year prison term called for by federal sentencing guidelines – may extinguish any leverage prosecutors may have had trying to make Turner cooperate.
Federal fraud prosecutor William Stapleton declined to discuss whether Turner would be the only Metropolitan executive indicted.
In a letter to the judge, Turner wrote of his willingness to discuss his tenure at Metropolitan and answer questions by FBI agents, regulators and a special bankruptcy examiner.
"I even spent two days answering questions by the prosecutors. I know they were unhappy with my answers because they wanted to prosecute other people," Turner wrote. "But all I could do is tell them what I know."
As Metropolitan lost money in consecutive years, Turner worked on a sham real estate deal with a Bellingham company to avoid yet another year in the red, which would have made it more difficult to continue the company's five-decade practice of selling unsecured debenture bonds to small-time investors. The money was used to meet the dividend promises made to earlier investors, as well as finance new business transactions.
Critics called the practice a house of cards, and Washington state securities regulators tried to keep a tight leash on Metropolitan to ensure the company didn't default.
To meet its debt obligations and find new money, Turner arranged a circuitous real estate deal that would result in a last-minute paper gain for Metropolitan that would help it show an annual profit.
Jurors agreed that to make it work, Turner, 57, deceived auditors from accounting firm Ernst & Young and convicted him of three counts of accounting fraud.
In court, Turner apologized to former Metropolitan employees and investors who lost money, saying he "always considered myself an honest person until now."
The two-year prison term clearly pleased Turner, who smiled afterward on the steps of the federal courthouse in downtown Seattle. He may be able to reduce his term at the Federal Correctional Institution at Herlong, Calif., a medium-security prison with a satellite camp housing minimum-security inmates. It's located near the Sierra highlands in Northern California, roughly 50 miles northwest of Sparks, Nev., a town near Reno, where Turner lives with his family.
"We feel Mr. Turner received a very fair decision today," said his lawyer, Suzanne Elliott. "The judge said it best that there was no evidence that Mr. Turner caused the collapse of the company."
Stapleton said it was never the government's assertion that Turner should shoulder all the blame. Instead, prosecutors said, Turner jeopardized the credibility of Metropolitan through his illegal actions of lying to auditors.
Once that credibility was breached with Ernst & Young, which withdrew its audit work citing an inability to trust the representations of executives, any chance the firm may have staged a rebound evaporated.
"This was a company that lived and then died on its credibility," Stapleton said.
Turner will be on supervised probation after his release and could face deportation to Canada. Coughenour didn't impose any fines on Turner, though he likely will disgorge any money he has as part of a settlement reached in a separate court case pressed by the U.S. Securities and Exchange Commission.
While the federal government's legal actions against key figures in the collapse of Metropolitan are ending, the executives continue to face myriad accusations, including those made in a class-action lawsuit and those pursued by a special bankruptcy trust searching for money to repay investors.
Local journalism is essential.
Give directly to The Spokesman-Review's Northwest Passages community forums series -- which helps to offset the costs of several reporter and editor positions at the newspaper -- by using the easy options below. Gifts processed in this system are not tax deductible, but are predominately used to help meet the local financial requirements needed to receive national matching-grant funds.
Subscribe now to get breaking news alerts in your email inbox
Get breaking news delivered to your inbox as it happens.
---