News > Home
Dawn Lindblom
Tue., Oct. 16, 2007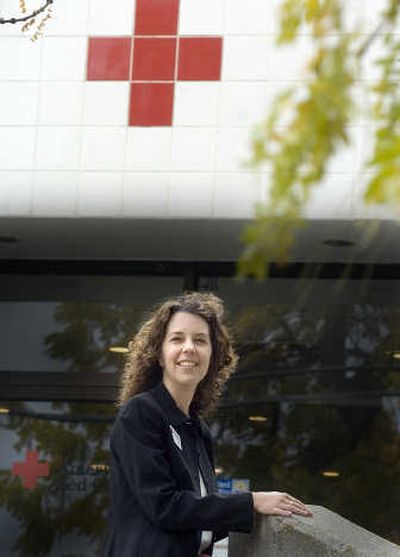 Dawn Lindblom remembers the moment she knew she loved her work.
As volunteer coordinator for a Minneapolis nonprofit, she'd spent the day with a group of college students, helping clean and maintain the home of a person with a disability.
"I remember driving back to the office and thinking, 'Oh, my gosh, I get paid to do this,' she says.
Barely a month into her job as the new executive director of the American Red Cross Inland Northwest Chapter, the Minnesota native remains passionate about volunteer work and her organization's mission.
"Helping connect others who want to give, playing facilitator to help those in need – how amazing is that?" she says.
In her new post, she oversees eight employees and more than 375 volunteers. The chapter, which serves seven Inland Northwest counties, responds to one disaster every 48 hours, Dawn says.
Lindblom's whirlwind journey to Spokane began when she accepted the position in late July. In August, she and her husband, Guy, traveled here to find a house and "make sure this would work for him," Lindblom says. They moved in mid-September, and she started work a week later.
On the couple's first joint trip to Spokane, Guy connected with the owners of Artios Home, a home décor store opening a new location on the South Hill in November. He started working there soon after the move.
Guy says he was eager to follow his wife's career move.
"You've got to have faith in your partner," he says. "Sometimes your dream is their dream."
Why Spokane?
While Dawn's job was the primary draw, the couple has family in the Northwest. Dawn's sister lives in Portland. Guy has two cousins in Seattle.
The region's landscape, recreational opportunities and friendly people helped lure them here, too.
"I love the mountains," Dawn says. "We don't have that in Minnesota. It's so beautiful driving into work
"And I'm so impressed with the generosity. Everyone has a warm heart."
Guy says he find the people "warm and genuine," adding he also likes the slower pace. "There's no rush-hour traffic."
Real Estate
The couple is renting a home in Airway Heights that has a fenced yard for their two pugs, Mattie and Mingling. Dawn says people are often shocked to hear the couple chose a home so far from their work and downtown, but she doesn't mind the drive. In fact, she's used to it.
"My commute in Minneapolis was 20 minutes," she says. "It's the same here."
The couple still owns a 1910 home in Minneapolis and, once that sells, would like to buy something with hardwood floors and character.
"We have a love affair with older homes and workmanship, nothing cookie cutter," Guy says.
Settling in
Dawn and Guy say they've been too busy learning new jobs and routines to find new favorite hangouts, but they're working on it. Dawn knows she loves taking walks in Manito Park. Guy has plans to play basketball with people from work. They'd both like to get out for a hike.
For now, Dawn says, she's thrilled to be consumed by her work.
"It's exciting," she says. "I feel so passionate about the organization, and I'm working with people who are passionate, too."
Local journalism is essential.
Give directly to The Spokesman-Review's Northwest Passages community forums series -- which helps to offset the costs of several reporter and editor positions at the newspaper -- by using the easy options below. Gifts processed in this system are not tax deductible, but are predominately used to help meet the local financial requirements needed to receive national matching-grant funds.
Subscribe now to get breaking news alerts in your email inbox
Get breaking news delivered to your inbox as it happens.
---