Sports > Outdoors
Out & About
Sun., Oct. 21, 2007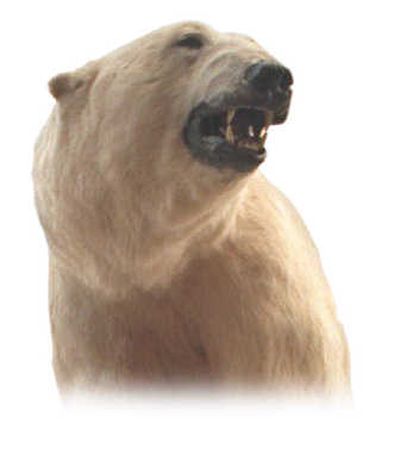 OUTBACK
One polar bear makes revival
The 10-foot-tall mounted polar bear that's been displayed at the Davenport Hotel, Spokane International Airport and Gonzaga University has finally found a home where it's likely to be appreciated.
It's not official, but the S-R Outdoors Department has learned the bear will be on display when the new Post Falls Cabela's store opens Nov. 9.
The bear was shot by the late Lewey Lorenzen of Spokane in 1971, one year before the hunting, transport and sale of polar bears was largely banned.
Atlhtough Lorenzen's bear has attracted complaints from non-hunters at its former homes, the species has met a new fate far more deadly than hunting.
Global warming and the loss of pack ice is sealing the polar bear's doom, probably within 50 years, according to U.S. Geological Survey scientists.
OUTWRITE
Creepy, crawly haiku
Lee Prouty was inspired to literary heights by an outing last week on Mica Peak, and not just by the lovely autumn colors.
While hiking through brush, "I felt a small speck on the roof of my mouth," Prouty said. "Bug? Trail debris? Dislodged burrito from lunch?
"I reached into my mouth and had to use my fingernail to remove the speck. It was a tick!"
"Yikes! Flick. And quick – think about something else … sheesh!"
When Prouty's attention turned to the annoying gnat-like bugs that swarmed the area last week, a poem was born.
Grey swarm, autumn gnats:
Wear them, breathe them,
swallow them –
Better than a tick!
OUTPEOPLE
Sprague angels
Thousands of fish, largely carp, went belly up last week after four dozen Washington Department of Fish and Wildlife staffers treated the 1,680-acre lake with rotenone. It was the largest fisheries rehabilitation project undertaken in Washington. Even retired agency staffers were recruited.
Behind the scenes, Jim Kujala, a perennial godsend and sportsman's advocate from the Inland Northwest Wildlife Council, and club partner Dave Ross volunteered to set up kitchen at Four Seasons Campground to feed the huge crew and keep them working.
They avoided serving any food featuring fish or white sauce.
OUTLOOK
Best fishing times
Lunar tables from the U.S. Naval Observatory. Be fishing at least one hour before and one hour after peak times. Applies to all time zones.
(* indicates best days.)
Through Oct. 28
Today:
3:25 p.m., 3:50 a.m.
Monday:
4:50 p.m., 5:15 a.m.
Tuesday:
5:40 p.m., 6:05 a.m.
* Wednesday:
6:35 p.m., 7 a.m.
* Thursday:
7:25 p.m., 7:55 a.m.
Friday:
8:20 p.m., 8:25 a.m.
Saturday:
9:10 p.m., 9:30 a.m.
Next Sunday:
9:55 p.m., 10:20 a.m.
See the Hunting-Fishing Report
every Friday in Sports
Local journalism is essential.
Give directly to The Spokesman-Review's Northwest Passages community forums series -- which helps to offset the costs of several reporter and editor positions at the newspaper -- by using the easy options below. Gifts processed in this system are not tax deductible, but are predominately used to help meet the local financial requirements needed to receive national matching-grant funds.
Subscribe to the sports newsletter
Get the day's top sports headlines and breaking news delivered to your inbox by subscribing here.
---