Gearing up for competition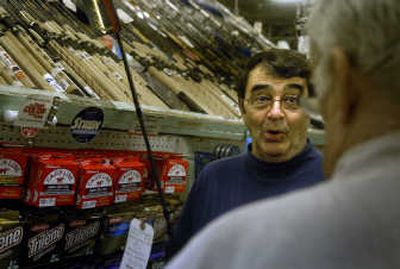 The thousand-gallon aquarium is gone, the fishing tackle a thing of the past. White's Boots, a 102-year-old Spokane sporting goods store, is headed in a different direction. Although the company's sales have grown by 11 percent for two straight years, the fishing gear wasn't profitable, said Gary March, president and CEO of White's Boots. When he assessed how to best compete with the newly arrived Cabela's and other big-box retailers, it became obvious which way to go.
Boots have always been the mainstay of the company, located near the Spokane County Fair & Expo Center. So White's Boots is doing a $250,000 remodel that will add both retail and manufacturing space. Instead of looking at bass and walleye in an aquarium, customers will be able to watch boots being crafted by hand.
"I thought it was time to get back to our roots again," said March, noting that the store has also expanded its clothing section and is courting women shoppers with high-end brands, such as BrazilRoxx.
Cabela's is the latest arrival in the Inland Northwest's increasingly crowded sporting goods scene. Joe's Sports, Outdoor & More recently opened a Spokane Valley store and has plans for another in North Spokane. Sportsman's Warehouse opened a Coeur d'Alene store in May, its second in the region. The new retailers are moving into territory traditionally claimed by independent outlets.
Cabela's alone is expected to draw 2 million visitors annually to its Post Falls location, according to company projections. On a media tour of the store on Wednesday, the Sidney, Neb., firm demonstrated why it's such a formidable competitor.
The 130,000-square-foot store sells 40 to 50 different types of camouflage; 4,000 types of firearms; and fishing rods priced from $19.99 to $700. Hundreds of mounts give the store a museum-like feel. A talking moose urges shoppers to try out the laser shooting range.
"Whether you're a novice at hunting or fishing or an expert, we can help you," said Kari Blankenship, a Cabela's spokeswoman.
About 15,000 people are expected to show up for the Nov. 9 opening. Typically, half of Cabela's customers are from 50 miles away or farther, Blankenship said. Others will be local hunters, anglers and campers lured away from other stores.
Nationally, demand for outdoor gear is robust and growing. According to the Sporting Goods Manufacturers Association, shipments of firearms and hunting gear reached $2.2 billion in 2006, up from $2.1 billion the previous year. Sales of fishing gear grew from $1.1 billion in 2005 to $1.5 billion in 2006. According to surveys, about half of the nation's population participates in some kind of outdoor activity.
But can local population growth, coupled with modest sales increases, sustain all the new retailers in Spokane and Kootenai counties? Some doubt it.
"There could be too many hunting, fishing and camping retailers," said Norm Daniels, Joe's Sports president and CEO.
Portland-based Joe's bills itself as a "full-line" sporting goods store, also carrying items such as golf balls, trailer hitches and boating supplies. Hunting and fishing account for the firm's second largest sales category, behind footwear. Based on relatively flat numbers of hunting and fishing licenses, however, it's not a category where Joe's is counting on explosive growth.
There's more square footage devoted to hunting retail, Daniels said, "than there are hunting licenses."
Dave Knoll, the founder and owner of Black Sheep Sporting Goods and Toys in Coeur d'Alene, agrees.
"The population growth in the area isn't enough to keep up with the growth in sporting goods outlets," said Knoll, who has been in business since 1974.
Going forward, business trends look especially tough for small, independent stores like his. The five largest chains – Bass Pro Shops, Cabela's, Gander Mountain, Dick's Sporting Goods, and The Sports Authority – already control 28 percent of the U.S. market. (The Sports Authority has two Spokane stores.)
Within five years, analysts project, the five big retailers will account for nearly 50 percent of all sporting good sales, according to industry research that Knoll tracks.
The "Doomsday for the little guy" was the topic of a recent conference that Knoll attended. Computerized inventory controls have made national retailers savvier about tailoring their product mix to regional activities – such as elk hunting in Idaho, or bass fishing in the Southern states. That's helped them gain ground against local sporting good stores, who traditionally knew their customers better, Knoll said.
"We've had catalog customers for 46 years," said Ron Brekhaus, manager of the Post Falls Cabela's. "We can track exactly where our customers are, and what they're buying."
But independents can compete, if they pay attention to prices, Knoll said. He's part of an 800-store wholesale buying group, which has helped Black Sheep weather the opening of a 60,000-square-foot Sportsman's Warehouse almost directly across the street from him.
"We haven't dropped much in sales," Knoll said. "We have the lowest prices, and I think people out there have figured it out. … Loyalty is a fun word, but most people are loyal to their pocketbooks."
Black Sheep has also stepped up its efforts to provide friendly service, and is working to make the store's appearance more attractive, he added.
"People out of curiosity will have to visit these mega stores. There will be a honeymoon period, then they'll be back," Knoll predicted.
Owners of other independent sporting goods stores take a more optimistic view.
"I think it's going to be a blessing for the retailers in Spokane because it's just going to draw more people into the area," said Pat Conley, of the family owned White Elephant Surplus Stores. The company has been in business for 62 years and operates two stores.
White Elephant monitors the competition, Conley said, and also tries to offer the lowest prices in the region for its sporting goods.
But Conley knows of two small retailers of archery and fishing gear that recently closed. The owners cited declining profits and the fear of losing customers to Cabela's.
"I'm sure it's going to affect us some," Conley said. "We're just going to keep doing business as usual."
---