News > Features
Get Lit! has bases covered
Sun., April 13, 2008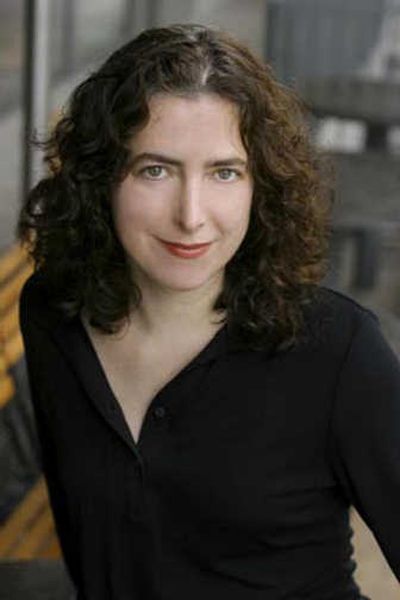 You could refer to Get Lit! as a shotgun ceremony Excuse the clumsy attempt at metaphor. But since we're applying that metaphor to an annual literary event – one that Eastern Washington University has held since 1998 – it's an appropriate stretch of the language.
It's also a fairly accurate description of the 2008 version of Get Lit!, which begins in earnest on Monday and will culminate a week from today.
See, Get Lit! began 11 years ago as an all-day poetry/short fiction reading at The Bing Crosby Theater (then still known as The Met). Over the years, as it began to gather its literary legs under it, such author luminaries as Kurt Vonnegut, Salman Rushdie, Dave Barry and David Sedaris were drawn to the Bing's stage (or, in the case of Barry and Public Radio star Garrison Keillor, the Spokane Opera House).
Trouble was, some of the bigger names commanded fees commensurate with their status. And without the aid of a Bill Gates or some other deep-pocketed sponsor, Get Lit! couldn't continue on the big-name path. Not and pay its bills, at any rate.
So, explains Ivar Nelson – director of Eastern Washington University Press, Get Lit!'s sponsoring entity – the festival has opted for "variety."
For one thing, that means that EWU has sought out a range of sponsors and partners, including other institutions of higher learning: Gonzaga University, Whitworth University, Spokane Falls and Spokane community colleges. For another, it means targeting specific kinds of writers.
"We're trying to bring in people who will appeal to different parts of the community," Nelson says.
Yet while "variety" in this context might equate to lower-profile writers, it shouldn't represent any decrease in quality.
What it means for the politically minded is that we'll have Naomi Wolf, author of the controversial book-long treatise "The End of America: Letter of Warning to a Young Patriot," headlining at the Bing on Saturday. For those interested in spiritual/environmental issues, David James Duncan, whose latest book is "God Laughs & Plays: Churchless Sermons in Response to the Preachments of the Fundamentalist Right," will speak on Wednesday at Spokane Community College.
Anyone intrigued by the contemporary clash of American cultures might be interested in the work of Diana Abu-Jaber, author of the novel "Origin," whose memoir "The Language of Baklava" explores her Jordanian-American roots (she'll appear Thursday at the Bing). Thomas Lynch, the poet/essayist whose day job is that of mortician, will read from his own work on Friday and then lecture on the art of writing at the Bing on Saturday.
And as a climax, the noted memoirist/fiction writer Tobias Wolff will read next Sunday at the Bing from his latest work, a collection of short fiction titled "Our Story Begins: New and Selected Stories."
"You can go down our list and say, 'This person will appeal to this group, this person will appeal to this other group,' " Nelson says. "And so we're really trying to explore what kind of writing, what kind of literature makes contact with the Spokane audience."
In other words, shotgun – a term that includes all the events that make up Get Lit!
For jazz fans, poet Dorianne Laux will head up an Evening of Poetry and Jazz Friday on EWU's Cheney campus. A teen poetry slam will happen Wednesday at Spokane's Empyrean Coffee House.
Workshops and panel discussions will take place all day on Saturday, and various readings by EWU students and faculty and assorted other literati (such as Gonzaga University's Dan Butterworth) will occur throughout the week.
"We're trying to create a mixture of different kinds of attitudes and views and discussions of writing," Nelson says. "And some of the other people coming are amazing."
About Wolf and her book "The End of America," Nelson says, "Since she did that book, she's been, like a lot of people extraordinarily concerned about what is happening in the country. … She's specifically concerned with various civil and human liberties that have been, she feels, crushed by the administration."
Duncan, Nelson says, is "somebody who's written very powerfully about the environment and about sustainability. But he wanted to speak on the more spiritual aspects of that."
And Abu-Jaber, he says, is a writer "coming in and speaking on the experience that more and more people are having every day, and that's of these multicultural families. I really think that's fascinating because they embody the reconciliation among different groups in society that is happening in the country, or at least needs to happen."
All in all, as it enters its second decade, Get Lit! continues to change, to evolve as it tries to keep Inland Northwesterners interested in the written word.
Yet even as things change, what's required of those invited to speak is likely to remain the same.
"The basic thing is that they have to be writers," Nelson says. "That's at the very basis of it, and I think no question we'll continue that."
Call that sticking to your … uh, shotguns.
Local journalism is essential.
Give directly to The Spokesman-Review's Northwest Passages community forums series -- which helps to offset the costs of several reporter and editor positions at the newspaper -- by using the easy options below. Gifts processed in this system are not tax deductible, but are predominately used to help meet the local financial requirements needed to receive national matching-grant funds.
Subscribe now to get breaking news alerts in your email inbox
Get breaking news delivered to your inbox as it happens.
---