News > Features
Get Lit? get real
Thu., April 17, 2008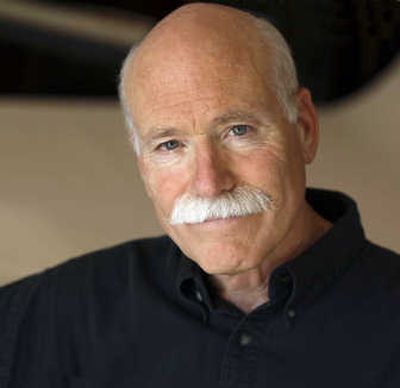 These aren't great times for memoir writers.
Oh, the writers are there. Idaho author Kim Barnes, for example. And her work – especially her two-volume memoir "In the Wilderness" and "Hungry for the World" – ranks with the best the genre has to offer.
But the genre has, more recently, been hit with a series of books that were sold – and in some cases achieved fame – as autobiographies despite being little more than fiction. Or, at best, serious exaggeration.
"There's obviously some strange confidence that people have that they can lie with impunity," said Tobias Wolff, adding: "This has been going on for a long time."
Wolff would know. Author of the acclaimed memoirs "This Boy's Life" (set mostly in Concrete, Wash.) and "In Pharaoh's Army," the 62-year-old Wolff is known for his fiction, too.
The last author to appear as part of Get Lit!, the 2008 version of Eastern Washington University's annual literary festival, he will read from his latest story collection, "Our Story Begins: New and Selected Stories," at 1 p.m. Sunday at the Spokane Athletic Club.
Most of all, Wolff knows the difference between fact and make-believe. His 2003 novel "Old School," for example, is told from the perspective of a student attending an elite boarding school – something that Wolff himself experienced.
"It's got a first-person narrator who lived through a time and a set of circumstances that's very much like the one I lived through," Wolff explained during a recent phone interview. "It is constructed partly of memory.
"I could probably have said memoir, not that I was ever tempted to do it because I was very conscious of inventing all the time. And I love novels. Why not call something a novel that's a novel?"
Why indeed? James Frey certainly didn't call his book "A Million Little Pieces" a novel. Yet Frey's story of his troubled past was riddled with so much fiction that it earned him a well-publicized public flogging by Oprah Winfrey.
Just a couple of months ago, the hard-hitting memoir "Love and Consequences" earned Margaret B. Jones critical acclaim – until would-be L.A. street kid Jones was unmasked, by her sister no less, as suburban-raised author Margaret Seltzer.
Then there was the truck-stop boy-toy J.T. Leroy, whose autobiographically based story collection, "The Heart Is Deceitful Above All Things," turned out to be, much like the author himself, a complete invention.
Even more strange was the European best-seller, Belgian author Misha Defonseca's "Surviving with Wolves," which told of Defonseca living through World War II's Holocaust as a 7-year-old adopted by a wolf pack.
It, too, has been unveiled as pure fiction.
"I think readers have themselves to blame for some of this stuff," Wolff said. Referring to "Surviving with Wolves," he added, "This book was actually taken seriously for a while. Anybody who reads a book like that and takes it seriously has only themselves to blame."
The publishing industry can't avoid some blame. Frey's manuscript had been rejected numerous times until, the story goes, it was returned with an editor's note saying that he'd publish it – only if it were an actual memoir.
"And that, apparently, is what gave him the idea of representing it as a memoir," Wolff said.
The question remains, though: Just because something is supposedly real, does that make it any better written?
"You've identified the problem here," Wolff said. "I think with a lot of these books, the writer intuitively knew it just wouldn't pass muster writing as what it was, as a novel or a collection of linked stories.
"So they tried to get a special pass, which we give out of our charitable hearts to especially hard-luck stories, and redemption stories or horror stories, like growing up at Auschwitz."
And then there are those writers whose books, intrinsically powerful, are balanced to carefully ride the ground between fact and fiction. Jerzy Kozinski's novel "The Painted Bird," for example. Or Denis Johnson's story collection "Jesus' Son."
Johnson's stories, to be specific, are based on actual experiences. And Johnson includes in them passages where his narrator questions the chronology of events as he has related them.
"It's a feint, a brilliant fiction writer's move to convince you at the moment you're reading it, 'Oh, boy, this stuff is real because he's actually wrestling whether this happened or not,' " Wolff said. "So the rest must really have happened."
Even so, Johnson refers to "Jesus' Son" as fiction. And Wolff agrees that Johnson's book is different from, say, Frey's in another respect, too.
"I tried to read Frey's book before I found out that it was phony, and I thought it was terrible," Wolff said. "The only reason why it had any kind of success at all was simply because people thought it was true. And that's not enough for me, frankly."
It's like the old saying by Samuel Johnson, Wolff said, about a dancing bear: " 'The wonder is not that it dances badly but that it dances at all.' It's kind of like that with a lot of these books."
Wolff, whose "This Boy's Life" portrays his family – and himself – in a negative light, says he tried hard to recall his early life as it really happened.
"I mean, I always thought I was raised by wolves," he said, "but at least I thought it was a metaphor, you know?"
Local journalism is essential.
Give directly to The Spokesman-Review's Northwest Passages community forums series -- which helps to offset the costs of several reporter and editor positions at the newspaper -- by using the easy options below. Gifts processed in this system are not tax deductible, but are predominately used to help meet the local financial requirements needed to receive national matching-grant funds.
Subscribe now to get breaking news alerts in your email inbox
Get breaking news delivered to your inbox as it happens.
---