News > Features
Flower makers share tricks
Spokane couple started business after crafting blooms for wedding
Fri., Aug. 1, 2008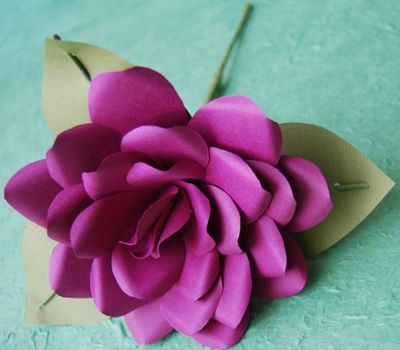 When my sister and I were young, we would make carnationlike flowers out of Kleenex. We'd lay dozens of Kleenex pieces flat, fold them together like an accordion, tie the bundle in the middle, pull each individual sheet toward the center, then spray the bloom with perfume.
I'm sure our mother was thrilled.
As an adult, I still make paper carnations – sans the perfume spritz and using colorful tissue paper instead of Kleenex. I use the flowers to adorn gifts or to decorate my daughters' bedrooms.
I thought my flowers were clever and lovely until a couple of years ago, when I met Mary and Nathan Eberle.
The Spokane artists own Anemone Paper Flowers, a company that evolved in 2002 after they made 600 paper flowers for their wedding. The Eberles taught themselves the vintage craft after checking out a book on the topic from the public library.
Since then, they have continually experimented with the flower varieties they make and their methods for mimicking nature's beauty. Their amazingly lifelike offerings include poppies, gerber daisies, calla lilies, roses and much more. The Eberles paint the paper by hand, and often incorporate beads into their designs. They sell their bouquets at the Davenport Hotel's gift shop, Pottery Place Plus and at Journey's Boutique at Sacred Heart Medical Center. They also sell flowers via their Web site, www.handmadepaper flowers.com, and rent out their floral collections for weddings and other events.
Mary Eberle will teach two workshops on making paper flowers, both aimed at raising funds for the new Main Market food co-op opening this fall in downtown Spokane.
As a preview, the Eberles provided the following step-by-step instructions for making the paper rose pictured here.
Making a paper rose
You will need scissors, 18-gauge floral wire, 10-gauge wire, floral tape, wire cutters and paper. Mary Eberle suggests beginners use crepe paper because of its forgiving nature. Once you become more comfortable, move on to handmade papers, which are more challenging to maneuver, she says.
Start by creating your flower stem. Take six 18-gauge floral wires, cut to about 18 inches or to the length you want your stem to be, and wrap them together tightly with floral tape.
"This is the hardest part of paper flower making," Eberle says. "If you can wrap floral tape on wire, you can make paper flowers."
Next, cut your flower petals. Cut eight teardrop-shaped petals that are 1 inch long, eight that are 1 1/2 inches long and eight that are 2 inches long.
Now it's time to wrap the petals around the flower stem with floral tape, starting with the 1-inch petals. After wrapping the first one, wrap the next one directly opposite from the first petal. Wrap the next petals on one by one around the two center petals. When you are finished with your 1-inch petals, move to your larger petals and repeat the process.
Once all the petals are wrapped on, set the flower aside. It's time to make the leaves. Wrap three 18-gauge wires, cut the same length as the wire you cut for the flower's stem, individually with floral tape. Cut three leaves out of lightweight cardstock paper and poke four holes across each of them using your 10-gauge wire. Weave the individually wrapped wires through the holes in the leaves and tape the leaf onto the wrapped wire with your floral tape.
Twist the wires with the finished leaves onto the finished rose stem and bend the leaves under to support your rose.
Finally, it's time to add life to your paper flower. Curl the petals by rolling the paper over the 10-gauge wire, cut to 4 to 6 inches in length, using your fingers and thumb. Create the amount of curl you think looks best.
Stop there and enjoy a single rose or make enough to fill a vase.
Local journalism is essential.
Give directly to The Spokesman-Review's Northwest Passages community forums series -- which helps to offset the costs of several reporter and editor positions at the newspaper -- by using the easy options below. Gifts processed in this system are not tax deductible, but are predominately used to help meet the local financial requirements needed to receive national matching-grant funds.
Subscribe now to get breaking news alerts in your email inbox
Get breaking news delivered to your inbox as it happens.
---