News > Travel
Step up to the bar
Visitors to Barbados will enjoy luxury hotels, restaurants and rum … lots and lots of rum
Sun., Dec. 7, 2008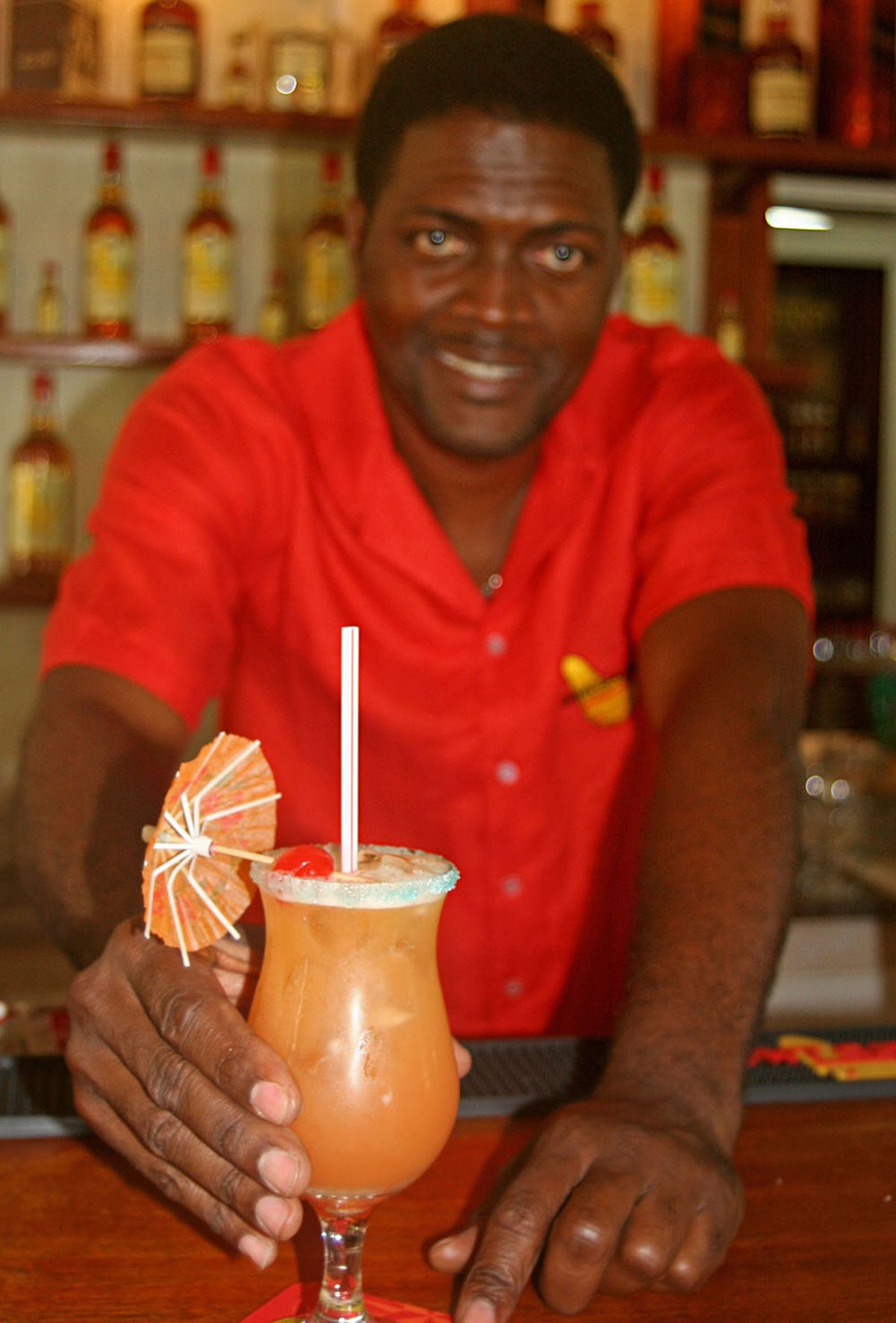 Bartender Chris Breedy serves a Barbados rum punch cocktail at the bar at the Mount Gay Visitors' Center near Bridgetown, Barbados. McClatchy-Tribune (McClatchy-Tribune / The Spokesman-Review)
BRIDGETOWN, Barbados – Warmhearted smiles welcome me as I stride into the John Moore bar, the oldest rum shop in Barbados. I've been in the Caribbean for only a few days, but I feel as though I belong when I order a "Black and Coke," which is the native slang for Extra Old rum served with Coca Cola.
Embarrassingly, my cover is blown when I use a large bill to pay for my drink, which costs less than half as much as the cocktails at the beach resort where I am staying.
After obviously outing myself as a naive tourist, I take my drink to an outdoor table and exchange small talk with an old man whose charming grin and musical lilt in his voice overcome the fact that he is missing a few teeth.
Soon, I am conversing with a group of islanders as the sun begins to set. A hint of ocean salt lingers in the evening breeze.
Like many Caribbean islands, Barbados is a dream destination filled with silky white beaches, beautiful turquoise water, sunshine and slowly flowing time. Visitors have their choice of luxurious resorts and top-notch restaurants with stunning ocean views.
But the sociable rum culture of Barbados makes it stand apart from other island destinations.
Ireland has its pubs, France has its cafes, but Barbados has rum shops, which are a pillar in Bajan (as the natives refer to themselves) life. Although estimates vary, more than 1,200 rum shops dot the 21-mile-long by 14-mile-wide island.
People gather all day at the shops to share stories, play dominoes, commiserate, celebrate and solve the world's problems. Young and old alike mix in harmony.
The shops are simple settings, usually small open-air wooden shacks painted with colorful advertisements on the outside. The drink selection is minimal, usually rum, Banks, the local beer, soft drinks and little else. The furniture is bare.
However, the openness of the people inside allows visitors to immerse themselves in local life and culture, all amid generous laughter.
The history of rum and the history of Barbados go hand in hand.
Rum is believed to be the oldest distilled spirit in the world and Barbados is considered its birthplace. The book "Rum: A Social and Sociable History of the Real Spirit of 1776," by Ian Williams, states that "rum originated in Barbados as a by-product of sugar refining."
According to Bajan legend, sailors brought back bottles of Barbados rum to England as proof of having sailed across the Atlantic.
To learn more, I head to the Mount Gay Visitor's Center near the capital of Bridgetown, which features educational tours and tastings. Mount Gay was founded in 1703 and claims to be the oldest rum producer in the world.
Brightly colored buildings decorated with murals sit among a lush tropical garden at the visitor's complex. I begin my visit with a sampling with master blender Allen Smith.
Smith invites four of us into a room that looks like a laboratory. It is a simple working room, not a Disney-fied studio created to show off for tourists.
He speaks in a colloquial manner, more like a conversation one would have if you just happened to run into a man who knows entirely too much about rum and has no problem sharing his expertise.
Mount Gay is a blended rum concocted from a combination of continuous distilled and double-distilled rums. The different distillates are aged in charred white oak barrels imported from Kentucky. The barrels, which were once used to make bourbon, bring a distinctive flavor and color to the spirit.
Smith has the enviable job of sampling the rum straight from the barrels to deem its readiness, and blending it to perfection.
During the tasting, we learn to distinguish the differences in flavor during the various stages of the rum-making process.
Single distillate has a potent smack and aroma while the double distillate exults a deeper and more robust character. We detect the oak and vanilla hints that come from the aging rum in the oak barrels.
Jasen and Kristen Converse, from Frederick, Md., join me during the tasting. Jasen tells Smith a funny story about how he learned to drink by sneaking Mount Gay rum from his grandfather's liquor cabinet.
For our final taste, Smith pours us two styles of recently blended rum: Eclipse and Extra Old. The Eclipse is filled with subtle hints of citrus and vanilla. The Extra Old flaunts a complex, deep character with sweet and fruity notes.
The rum from these newly blended batches will soon be dispatched to the bottling plant on the premises and shipped across the globe. I feel privileged to have tasted it first.
The next stop is the History and Tradition tour. The bubbly Maria Elias leads a group of visitors through rooms colorfully decorated with historical photos, memorabilia, huge copper pot stills and other rum-making equipment.
Elias discusses the history of rum, the distillery and the rum-making process. Her Caribbean-lilted voice is peppered with humorous stories and an infectious laugh.
We line up at tables covered with large glass jars where we smell the elements (sugar cane, molasses and distilled un-aged alcohol) used in the making of rum. Elias jokes that Barbadians use the rum base as a perfume.
We stop at a replica of an authentic Bajan rum shop where Elias tells us to order a "Black and Coke" if we want to sound like a local. (Too bad she didn't tell me to leave the 50 Bajan dollar bill at my hotel.)
A visit to the bar caps off the excursion. Tourists line up as bartender Chris Breedy pours samples of rum and whips up tall glasses of colorful cocktails.
Breedy mixes me a frosty drink of his own creation, "the locomotion," a combination of rum, chocolate syrup and coconut cream – a perfect antidote for the scorching Caribbean sun.
In rum-soaked Barbados, visitors may imbibe the local spirit in many different atmospheres.
The island is ringed with casual outdoor beachside bars with daiquiri blenders. Bartenders at posh resorts will eagerly whip up exotic fruity concoctions garnished with tiny umbrellas or fresh flowers.
My favorite is the Bajan version of rum punch: a mixture of rum, lime juice and Angostura bitters. The colorful, not-too-sweet drink boasts a spicy, crisp and refreshing flavor.
Rum is not the only story in Barbados, which lies 1,600 miles east of Miami. Visitors may Scuba dive on the elaborate coral reefs and snorkel side-by-side with giant turtles. On the windswept west coast, choppy waves crash into carved stone rocks jutting from the sea.
Those seeking a more tranquil experience should head to the Sandy Lane spa for utter bliss and relaxation. Golfers have their choice of five resorts with courses.
Top-rated restaurants with dramatic ocean views compete for the discerning diners. Those looking for a more casual meal should check out a local fish fry or a Roti stand.
While the world-class resorts and activities may be this destination's top selling points, the memories that endure are the cheerful faces and the lingering conversations carried out while sitting at picnic tables outside the wooden drink shacks.
The hospitable personalities and grinning faces create the true heart and soul of Barbados.
Local journalism is essential.
Give directly to The Spokesman-Review's Northwest Passages community forums series -- which helps to offset the costs of several reporter and editor positions at the newspaper -- by using the easy options below. Gifts processed in this system are not tax deductible, but are predominately used to help meet the local financial requirements needed to receive national matching-grant funds.
Subscribe now to get breaking news alerts in your email inbox
Get breaking news delivered to your inbox as it happens.
---