News > Features
People: Cruise clears air this time around
Tue., Dec. 16, 2008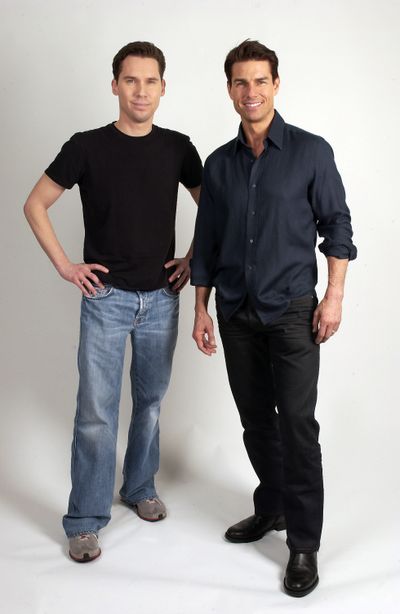 Image management is important to big-time movie stars.
Tom Cruise knows his image took a hit during a sometimes-heated interview that he gave to "Today" host Matt Lauer a couple of years ago.
In that interview, Lauer and Cruise knocked heads over Cruise's criticism of actress Brooke Shields for taking anti-depressants in 2005.
On Monday, it was Lauer/Cruise II, and the movie star was far more contrite.
"It's not what I had intended," Cruise said of the first on-air talk. "In looking at myself, I thought, 'Man, that came across as arrogant.' … That's one of those things you go, OK, I could have absolutely handled that better."
Cruise, who has been a Scientologist for 25 years, agrees with the religion's long-running campaign against psychiatry and the pharmaceutical industry.
And he continued to defend his views this time around.
Yet, Cruise added, "I thought I didn't communicate it the way that I wanted to communicate it. And that's also – that's not who I am. … That's not the person that I am."
Madonna's better than Powerball
Looking to get rich? Try marrying Madonna. Madonna's spokeswoman Liz Rosenberg reports the singer has settled with ex-husband Guy Ritchie by giving the filmmaker at least 50 million pounds ($76 million).
Their next roles: loving parents
Naomi Watts, 40, and Liev Schreiber, 41, have been dating since their 2006 film "The Painted Veil." On Saturday, they celebrated the birth of their second son. Their first son, Alexander Pete Schreiber, was born in July 2007.
Help isn't just a song title
Will Smith says his forthcoming film "Seven Pounds," which opens Friday, says something special: "If there's a message, it's 'You gotta help somebody,' " Smith says. "Even if it's somebody's car breaking down, use your cell phone. Something little like that. We gotta help one another to get the quality of life we're all striving for."
The day the tickets sold well
Despite lukewarm reviews, audiences were hungry for Keanu Reeves and the sci-fi remake "The Day the Earth Stood Still." It finished No. 1 at the box-office over the weekend with a $31 million take, ahead of "Four Christmases," the Reese Witherspoon-Vince Vaughn comedy that slipped to second with $13.3 million.
The Force is strong, economy not
The economy is in bad shape, right? Not, apparently, for nerds. A "Star Wars" fan on Thursday slammed down $240,000 for the honor of taking home the lump of plastic that Luke Skywalker (Mark Hamill) used as his light saber in the series' first two flicks at a Los Angeles auction. Also, the headgear worn by C-3PO (Anthony Daniels) went for $120,000.
The birthday bunch
Actress Liv Ullman is 70. Journalist Lesley Stahl is 67. Writer-producer Steven Bochco is 65. Guitarist Tony Hicks of The Hollies is 63. Singer Benny Andersson of ABBA is 62. Actor Ben Cross is 61. Singer-guitarist Billy Gibbons of ZZ Top is 59. Actor Benjamin Bratt is 45. Singer Michael McCary of Boyz II Men is 37. Actress Anna Popplewell is 20.
Local journalism is essential.
Give directly to The Spokesman-Review's Northwest Passages community forums series -- which helps to offset the costs of several reporter and editor positions at the newspaper -- by using the easy options below. Gifts processed in this system are not tax deductible, but are predominately used to help meet the local financial requirements needed to receive national matching-grant funds.
Subscribe to the Coronavirus newsletter
Get the day's latest Coronavirus news delivered to your inbox by subscribing to our newsletter.
---
Subscribe and log in to the Spokesman-Review to read and comment on this story