Sports
Dazzling skills
Shadle Park's Brown caught WSU's eye at early age
Thu., Dec. 18, 2008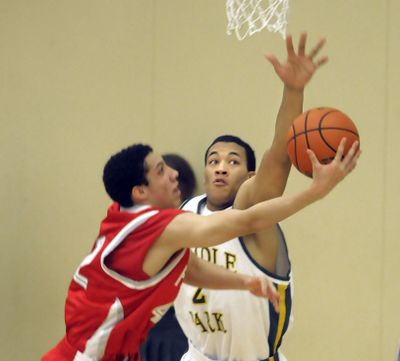 Anthony Brown was just a sophomore when he caught the eye of Washington State University's basketball coaching staff.
It was the summer after his sophomore season that he orally committed to attend WSU.
Now a senior at Shadle Park and signed with coach Tony Bennett's Cougars on a full athletic ride, Brown's play of late has affirmed the wisdom of their foresight.
Since postseason began last February, Brown, a 6-foot-5 shooting guard, has averaged nearly 17 points per game scoring and dazzled at times with his athleticism.
"It's kind of ironic," Brown recalled earlier this week. "My mom met (assistant coach) Ron Sanchez at the airport one day. They didn't know who each other were and he told her, 'We have an interest in your son.' "
WSU ultimately offered and he accepted.
"They said they really liked me as a player," Brown said. "(Former coach) Dick Bennett told me I could be a very special player."
There were indicators why. His length, athletic ability and unselfishness were enticing. He loves assisting teammates, but Brown also proved he can score.
On varsity as a freshman, he averaged nearly nine points per game and improved to 13.5 as a sophomore. The average dipped last year, to 12.2, primarily because there were several other scoring options. Brown was at his offensive best during the district, regional and state playoffs, increasing his average to 16.8 points per game.
This year, although he continues to share the ball with his teammates, Brown also is taking over games. Twice this year, against Mt. Spokane and Ferris, he did so with sustained stretches of dominance that rallied his team from behind. At University, he almost recorded a triple-double in scoring, assists and rebounding.
Brown shoots with timely 3-point accuracy and has the scorer's knack to get to the basket.
"His biggest attribute is as a slasher who can go draw a double team, finish or deliver," Shadle coach Tim Gaebe said. "He's pretty smooth and fluid. What's amazing is he has the ability to dodge a defender and finish or get fouled. It's something you can't coach."
When Brown completes his Highlanders career and enrolls at WSU, it will be a sort of homecoming. Between the ages of 3 and 7, he lived in Pullman and said he knows the town.
It was where he got his formal basketball start, although he became enamored of basketball as early as 2.
"As soon as he could walk he was hitting balls, throwing balls and shooting hoops," said his father, Tony, a former Mead high jumper and owner of a music record store, Unified Groove Merchants. "Every kid has a Fisher Price (youth basket set) and when he was old enough to jump he would dunk. All we did was play basketball."
By third grade Anthony was playing AAU, attended Shadle summer camps beginning in fourth grade and his first year in high school worked his way into the starting lineup.
"The plan was using him as a reserve off the bench, a role guy," Gaebe said. "That's when (Gaebe's son) Nick got hurt. We put him in there and he's been at it ever since."
Shadle has improved each year that Brown has been in the lineup. The Highlanders missed qualifying for state by one game his sophomore year and were a win away from placing at state last year.
He eclipsed 1,000 career points when he tallied 21 during Tuesday night's loss to Gonzaga Prep in a showdown of unbeaten GSL teams.
But Gaebe thinks Brown will have a different legacy.
"(He) has been a team player in every way, shape or form," Gaebe said. "It's not about Anthony Brown. It just comes back that he wants to win."
Brown isn't perfect. He spent time working on his shooting over the summer. His dad thinks he could go to the basket more and rebound better. He's become stronger through a conditioning program and weight lifting, but there's always work to do on defense, which is WSU's bread and butter.
But there's no doubting that Brown is one of the top players in the GSL. Gaebe said players like Brown don't come around often.
Helping the Highlanders reach the State 3A tournament and placing this year is Brown's goal. Then it's on to the next phase of life.
"Ever since I was little, I had a dream and goal to play college basketball," Brown said. "That's one more thing to look forward to. But we've got to take care of business first."
Local journalism is essential.
Give directly to The Spokesman-Review's Northwest Passages community forums series -- which helps to offset the costs of several reporter and editor positions at the newspaper -- by using the easy options below. Gifts processed in this system are not tax deductible, but are predominately used to help meet the local financial requirements needed to receive national matching-grant funds.
Subscribe to the sports newsletter
Get the day's top sports headlines and breaking news delivered to your inbox by subscribing here.
---