Culinary tourist eats around the world around LA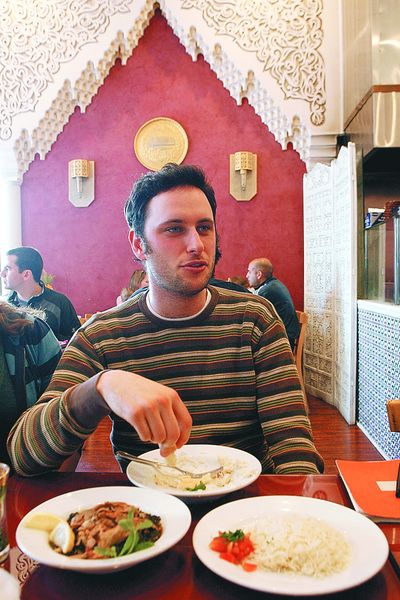 Noah Galuten spent the past three months eating his way around the world – all within a day's drive of his Santa Monica, Calif., apartment.
The 25-year-old playwright was broke and unemployed when he decided to eat cuisine from a different country every day and write about it on his Web site, Man Bites World.
Galuten figured he could stomach 60 traditional dishes from a different country on consecutive days until he ran out of options and was sated.
But the project took him further than he ever imagined, stamping his culinary passport with food from 102 cultures by his final bite of Slovakian poppy seed cake more than three months later.
That he could cross so many borders so close to home is both a testament to Los Angeles' cultural melting pot and the help he got from strangers who invited him into their homes to share traditional meals.
"If there's anywhere you should be more inclusive, it's eating," he said.
The final feast – plum brandy, roasted chestnuts, sheep milk feta with paprika and caraway, homemade gnocchi, and a traditional Christmas soup – was home-cooked by Peter Simon, a Slovakian immigrant who offered his homeland's best.
The international gnoshing left Galuten with $4,000 in credit card debt, which he hopes to erase by writing a book about his experiences. His girlfriend, Jackie Honikman, 25, a Web designer who covered his rent and other costs, gained about 15 pounds dining with him.
In the early days, the couple mapped out meals a month in advance, anticipating which restaurants would be closed Mondays and when certain specials would be served. Despite calling ahead to make sure restaurants were open and hadn't changed menus, there were near disasters.
A restaurant formerly known as Macau Street promised authentic street food, but new owners were cooking Hong Kong cuisine, which he had already crossed off his list.
As the clock ticked toward midnight and the project threatened to end in Monterey Park, Galuten scrambled and found a place that served Macau-style pork shank.
Purists may argue that Macau isn't a sovereign nation, but Galuten didn't make such distinctions. He ate food from Palestine, Tibet, Puerto Rico and both Koreas.
The project became a movable feast joined by old friends and strangers who became dining companions and then friends – often with the help of ample amounts of ethnically appropriate alcohol.
It often included Michael Gross, Galuten's college friend who goes by the nom de blog Mr. Meatball and documents dishes with digital photos.
Meals ranged from a bad experience at a Samoan restaurant to a fabulous one when Pascal Olhats, the chef at Tradition by Pascal in Newport Beach, served a seven-course French meal with wine pairings for free.
"He's so passionate," Olhats said. "He doesn't just like food, he likes people. He's very curious and gentle. That's why he's always welcome in all the ethnic restaurants he goes to."
One of Galuten's favorite finds came through a chain of e-mails that led him to a Ghanaian market named Nana and Naa International Cuisine in Inglewood.
The cook eyed the two men suspiciously until they said they liked spicy food.
"That was the magic password," Galuten said. She filleted and fried fish in a back kitchen and served up a delicious okra stew with steamed cassava dough in the courtyard under a tarp roof.
"There was no menu, no prices, but it was a priceless experience and delicious," he said.
Most of the central African nations – plus Kazakhstan, Wales, and others – remain uncharted by Galuten, who waited until a traditional Thanksgiving dinner to knock his home country from the list with turkey and the classic fixings.
When the experiment came to a close this month after he failed to find Somalian food, his cravings returned him to his own roots, where he was comforted by a childhood favorite: turkey Bolognese cooked by his mom.
---