News > Features
Can't sleep? 'Bedtime' will help
Fri., Dec. 26, 2008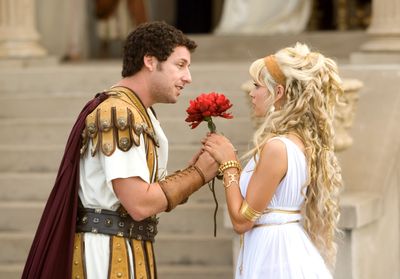 "Bedtime Stories" is the kind of children's tale that sounds like it would make a great book. Unfortunately, great books don't always make great movies, and "Bedtime Stories" is far from a great film.
Adam Sandler, in agreeable naïf mode, plays Skeeter, a maintenance worker with dreams of running the hotel that employs him. Of course, he has a villain to deal with: Kendall (Guy Pearce) is a dandy with impeccable manners and plans of taking over the hotel.
Skeeter has to care for his niece and nephew for one week while his sister (Courteney Cox) goes out of town for a job interview. She is overprotective and health-conscious: "The Organic Squirrel Gets a Bicycle Helmet" is one of the children's favorite storybooks.
Rather than indulge in such green fiction, Skeeter creates original tales to entertain the kids before bedtime. The children add their own twists to the stories, which involve characters from their real lives.
The hook is that whatever the kids describe happens to Skeeter the following day, albeit in a slightly twisted interpretation. For instance, they say he will encounter Abraham Lincoln, and he finds a Lincoln penny. Not exactly a laugh riot, but cute.
The movie runs into trouble with its multiple fantasy sequences. We see what Skeeter and the children describe, so we get Sandler in gladiator garb or as an intergalactic boxer. The film pretty much stops dead during these moments.
Unfortunately, the "realistic" segments are not particularly engaging either. Sandler is appealing, but Keri Russell has nothing to do as a potential love interest.
Other cast members are wasted, with Pearce playing his role cartoonishly broad. British bad-boy comic Russell Brand plays Skeeter's best pal, and putting him in a Disney family comedy is like having Lil Wayne open for the Wiggles.
Director Adam Shankman had better luck with his last film, the energetic musical "Hairspray." Here, the result is akin to a version of "The Wizard of Oz" in which both Oz and Kansas are presented in dull black and white.
For times and locations, see page 6.
Local journalism is essential.
Give directly to The Spokesman-Review's Northwest Passages community forums series -- which helps to offset the costs of several reporter and editor positions at the newspaper -- by using the easy options below. Gifts processed in this system are not tax deductible, but are predominately used to help meet the local financial requirements needed to receive national matching-grant funds.
Subscribe to the Coronavirus newsletter
Get the day's latest Coronavirus news delivered to your inbox by subscribing to our newsletter.
---
Subscribe and log in to the Spokesman-Review to read and comment on this story