News > Features
Newcomers: Destination - Spokane
Fri., Feb. 15, 2008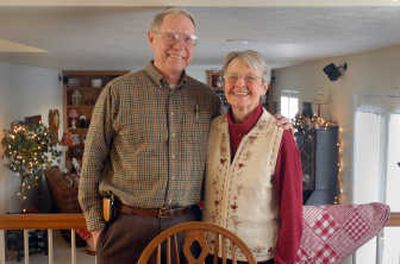 Nearly 30 years have ticked by since the LaMotte family started their gradual migration north.
Family patriarch Bryce LaMotte says the move – from southern California to Spokane's south side – started with Expo '74.
"My brother's wife's family had four tickets," says LaMotte, adding that his brother, Keith, and wife Caroline, attended the world fair with Caroline's parents.
"They fell in love (with Spokane), went back to California, packed up and came here," says Bryce LaMotte's wife, Betty.
Moves by subsequent family members, including Bryce and Betty, three of their four children, and all of their grandchildren, followed. Today, the LaMottes say there are "close to 50" family members, related by blood or marriage, living in the Spokane area.
"It was an evolution," Bryce LaMotte says of the move.
A Californian by birth, Bryce LaMotte says he and Betty, a Philadelphia native, raised all four of their children in the Los Angeles area, though they often came to Spokane to visit Bryce's brother.
"We visited during each of the four seasons," he says.
Although a handful of LaMotte family members relocated to Spokane over the ensuing years, up until 2006 Bryce and Betty LaMotte lived within an hour's driving distance of three of their four children and, at the time, six grandchildren, in the San Fernando Valley.
That changed suddenly in the spring of 2006 when their son, Duane LaMotte, his wife, Michelle, and their children, pulled up stakes and headed for Spokane.
"They both had job dissatisfaction," Bryce LaMotte says. "They needed to grow their house, and the market wasn't that good."
Initiating a sort of migratory domino effect, a second LaMotte child, Sarah Herrera, her husband Carlos, and their children followed suit two months later. By June, a third member of the LaMotte clan, eldest daughter Donna Ledbetter, her husband Tim, and their kids, joined them.
Alone in southern California – only one remaining child, Anita LaMotte, was hours away in San Diego – Bryce and Betty LaMotte decided to take the plunge.
"I started packing as soon as the last one left," Betty LaMotte laughs, although the couple say if their children and grandchildren had scattered across the country, they likely would have stayed put.
"We'd been in our house for 39 years," Betty LaMotte says, adding that the couple celebrated their 50th wedding anniversary last spring.
Since relocating to Spokane in June 2007, the LaMottes now live within a 10-minute drive of their three children and eight grandchildren.
Although they miss the warm weather and working year-round in the garden, the LaMottes say they enjoy the slower pace of life and the four seasons. Avid music-lovers, the couple say they attend the Spokane Symphony Orchestra eight to 10 times a year.
They also appreciate being closer to family. Once a week, Bryce LaMotte, a retired teacher and church organist, gives three of the couple's grandkids piano lessons.
"We see them more here – especially with the piano lessons – than we did in California," Betty LaMotte says. "We even run into them at the market on occasion."
Local journalism is essential.
Give directly to The Spokesman-Review's Northwest Passages community forums series -- which helps to offset the costs of several reporter and editor positions at the newspaper -- by using the easy options below. Gifts processed in this system are not tax deductible, but are predominately used to help meet the local financial requirements needed to receive national matching-grant funds.
Subscribe now to get breaking news alerts in your email inbox
Get breaking news delivered to your inbox as it happens.
---