News > Features
All about the kids
Sat., Jan. 12, 2008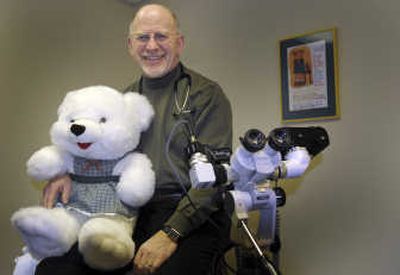 It started as a vision scribbled on a napkin two decades ago.
In the years since, it has become a reality that has touched the lives of thousands of Inland Northwest children and families.
And the man behind that dream – one of creating a multidisciplinary approach to addressing child abuse and neglect – is Dr. Alan Hendrickson, 65, who retired from his pediatric practice of more than 30 years on New Year's Eve, but continues to fight for safe homes and families for all children.
"He's kind of a mild-mannered guy," says Mary Ann Murphy, executive director of Partners with Families and Children, the organization Hendrickson founded based on that dream sketched out on the napkin. The organization now works with about 1,000 children each year. "But he has the steel inside him … Integrity. He sort of radiated it, that kind of commitment to the truth."
Hendrickson grew up in a small town in northern Wisconsin, and went to the University of Wisconsin before coming to Seattle for his internship following medical school. He received further training in pediatrics in Alaska and Utah, where he focused on pediatric gastroenterology.
He came to Spokane in 1977 and had been with the Rockwood Clinic since 1985, until his retirement.
His area of interest caused him to see many kids who were labeled "failure to thrive," children who do not gain weight and grow as they should.
Failure to thrive has many causes, including a variety of illnesses and infections. But the condition is also often seen in children who have suffered abuse and neglect.
Hendrickson began working on such cases with Child Protective Services officials. He became known as one of the few doctors willing to testify in abuse cases in court.
"To me, it was an area I saw where you actually could make a difference," he says.
He adds, "As a pediatrician we see questionable things every day, questionable practices and concerns about kids not in safe environments and we work with them. That's what pediatricians do. We really needed a better way of dealing with it."
Over lunch with some CPS workers one day, Hendrickson jotted down his ideas.
He envisioned a safe environment for kids who'd been abused, one in which they wouldn't have to tell their stories multiple times – to police and prosecutors and doctors and defense lawyers. And he wanted a program that would try to help families address their underlying issues.
"The whole idea of dealing with this as a team," Hendrickson says. "The physician is not the god in this. He's just a contributor."
For the past 27 years, even before he founded Partners with Families and Children, Hendrickson has met nearly every Thursday morning with the child protection team, a group of experts and child advocates from a variety of fields. The group gathers to discuss how best to work with particular families.
Although this multidisciplinary approach has been the gold standard in Spokane for years, it's not that way everywhere, Murphy says.
"This certainly wouldn't have happened as soon as it did," she says. "Twenty years ago Alan was leading us to this concept that most communities are just starting."
Dr. Deb Harper, a Spokane pediatrician, first met Hendrickson at a child protection team meeting in 1985. She was immediately struck by Hendrickson's commitment to the cause.
"He's just amazing," Harper says. "He's extremely passionate … He has left a legacy of interdisciplinary work with cooperation and collaboration with the oddest couples" including business leaders, medical professionals, law enforcement and lawyers. "That is really unprecedented," she says.
Having a general pediatric practice has helped Hendrickson, a father of two and a grandfather of four, cope over the years with the emotionally taxing work of seeing abused kids, he says.
"Most of our families are doing very well at adapting to changing times and what kids are exposed to," he says. "It's not easy, and the pediatrician respects what parents are going through nowadays … On the whole, parenting has improved tremendously from when I was a young parent."
He adds, "The nicest part of this job oftentimes is finding and being able to give a consultation that this child is not abused, which very often happens … We're not just looking out for abuse. We're looking for what's right."
Hendrickson says he has great respect for the social workers, foster families and many others who work with abused children all day, every day.
"I don't know how people do it if this is all they do," he says. "I would have a hard time doing that, especially with the more seriously abused kids. Those are very disturbing to anybody, including me."
Although Hendrickson has retired from his practice, he continues to work two days a week at Partners with Families and Children. And he continues to appear as an expert witness in court on behalf of abused children.
In his retirement, he hopes to do a little traveling and spend more time with his children and grandchildren. Later this month, he plans to attend a child-abuse conference in San Diego.
"I don't expect to sit around completely," he says.
Hendrickson, who declined a retirement party and suggested instead that a donation be made to Partners with Families and Children, looked back on his work with characteristic modesty.
"I feel like I've made a difference," he says. "But there's a lot of people in this town who are making a little bit of difference."
Local journalism is essential.
Give directly to The Spokesman-Review's Northwest Passages community forums series -- which helps to offset the costs of several reporter and editor positions at the newspaper -- by using the easy options below. Gifts processed in this system are not tax deductible, but are predominately used to help meet the local financial requirements needed to receive national matching-grant funds.
Subscribe now to get breaking news alerts in your email inbox
Get breaking news delivered to your inbox as it happens.
---