News > Features
Journey into self
Sun., Jan. 13, 2008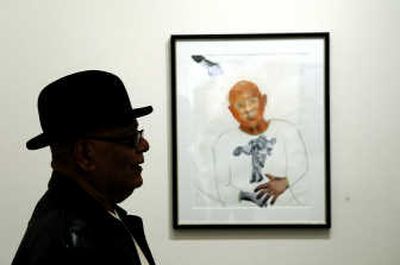 Even in a literal sense, what you see depends largely on how you see. Look at something from different angles and the object of your gaze is going to change. Or at least it will seem to.
A kitty seen at close range can resemble a lion. A lion seen through binoculars might look like something as playful, and harmless, as a Disney cartoon.
The same holds true for human beings. Add in our individual attempts to portray ourselves as we want to be seen – through how we dress, move and speak – instead of how we truly are, and the whole notion of self-identity becomes too complicated for words.
Which is where the art exhibit "Locals" comes in. A "self-portrait invitational show" on display through Feb. 2 at the Spokane Falls Community College Gallery of Art, the exhibit contains the work of 17 area artists, each of whom was given simple instructions: Define yourself through your art.
"The thought was to invite people that had been in Spokane for a long time and then have them do their self-portrait in some way," says SFCC gallery director Tom O'Day. "And it didn't necessarily have to be the medium that they were showing in."
The only parameters involved size: two feet out from the wall, no more than shoulder width, as high as the ceiling (about 10 feet, O'Day says, "because that's the height of where our lights are").
The results end up being as diverse as the artists are distinct from each other.
Harold Balazs drew himself, using oil stick on paper, as a sad-sack character from an A.A. Milne novel (his title: "Me As Eyore"). Tom Dukich, who titled his piece "Tom(e) Dukic(h)," resorted to computer imagery, showing a jazzed-up home video of himself and others on an iMac screen.
To make her aptly titled "Self Portrait," painter Lanny DeVuono tore out pages from her sketchbook. Gina Freuen's mixed-media assemblage, titled "I'll Play the Hand That's Dealt," combined a chimney of bricks, wall hangings and other materials. Richard Schindler, who showed his funnier side by calling his self-portrait "5 Dicks," painted five likenesses of his head on canvas stretched over a vertical slab of plywood.
And so on.
Each artist, as it turns out, had a different idea for how to fulfill O'Day's expectations, which is just what the gallery director wanted. He hoped, too, that something surprising just might occur.
"And I think there are surprises in all of them," O'Day says.
Schindler's experience works as an example. The Stanford-educated artist had been working on something else completely: A sculpture from a piece of wood. But as often happens to all artists, the wood resisted Schindler's attempts to steer it a specific way.
"The sculpture idea just started taking on other directions," Schindler says. "It seemed silly to try and limit it. So I switched."
And what does his five-painting construction, stacked one on another, say? More about process, apparently, than the actual person.
"It gave me an opportunity to do some variations on how I see myself," Schindler says. "So basically it was that, variations on a portrait. And they're not radically different from each other. It's just that as you paint them, every time you touch a painting, you get a different kind of impression – from the brush and the color and the value."
DeVuono's work is far more representational than, to use her word, "figurative."
"It's a bit concealing," O'Day says, "because she didn't actually do herself. She's showing drawings, thumbnail sketches or work for her paintings."
An obsessive sketcher, the Eastern Washington University art professor is always scribbling something – from drawings to quotes – in the notebooks she tends to carry.
"I was playing with the idea of who I am through what I do," she says. "And so the sketchbook is probably an extension of that."
DeVuono, a political animal at heart, gives us a view of herself though a working artist's collage that includes even a quote from British writer Graham Greene's novel "The Quiet American": "How I wished there existed someone to whom I could say that I was sorry."
Somewhere in between falls the rest of the exhibit, including Ruben Trejo's painting – a self-portrait that has the EWU art professor emeritus looking a lot like Gandhi, wearing a T-shirt with a Mayan/Aztec symbol emblazoned across his chest.
Trejo says he did three pieces and had trouble choosing which to include in the show. But he ended up liking the blend of elements in the one he picked, a melding that allowed him to "manipulate" what we see.
"By taking something pre-Colombian and bringing it up to the present," he said, "it changes the element of space and time."
And what about the hand reaching down from the upper left-hand corner. Is that a reference to Michelangelo?
No, Trejo says. Though he admits the hand may owe a debt to, say, the frescoes of Giotto, the specific inspiration for him was far more personal.
"At that stage, a dog had bit the hand of my partner, Joanne (Hammes)," he explains. "In fact, both of her hands. So it's a reference to her."
Look all you want, but you're not likely to see everything.
Local journalism is essential.
Give directly to The Spokesman-Review's Northwest Passages community forums series -- which helps to offset the costs of several reporter and editor positions at the newspaper -- by using the easy options below. Gifts processed in this system are not tax deductible, but are predominately used to help meet the local financial requirements needed to receive national matching-grant funds.
Subscribe now to get breaking news alerts in your email inbox
Get breaking news delivered to your inbox as it happens.
---