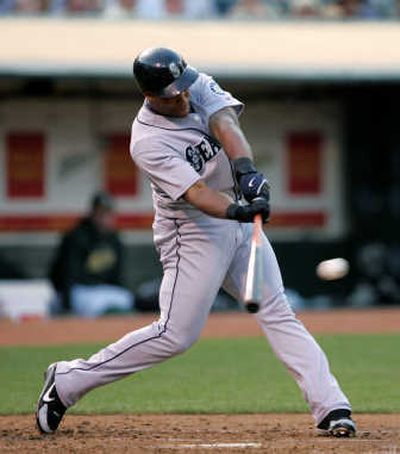 OAKLAND, Calif. – Roy Corcoran knew his first big league victory was coming. He never saw J.J. Putz, though, and caught his first shaving cream pie full in the face.
"Now I have to shower again," Corcoran said, smiling. "It's a good feeling to get the first one."
Jose Lopez hit a three-run double, Adrian Beltre drove in two runs and the Seattle Mariners ended a three-game slide with a 6-4 victory over the Oakland Athletics on Wednesday night.
Beltre finished with three hits and Raul Ibanez also drove in a run for the Mariners, who helped Corcoran (1-0) win his first big league game with 22/3 innings of scoreless relief.
"I'm just going to pick a ball up and call it the game ball," Corcoran said. "It doesn't matter if it's real or not. I'm sure my family is happy."
Donnie Murphy drove in three runs and Jack Cust snapped out of a 0-for-18 slump with a home run for the A's, who lost at home to the Mariners for the 11th time in 14 meetings here.
Ichiro Suzuki singled three times. His last 34 hits have all been singles, and he's gone a career-long 114 plate appearances without an extra-base hit.
Mariners starter Miguel Batista left the game with a right groin strain after throwing three pitches in the third inning. He walked gingerly behind the mound after delivering a 1-1 pitch to Murphy, then was escorted off the field by Mariners head trainer Rick Griffin.
"That's the fourth time since I've been here that a starter has left the game early," Mariners manager Jim Riggleman said. "And every time the bullpen has held on. It's frustrating because Miguel was really firing."
Batista was making his second start since being removed from the rotation following his start on June 7 against the Boston Red Sox. He allowed Cust's home run leading off the second inning and did not walk a batter with one strikeout.
Ryan Rowland-Smith took over for Batista and allowed three runs on five hits in 11/3 innings. Corcoran entered the game with two runners on in the fourth and retired eight of the nine hitters he faced to win his first game in 36 big league appearances.
"Down 4-1, we've lost three in a row and had great pitching," Riggleman said. "It could have been discouraging, but these guys held their heads up."
Corcoran, Arthur Rhodes, Sean Green and Brandon Morrow combined to set down 17 of the final 19 Oakland hitters, with Morrow remaining perfect in eight save chances.
Joe Blanton (5-12) became the A.L.'s first 12-game loser and matched Matt Keough's 1982 team record for most losses before the All-Star break.
"As the innings went along I didn't lose focus and I didn't feel pressure," Blanton said. "For whatever reason, some innings I'm making good pitches to get out of innings and some I'm not. That's kind of the way it's going. I didn't make quality pitches. I'm leaving them up in the zone and giving them a chance to hit them."
Blanton gave up six runs and nine hits, striking out two without walking a batter. He dropped to 2-6 over his last eight starts with an ERA of 6.75 over that span.
"The first four innings he threw great," A's catcher Kurt Suzuki said. "Then he gets a couple of bad breaks and good players will make you pay."
Notes
A's designated hitter Frank Thomas rejoined the team in Oakland to begin baseball-related activities as he recovers from right quadriceps tendinitis. … Rowland-Smith's walk to Daric Barton in the fourth ended a 20-inning streak without issuing a base on balls. … A's righty Sean Gallagher, part of the trade that sent righty Rich Harden to the Cubs, was in San Francisco last Thursday, Chicago on Friday and Oakland on Tuesday.
---