Slugger Ortiz eyes return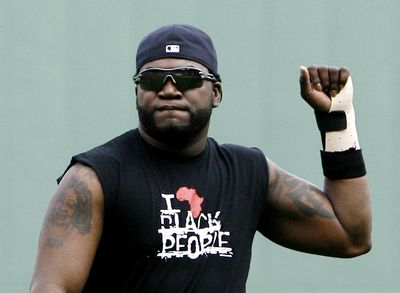 David Ortiz, on the disabled list since May 31 with a torn tendon sheath in his left wrist, is expected to return to Boston's lineup on July 25 for the opener of a series against the Yankees.
"I feel good," the Red Sox designated hitter said after hitting off a pitching machine on Saturday. "I was acting like I normally do: locating, check swing, swing and a miss – stuff like that. Everything was fine."
Manager Terry Francona said Ortiz looked good during batting practice Friday to prompt the team to schedule a six-game rehabilitation stint in the minor leagues. Ortiz will start with three games in Triple-A Pawtucket on Thursday, followed by three in Double-A Portland (Maine).
If all goes well, Ortiz will be back for the weekend series against New York at Fenway Park.
•Boston placed shortstop Julio Lugo on the 15-day disabled list because of a severely strained left quadriceps muscle.
Francona said an MRI showed the injury could keep Lugo out for a month to six weeks.
Lugo was injured Friday while running out an infield single in the ninth inning.
Oswalt remains unsure
One day after pitching just an inning in Houston's game with the Washington Nationals, Roy Oswalt reported that he was sore – and he doesn't know when he'll pitch again.
Oswalt left Friday night's game when his left hip began bothering him. He hadn't pitched since June 30.
There were no immediate plans to place Oswalt, who is 7-8 with a 4.56 ERA, on the disabled list, manager Cecil Cooper said.
Clearing the bases
Chicago White Sox closer Bobby Jenks got through a bullpen session without any problems and should be ready to pitch after the All-Star break. Jenks, formerly of Spirit Lake, has been on the disabled list with bursitis near his left (non-pitching) shoulder. The 27-year-old Jenks is 2-0 with a 1.95 ERA and 18 saves. … New York Mets right-hander Pedro Martinez left his start against Colorado after the fourth inning with tightness in his right shoulder, though the injury is not considered serious.
---