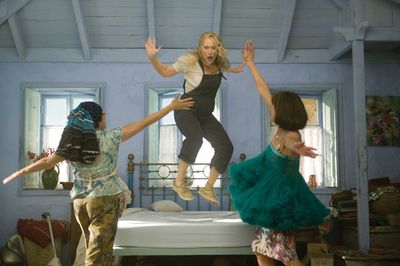 As colorful as a peacock feather and just about as insubstantial, "Mamma Mia!" bounces along on the music of ABBA and a cast of pros who sell like there's no tomorrow.
Yeah, the plot and characters are onion-skin thin, but you can't help singing along. And in bringing her stage production to the screen, first-time film director Phyllida Lloyd has retained the show's goofy charm and mostly breathless pacing.
The story unfolds on a Greek island where one-time rocker Donna (Meryl Streep) has lived for 20 years, running an edge-of-insolvency hotel and rearing her cute-as-a-button daughter, Sophie (Amanda Seyfried). Now, Sophie is getting married and, desperate for answers about her paternity, has gone to Mom's old diary for clues.
Without telling anyone, the bride-to-be has sent wedding invitations to three men who were Donna's paramours the summer Sophie was conceived: Sam (Pierce Brosnan), Harry (Colin Firth) and Bill (Stellan Skarsgard). One of them, Sophie is sure, must be her daddy.
And that, folks, is pretty much all the story you'll get.
Streep is 20 years too old for this role. References in the song lyrics to "flower power" don't help, and any attempt to put the characters' histories into a coherent time frame will result in a splitting headache. My advice: Just roll with it.
The transfer from the world of the stage to a real Greek island (the film was shot on the islands of Skiathos and Skopelos and on the mainland along the Pelion coast ) has plusses and minuses.
The scenery is drop-dead gorgeous, with impossibly azure seas, pastel villages hugging oceanside cliffs and silver-leafed olive trees swaying in the breeze.
The downside is that dramatic tropes and clichés that were tolerable in the stylized world of theater seem creaky when plopped down in this utterly believable setting. It's clearer than ever that the plot and characters have been created to serve the songs, not the other way around.
But then the songs are what you take away from "Mamma Mia!" Songs such as "Honey, Honey," "Money Money, Money," "Dancing Queen," "The Winner Takes It All" and "SOS" have instant audience recognition.
There's no real dancing on display – it's more like rhythmic crowd control – but you'd have to be Scrooge not to enjoy the Bacchanalian goofiness of it all.
– By Robert W. Butler, McClatchy Newspapers
"Space Chimps"
If you're old enough to read this review, you aren't the target audience for "Space Chimps."
"Chimps" is more one of those cartoons parents at least won't mind sitting through while little Miss or Mister 8-and-under gets his or her chuckles at the cute talking primates. And chuckle they will.
A space agency probe has slipped through a wormhole and found evidence for life elsewhere in the universe. Let's send astronauts! Wait, through a wormhole? They might not survive. Let's try it on chimps first!
"Chimps" borrows from many a sci-fi film, from "Star Wars" and "2001" to "Red Planet" and especially "The Right Stuff." The script has these clever bits about surviving a trip through "The Valley of Very Bad Things," which include "The Dark Cloud of Id." That's where you face fears of inadequacy that are all inside your head.
The apes fire off insults about evolution ("You're missing a link!") and other famous chimps ("Easy on the fur, Furious George!").
The animation's decent (save for the humans, plastic and stereotypical). Credit Vanguard Animation for lifting its game far above "Valiant" and "Happily N'Ever After." And Blue Man Group bopped up some of the music.
"Space Chimps" is more comically verbal than "WALL-E," less violent than "Kung Fu Panda" – even if these chimps still have light-years to go to reach the animation stratosphere of a Pixar or DreamWorks.
– By Roger Moore, The Orlando Sentinel
For times and locations, see page 11.
---