Mellencamp gets intimate
Album takes serious tone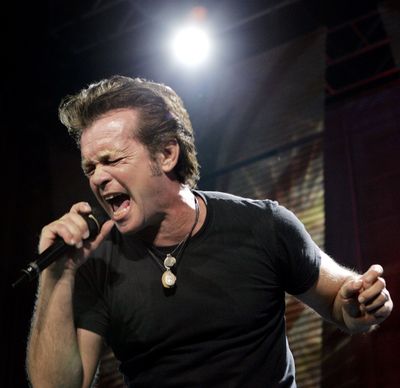 John Mellencamp "Life Death Love and Freedom" (Hear Music, •)
As the title indicates, this is John Mellencamp at his most serious. Not to mention his most forlorn: "Life is an abstraction, and it tries to fool us all, and it's working so far, it seems," the normally feisty Hoosier sings on "Young Without Lovers." On "A Ride Back Home," the 56-year-old former Johnny Cougar is ready to lie down in a pine box: "I was showin' some promise once upon a time/But it's gone now, and it ain't comin' back." There's a full band backing him up, and a supple roots-rock groove with T-Bone Burnett producing and playing guitar, but the songs are uncommonly intimate, as if Mellencamp were singing them to himself, in between puffs on a cigarette in a darkened room, doing penance for forcing TV viewers to hear his "Our Country" Chevy commercials hundreds of thousands of times. And "Life Death Love and Freedom" is just about good enough to earn him forgiveness.
– Dan DeLuca
Icy Demons "Miami Ice" (Obey Your Brain, •)
Dividing their ravenous appetites between spaced-out pop, slinky world music, and jazz-informed improv, the Philly-Chicago supergroup Icy Demons have answered their batty 2006 debut "Tears of a Clone" with another beguiling, pun-titled opus. Founding members Chris Powell and Griffin Rodriguez continue to refine the adventurous songwriting they have plied in such acts as Man Man, Bablicon, and Need New Body, here picking up Man Man ax man Russell Higbee and a few icons of the Chicago post-rock scene. As jumbled as genres are in Icy Demons, though, the results are smooth and often mellow, from "Summer Samba" to the hip-hoppy closer "Crittin' Down to Baba's." With that said, such fearless surveying will require an open mind on the part of any listeners new to this project.
– Doug Wallen
Alison Moyet "The Turn" (Decca, •)
Yaz "In Your Room" (Mute, •1/2)
Before there were British white girls like Amy and Duffy with big husky voices and soul for days, there was Alison Moyet – the biggest and grittiest of them all. And before there was Moyet, there was Yaz, her Spartan electro-duo with Vince Clarke that existed for three years at the beginning of the '80.
While Clarke perfected his swishing electro-pop sound with Erasure, Moyet started a solo career in 1983 that landed her where she started before Vince: belting blues, jazz and R&B in stunningly diverse tones. Like "Whispering Your Name," which managed the beauty of splashy disco and balladeer folk. On "The Turn," Moyet does much the same thing – use her warm, rough-hewn voice for zippy pop purposes ("A Guy like You"), grandly emotive love songs ("One More Time"), and tango-inspired dramas ("Home") in which her raw silken tone is the center.
Though Moyet's tone is rounder and richer throughout "Turn," it's the setting in which her gut-bucket vocals were placed within Clarke's spare synth-pop that made Yaz unique during its two-disc tenure. Expanded into a boxed set of its best, its B-sides and some rump-shaking rarities, the low, grinding blues of "Situation" and "Don't Go," and the threadbare soul of "Ode of Boy" and "Winter Kills" still conjures chills.
– A.D. Amorosi
Mark Chesnutt "Rollin' With the Flow" (Lofton Creek, •)
When it comes to his music, Mark Chesnutt has never been one to just go with the flow. Through varying commercial fortunes the Texan has steadfastly maintained his neotraditionalist approach, and the result here is another strong, satisfying collection of straight-up country.
"Rollin' With the Flow" showcases the singer's range within that style. It starts off with some smooth ballads and mid-tempo numbers, including the strings-shaded title song, before heading to the barroom for the raw-boned honky-tonk of "Live to Be 100" and "(Come On In) The Whiskey's Fine." "Long Way to Go" references Chesnutt's own life in music, and as with many a good country song, the title phrase plays a couple of ways. His career may be far from finished, but as for mastering his craft, Chesnutt arrived quite a while ago.
– Nick Cristiano
---